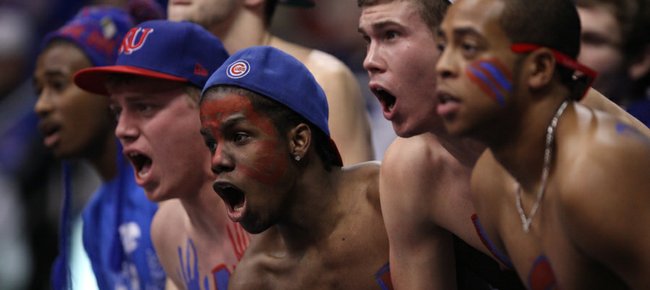 The man on the other end of the phone sets betting lines on sporting events for a Las Vegas hotel casino. He has some news that might shock you, so you might want to sit down.
How many points, I asked Jay Kornegay of LVH (formerly known as Las Vegas Hilton), is Allen Fieldhouse worth this season, compared to a neutral court, when setting a line?
"Probably five, five-and-a-half points," said Kornegay, who has been working in Las Vegas for 23 years. "That's maybe a tad above average for a Kansas team during the Bill Self era."
I would have bet one of my chins it would have been worth more like eight or nine points.
The five/five-and-a-half point edge means the swing in a home-and-home series with a school that has a similar home-court advantage would be 10 to 12 points.
"There are certain schools that actually don't have a home-court advantage," Kornegay said. "There's just nobody there. I know it's kind of hard for you guys out in Kansas to picture that, but TCU's a prime example."
The intimacy of Allen Fieldhouse and the noise generated by the paying customers play a part in Kansas having a higher home-court edge than most schools. A big edge for another school might be traced to other factors.
"Syracuse is a lot bigger (home-court advantage) than people think," Kornegay said. "That dome is just ridiculous. It's like a military facility. There's no back-drop or anything. It's hard for shooters to judge."
The point total of the two teams, commonly known as over-under, is a popular proposition as well. During the NCAA Tournament, halftime over-under wagers draw a lot of action, he said.
"When the Final Four goes to the Superdome, those numbers are adjusted (down), especially in the first half," Kornegay said.
Computer rankings are the starting point in establishing a line for those charged with that responsibility. It gets adjusted from there based the site and on conversations co-workers have with each other. Days after the game took place, Kornegay shared the thinking on setting a line for the Jan. 16 game in Allen Fieldhouse between Baylor and Kansas.
Baylor came to Kansas with a 17-0 record and ranked third in the nation. The LVH line opened at seven points, which seemed high considering KU had lost three games, including one to Davidson at Sprint Center.
"Baylor was undefeated and ... " I started to say to Kornegay when he interrupted.
"Don't say it," Kornegay said. "Don't say it."
I said it: "Ranked third in the nation."
"Those rankings," Kornegay said, "no matter what sport we're talking about, they are useless. They are useless as far as setting a line. If Kansas were to play Baylor at a neutral site, we don't look at the rankings. Do I look at them? Yeah, I just kind of laugh at them a little."
Smelling salts, please. Not only do I vote in the Associated Press poll, I picked Baylor to win that game. Kansas won, 92-74.
So why did the spread open at a greater KU advantage than just the home-court differential?
"If you're going to ask me who's going farther in the tournament, my money's on Kansas," Kornegay said. "It's in Lawrence. Baylor is No. 3 and undefeated. I don't think Kansas looks past that. You knew Kansas would be highly motivated, which they were. A traditional power at home, and you've got not a traditional power coming in there, undefeated and ranked higher than you — you want to prove something for sure. In that kind of environment, it's tough for Baylor to go in and stay close."
That's the way the line-setters saw it, but not the betting public. By game time, the spread had gone down to 5.5 points. Kornegay dispelled a myth about the goal of line-setters, which we all always have been told is to draw equal money on both teams. By doing so, the house would always profit because for the one placing the wager, winning $100 requires betting $110.
"Our goal is to win more than we lose," Kornegay said. "That's what we try to do. It's rare that you have a game that you have equal action on both sides. Is that what the line's supposed to do? Yeah. It rarely happens. I would say one out of 10 games we look at and say 'It doesn't matter who wins, we're going to win (because there is roughly equal money on both sides).'"
The reaction to the seven-point spread didn't surprise the oddsmakers.
"I would say most of the tickets were on Baylor, no doubt about it," Kornegay said. "We heard them talking about it on the other side of the counter, and they were saying what we thought they would say, 'Undefeated, ranked third. I can't believe it. This doesn't make sense.'"
The folks setting the lines have to take into consideration more than the average bettor's anticipated reaction.
"We have to protect against the sharps," Kornegay said.
The sharps?
"The professionals, the wise guys," Kornegay said, meaning the hard-core, serious gamblers who come armed with research and a knack for picking games. "They have their opinions as well. Most of our lines are to keep those guys in check. Most of the money that comes in on a daily basis is from these types of players."
He's not talking about the sportswriters who vote in the Associated Press poll. We already know what he thinks about our ability to capture the relative strength of basketball teams. He's talking about gamblers who try to make a living outsmarting the oddsmakers.
"The guys who really know the game, not the general public, not the guy who looks at Baylor being undefeated and ranked third," Kornegay said. "We're concerned about giving our attention toward the sharp plays, and that's where we need to split that action. If we win half of those, we win."
He used a Murray State vs. Morehead State game as an example of one the "sharps" like to play on a night when most other bettors ignore it and wager on Vanderbilt against Alabama.
Kornegay debunked one more myth: The oddsmakers are always right.
"People tend to remember the games where we're close," he said. "They don't remember us when Davidson beats Kansas."