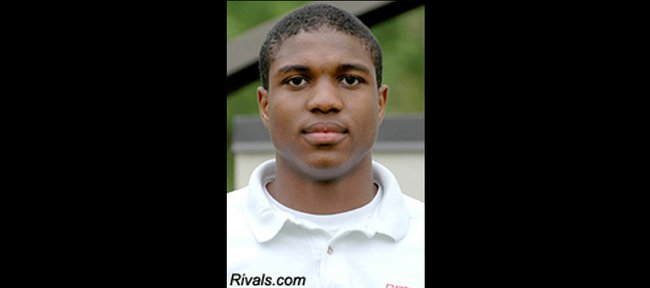 A couple of weeks ago, Kansas University football coach Charlie Weis delivered what many were calling the biggest recruiting day in program history when he landed former Notre Dame quarterback Dayne Crist and Jake Heaps, a QB who is transferring to KU from BYU.
Now those quarterbacks have a receiver to go with them.
Friday afternoon, former Bishop Miege High wide receiver Justin McCay, a former five-star prospect who spent the last two seasons at Oklahoma University, joined the parade of impact recruits to commit to Weis by announcing he would transfer to Kansas at semester.
While there's still work to be done - both off the field and on it - McCay joins Crist and Heaps as one of the most highly touted recruits to come to Kansas.
"I watched him very closely because he was right in the area of a lot of kids I follow," said Jon Kirby, of JayhawkSlant.com, who has been covering KU football recruiting for 13 years. "He was extremely talented. He was tall, athletic, had a great body, was real fluid, had great body control. He was a heck of a talent. I think a lot of times like this, people want to question a kid's talent and whether he can make it or not, but I've seen him play. He wouldn't have been in the Army All-American game if he didn't have talent."
The 6-foot-2, 209-pound wideout who was ranked as the top player in Kansas in the Class of 2010, was in Lawrence on Wednesday night for the KU-K-State men's basketball game. Evidently, that was enough to convince him to choose KU over K-State, which reportedly was his other finalist.
"The visit was great," McCay told Kirby. "And I think this is a great opportunity to build from the ground up."
Technically a red-shirt freshman, McCay played in just three games this season because of injury and decided to transfer from OU a couple of weeks ago. OU coach Bob Stoops granted the release, and McCay landed at KU, where he'll be reunited with former Miege head coach Tim Grunhard, who was hired in December to coach KU's offensive line. Kirby said he believed coming to Lawrence could be big for both the player and the program.
"I think a fresh start, a pro-style offense, Charlie Weis and he's got Rob Ianello now as his wide receivers coach," Kirby said. "Throw all that together and you never know what this kid could turn into."
As for McCay's decision to join the Jayhawks making a positive impact on the program, that, too, could wind up being huge, Kirby said.
"If he were to have any type of success here, I think it would show local kids that, maybe instead of going away to some bigger-name program outside of the area, they'll realize they can play and compete and win at the local in-state school," Kirby said. "It gives the Kansas coaches the ability to go recruit in-state kids and say, 'Look, this kid went away and came back. Why don't you just start your career here?'"
When asked where McCay ranked in terms of wide receivers that KU had brought in during the past decade, Kirby didn't hesitate to answer.
"In terms of raw talent and on paper and from a recruiting standpoint, he may have to be at the top," Kirby said. "He is probably one of the most highly regarded kids, along with these quarterbacks, that I've ever seen come to Kansas."
McCay's eligibility status remains up in the air and could go a number of different directions in the next few weeks. One thing that's not cloudy, though, is how the former OU wide receiver feels about his new coach.
"He is a great guy," McCay said of Weis. "He is 100 percent straight-up, and when he says he is going to do something, he gets it done. I want to be a part of what he is building. He's bringing in the tools to win."
D.C.'s Crawley plans visit
Washington D.C. cornerback Kenneth Crawley, a four-star prospect out of H.D. Woodson High, who recently backed out of his committment to Tennessee, has announced on Twitter that he will visit KU sometime next week.
Crawley, 6-1, 170, is teammates with former KU commitment De'Jon Wilson, who had pledged to join the Jayhawks but backed out after the firing of Turner Gill and now is orally committed to Colorado.
According to Rivals.com, Crawley is the No. 2 ranked cornerback in Maryland and the 21st ranked player at his position overall.
With his recruitment back open, Crawley also plans to visit Michigan State and Maryland, and he has offers from 22 other BCS schools, including Oklahoma State and Texas Tech of the Big 12.
Beaty to A&M;?
It appears that former KU wide receivers coach David Beaty, who worked at KU two separate times, under both Mark Mangino and Turner Gill, will join Kevin Sumlin's staff at Texas A&M.;
Beaty, a Texas native who spent time coaching at Rice between stints at Kansas, has become known for his ability to recruit his native state, specifically the Dallas area.
Several reports from Aggieland have indicated that Sumlin's staff is now complete and his assistants will hit the road to recruit next week.
Sumlin was hired by A&M; after a successful run at Houston and will lead the Aggies into the SEC next season.
Weis to attend tonight's Sunflower Showdown
Having already made an appearance at a KU men's basketball game - he was there on Dec. 10, when the Jayhawks topped second-ranked Ohio State - Weis now has plans to throw his support behind the KU women's team.
After a whirlwind few weeks that included being hired by KU, having hip-replacement surgery and hitting the recruiting trail, Weis will attend his first women's game at 7 tonight, when the Jayhawks (12-1 overall, 1-0 in Big 12 play) play host to in-state rival Kansas State (10-3, 1-0).