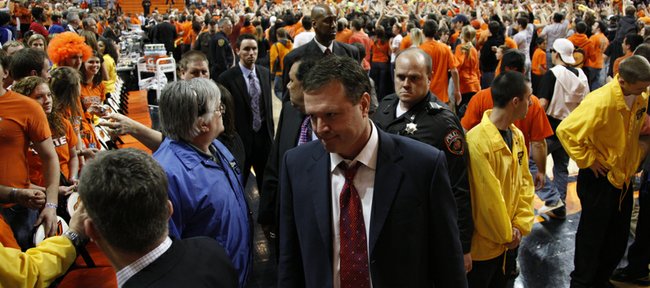 Stillwater, Okla. — Someday, Conner Teahan will tell his grandkids about the day he went 4-for-4 from three and helped Kansas University's basketball team overcome a 19-point second-half deficit in an 87-86 overtime victory over Missouri in Allen Fieldhouse.
"Thse memories will always be in my head for sure," Teahan said of mental snapshots of Thomas Robinson and Travis Releford ripping off their jersey tops and coach Bill Self raising his hands high over his head and screaming in concert with the fans following Saturday's final horn.
"That was the craziest game I've been a part of. For a game I played in, it was the most awesome experience of my life," added Teahan, a fifth-year senior out of Kansas City (Mo.) Rockhurst High.
In the wake of all that unbridled emotion comes the stark realization that today — just two days after the taming of the Tigers — the Jayhawks (24-5 overall, 14-2 Big 12) again must take the court in an 8 p.m. ESPN Big Monday contest against Oklahoma State (14-15, 7-9) in Gallagher-Iba Arena.
"I will do what I need to do to get back to where I need to be Monday," said Teahan, who played a career-high 37 minutes versus Mizzou. "I've never seen a win in Stillwater. Nobody else on our team has seen a win there. That's motivation in itself."
The Jayhawks, who are 1-3 in Stillwater and 7-4 overall against OSU in the Bill Self era, last won at Self's alma mater on Feb. 13, 2006. The Cowboys have remained tough at home this season, evidenced by a 6-2 record that includes a 79-72 victory over Mizzou.
"It's a quick turnaround. It will be a gut check as much as any, because, hey, if we could pick a game to not play on Big Monday, it'd be that game," said Self, his Jayhawks coming off such an emotionally and physically draining victory.
Extra incentive tonight is the fact KU can wrap up an undisputed league title. KU assured a tie for its eighth-straight crown Saturday.
"Winning the Big 12 title is obviously important to us," said Teahan. "It's a streak we take a lot of pride in ... winning eight in a row."
Self said there was a time he was not sure this team could win a league title.
"When we started 1-2 in the league (before rallying to win it in 2005-06), you'd say, '(Mario) Chalmers, (Brandon) Rush, (Julian) Wright and those other cats are pretty good. It's just a matter of time before the light comes on,'" Self said. "Hey, I didn't know if the light would come on. I didn't even know if it'd be a flicker. Early in the season we were not a good team. We ended up winning some games. South Florida was a pretty good win (70-42, Dec. 3). The Davidson game (80-74 loss on Dec. 19) was good for us. We were awful there (in Sprint Center). One thing with our players, our roster changes, but expectations don't. They committed to it. They've amazed me."
Withey's ankle OK: Self said Sunday that junior center Jeff Withey is "probable" for tonight's game. Withey twisted his left ankle in Saturday's game. ... The Jayhawks drove a charter bus to OSU late Sunday afternoon after a short 15-minute practice.
About OSU: Senior guard Keiton Page will be making his final home appearance tonight. He averages a team-leading 16.2 ppg, including an 18.0 mark in Big 12 play. He has hit a team-leading 82 threes. Freshman guard/forward Le'Bryan Nash, who did not play in Saturday's 60-42 home win over Texas A&M; because of a fractured left hand, averages 13.3 ppg. Nash may be finished for the season.
"The word is he fractured it and it's a good clean fracture, and he doesn't need surgery or any of that. We really didn't have time to experiment with any contraption of any sort if he did want to play," coach Travis Ford told the Oklahoman on Saturday. "He wants to play, but I'll decide on Monday what's best for him, and we'll see."
KU beat OSU, 81-66, on Feb. 11, in Allen Fieldhouse. Markel Brown had 21 points, Page 19, and Nash and Brian Williams 11 apiece. Thomas Robinson had 24 and Withey 18 for KU, which was outscored, 42-30, the second half.
Recruiting: No. 33-ranked Tony Parker, a 6-9 senior center from Miller Grove High in Lithonia, Ga., who attended Saturday's game, will choose between KU, Duke, Ohio State, Memphis and UCLA. "It was a great game and it was a great atmosphere," Tony's dad, Virgil, told Rivals.com. Tony wrote on Twitter: "I sat next to Larry Brown today at the game. (It was) the best atmosphere in my life." ... No. 1-rated Shabazz Muhammad, 6-6 from Bishop Gorman High in Las Vegas, wrote on Twitter: "Had a lot of fun in Lawrence this weekend; great visit. #rockchalk!!!!" He's considering KU, Kentucky, Duke, UCLA, UNLV and others. ... JaKarr Sampson, 6-8 senior forward from Brewster Academy in New Hampshire, told Rivals.com, "It was fun and it was crazy. I've never been to a place like that and I've never seen an atmosphere like that before. I got goose bumps on my back. It was just a fun game." Sampson, who signed with St. John's last year before failing to qualify, said he is "going to take more visits (perhaps to Florida and Providence)."