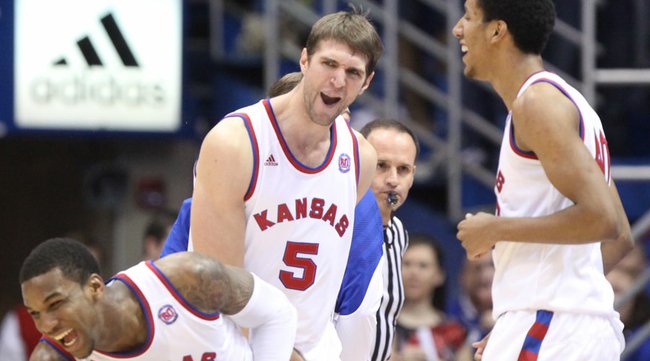 Podcast episode
Kansas coach Bill Self talks to reporters following the Jayhawks' 81-66 victory over Oklahoma State on Feb. 11, 2012.
Videos
KU vs. Oklahoma State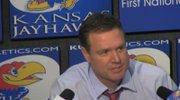 Kansas defeated Oklahoma State, 81-66, on Saturday, Feb. 11, 2012, at Allen Fieldhouse.
KU vs. Oklahoma State
Former Kansas University basketball great Clyde Lovellette waved to the fans while walking through the northwest tunnel of Allen Fieldhouse after receiving a standing ovation at halftime of Saturday's KU-Oklahoma State game.
The 82-year-old Hall of Famer from Petersburg, Ind., stopped not to talk about KU's 1952 NCAA title team, which had just been recognized, but about the 2011-12 Jayhawk squad that exploded for 51 points in the first half of an 81-66 victory over the Cowboys.
"That group out there is called a 'team,''' said Lovellette, impressed with KU's unselfish play in building a 51-24 advantage.
"Now we've got individuals we can talk about, too. Robinson ... you could make the case he's the top man in the country," Lovellette noted of Thomas Robinson, who scored 24 points and grabbed 14 rebounds in 33 minutes.
"You've got the big 7-footer in there. He has all the material," Lovellette added of Jeff Withey, who grabbed a career-high 20 rebounds to go with 18 points and seven blocks in 32 minutes. "With those two, you've got the basket pretty well covered."
The 6-foot-10 Lovellette — who lists All-American, Olympian and Helms Foundation Player of the Year among his many accolades — was speaking to a reporter about the same time KU coach Bill Self was lavishing praise on his Jayhawks (20-5 overall, 10-2 Big 12) in a locker-room speech he later regretted. Self's Jayhawks were outscored, 42-30, the second half.
"At halftime, I said, 'I'm really starting to enjoy watching you guys play,'" Self said after a 20-minute stretch in which his team hit 63.3 percent of its shots and committed just three turnovers while holding the Cowboys (12-13, 5-7) to 33.3 percent shooting. KU outboarded OSU, 22-6, for the half and 50-21 for the game.
"I knew it was a bad mistake as soon as I said it. They gave me an opportunity to correct myself after the game. Bad plays are contagious. Everybody caught the bug the second half," Self said.
The second half was one in which the Jayhawks actually saw their game-high lead of 29 points (right before intermission) dip to 12 points with 6:45 left.
"We're so immature at this point. We took the second half for granted and played miserably," Self said. The Jayhawks were bothered by OSU's full-court pressure and match-up zone defense.
"We're not mature enough to handle prosperity. We can't handle prosperity."
He further lamented the bad second-half play.
"It was unbelievable to watch ... making grade-school plays," Self said. "When we play right, we are pretty good. When we get off on our own, really don't share it or lose our edge a little bit, we get so average. This was like the NCAA Tournament where you have a lead, come out flat for a five-minute stretch, momentum changes, and you can't get it back. It was a good experience for us."
Self stressed that he truly likes this year's squad but is better off not telling the team he likes it.
Asked how this year's team compared to last year's 35-3 squad, Self said: "Last year's team was a lot better, but I'm not sure this year's team knows last year's team was a lot better.
"If you are going to have five guys play really well on this year's team and have five guys on last year's team play pretty well, we can play with 'em (2010-11 team), no question," Self said. "We had so much depth last year. If a guy wasn't playing well, somebody could make up for that. If we guard and rebound, we can play with anybody. We can play with last year's team. I don't think the consensus would be this year's team would be better than last year's team. This team can play better, but there's less margin for error."
This year's team is tied with Missouri for first place in the Big 12 heading into Monday's 8 p.m. battle at Kansas State.
The Jayhawks seem intent on proving Saturday's lousy second half was a fluke.
"We had the game won (at halftime). At least we felt like that," said senior guard Tyshawn Taylor, who scored 12 points with six assists and three turnovers in 37 minutes. Combo guard Elijah Johnson hit three threes in six tries and scored 11 points, while forward Travis Releford had 10 points.
Markel Brown scored 21 and Keiton Page 19 for OSU.
"Coach wanted us to go out and get better the second half, and we didn't," Taylor said. "If we wouldn't have gotten that big lead, this game could have gone either way. We definitely have to play better because we have to go on the road for another tough one."