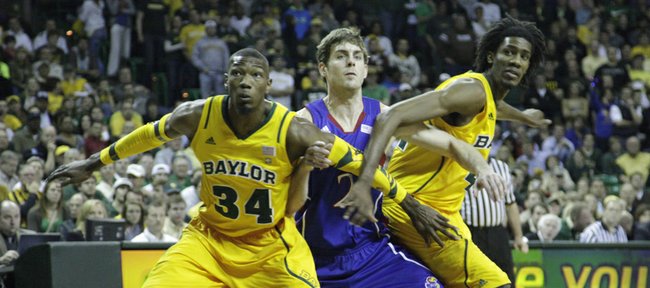 Kansas University senior guard Conner Teahan, who has made four of his last five three-pointers over the last two games, appears to have shot his way out of a prolonged slump.
"I knew it was a matter of time before they started dropping. I needed to stay with it and make some minor adjustments," said Teahan, 6-foot-6, 212 pounds, out of Kansas City Rockhurst High.
He hit two of three threes and scored eight points in Wednesday's 68-54 victory at Baylor after going 2-for-2 from three in Saturday's 74-71 loss at Missouri.
The accurate marksmanship followed an eight-game stretch in which he hit seven of 32 treys.
"Whenever I'm open and able to get a look, I'm going to take it," Teahan said of the three. "I have to hit shots, period. I'm not going to put a number on it (per game). I feel in situations where our team is struggling is when I need to come in and definitely kind of turn it around. I put that responsibility on myself being the senior. It's the same with Tyshawn (Taylor, senior point guard). That's the only time I feel I'm needed necessarily to make a shot."
Teahan was the only Jayhawk reserve to score a point against the Bears. However, Kevin Young had three assists, three rebounds and a steal in 10 minutes and Justin Wesley two rebounds and a steal in nine minutes.
"Kevin made some great passes. Justin played well. Kevin played well. Overall, we were able to execute," Teahan said of the reserves.
The Jayhawks showed a lot in battling back from an early 19-9 deficit.
"We knew if we could come out and punch 'em in the mouth first, who knows what would happen?" Teahan said. "They got us first, to be honest with you. It was nice to see we were able to stay with it. Early in the year, we might not have been able to do that. We were able to bounce back."
The Jayhawks were motivated following the loss to MU.
"We haven't lost two straight games in 200-something games," Teahan said. The Jayhawks have now gone 228 games without consecutive defeats, spanning six seasons. "We couldn't let one become two. We know we have a tough road ahead with Oklahoma State (3 p.m. Saturday, Allen Fieldhouse) and K-State (8 p.m. Monday, Bramlage Coliseum), so this was a really big game."
The Jayhawks (19-5, 9-2) received a big boost from junior center Jeff Withey, who scored a career-high 25 points, 17 the first half.
"It was a tough match-up for him at Missouri, their style of play," Teahan said. Withey did not score in the loss in Columbia. "He wasn't happy with it. He was struggling a bit with that performance at practice. Something got into him (Wednesday). He played great. He carried us."
Ellis in McDonald's game: Future KU forward Perry Ellis, a 6-8 senior from Wichita Heights, is one of 24 players chosen to compete in the McDonald's All-America game, set for March 28 at Chicago's United Center. Ellis, who is the all-time leading scorer in Wichita City League history, averages 26.1 points and 9.7 rebounds a game. He is a three-time all-state pick and Gatorade Player of the Year. He has led Heights to three consecutive state titles.
Ellis is KU's first McDonald's All-American since Josh Selby (2010) and the state of Kansas' first McDonald's pick since Wayne Simien (2001). KU assistant coach Danny Manning was a McDonald's All-American in 1984 out of Lawrence High.
"I'm just so excited for this. I've been working so hard for this, and I'm truly blessed to get the chance to do this. It's just real exciting for me and my family," Ellis said. "Playing in the McDonald's All-America game has been a goal of mine since my freshman year."
Ellis will play for the East team with Kyle Anderson, DaJuan Coleman, Kris Dunn, William Goodwin, Gary Harris, Amile Jefferson, Tyler Lewis, Tony Parker, Alex Poythress, Rodney Purvis and T.J. Warren. The West roster: Brandon Ashley, Isaiah Austin, Anthony Bennett, Kevin Ferrell, Archie Goodwin, Grant Jerrett, Shabazz Muhammad, Marcus Paige, Devonta Pollard, Cameron Ridley, Marcus Smart and Rasheed Sulaimon.
'52 team to be honored: KU's 1952 NCAA title team will be honored at halftime of Saturday's KU-OSU game. To commemorate the 60-year anniversary of the crown, KU's current players will be wearing throwback jerseys from that magical season.
"I think it's nice and is a great compliment to our group," title team member Bill Hougland said. "You feel more of this (feeling of achievement) the older you get. You look back at the times you had. It is a great feeling."