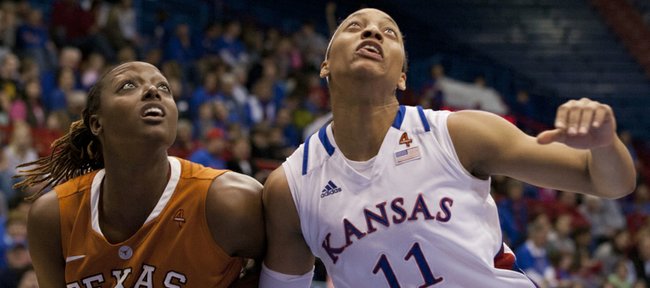 Document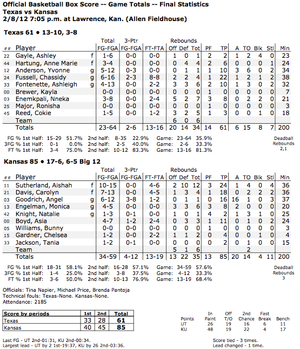 Much like the first time these two met back in January, Kansas University's women's basketball team built a second-half lead of 20-plus points against Texas on Wednesday night. This time, there was no UT comeback.
Instead, the Jayhawks slammed their foot on the gas pedal and pulled away from the Longhorns for a 85-61 victory at Allen Fieldhouse. The victory snapped a three-game losing streak and pushed KU to 17-6 overall and 6-5 in Big 12 Conference play.
"We got off to a great start," KU coach Bonnie Henrickson said. "And we fought and competed and battled. And, boy, in this league, you need that every night."
There were a bunch of reasons for Wednesday's blowout and plenty of highlights from the victory. Junior point guard Angel Goodrich finished with an Allen Fieldhouse-record 16 assists and added 16 points and just one turnover. Junior forward Carolyn Davis added 18 points on 7-of-13 shooting.
Both paled to the strong showing of senior forward Aishah Sutherland and the crucial minutes turned in by freshman Asia Boyd.
Sutherland, who finished with game-highs of 24 points and 12 rebounds, scored 10 of KU's first 18 points. She nearly matched that output during a second-half stretch in which she scored eight of 14 for the Jayhawks and helped KU push its lead to as many as 26 points (79-53).
"I just came in thinking, 'Attack them,'" Sutherland said. "And that's what I did. I saw open opportunities and took them."
Added Henrickson: "It's never been a talent issue with Aishah but a consistency thing. She was really, really good tonight, and I wouldn't have predicted that because I thought she was a little flat in warm-ups."
The way Sutherland described it, flat equaled dialed in.
"I wasn't as hyper as I usually am before games, jumping around, dancing and stuff," Sutherland said. "So she probably thought I was a little flat, but I was just more focused."
While Goodrich was breaking records and Sutherland was scoring in bunches, Boyd was turning in the best game of her young career. Turns out, that was the product of some off-the-court attention, as Henrickson and Boyd recently met to talk about what she could do to play more.
"This was the best analogy I could give her," Henrickson said. "'I know you want to play like Angel Goodrich. Play like (KU freshman starter) Natalie Knight.' I just appreciate the fact that the kid would text me and ask me what she could do to get on the floor. That's not the first time, it's just the most recent time."
Boyd played 24 minutes and scored 11 points on 4-of-7 shooting.
"I was just trying to contribute to the team and make sure we got the win," she said. "Coach Bonnie had a lot of confidence in me tonight. I believed in what she was saying, and she believed in what I was doing, so it just worked out well."
Other than a sloppy stretch at the end of the first half that allowed Texas to cut KU's double-digit lead to seven at halftime, the Jayhawks dominated all night. They opened with a 22-8 run that set the tone and reclaimed control with a 19-5 run early in the second half. The second spurt turned a three-point lead at 18:20 into a 17-point lead (61-44) seven minutes later, and the Jayhawks made it clear they were not interested in another barn-burner.
"We didn't need it to be a re-run of another game, where they come back," Sutherland said. "We have worked hard, and we knew we just needed to stay consistent and not let up."
The Jayhawks will travel to Kansas State at noon Sunday for a rematch with the Wildcats, who topped Kansas, 63-57, in early January in Lawrence.