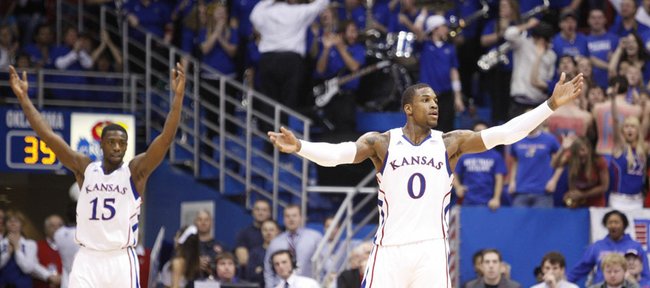 Podcast episode
Kansas coach Bill Self talks to reporters following the Jayhawks' 84-62 victory over Oklahoma on Feb. 1, 2012.
Videos
Bill Self, Lon Kruger, KU and OU players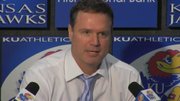 Kansas defeated Oklahoma, 84-62, on Wednesday, Feb. 1, 2012, at Allen Fieldhouse.
KU vs. OU
In a second half of non-stop, good old-fashioned Kansas University basketball dominance Wednesday night in Allen Fieldhouse, the Jayhawks did a nice job of scratching another victory against Oklahoma off the schedule and not looking past the Sooners.
In turning a three-point half-time lead into an 84-62 victory, all five starters played key roles.
Elijah Johnson didn't score or get a rebound in the second half, but he did do a nice job of chasing Steven Pledger around the floor, guarding him physically. With the help of Travis Releford, Johnson frustrated Pledger into 2-for-7 shooting in the second 20 minutes.
Releford hit the boards and defended with passion. Jeff Withey used left-right hook combinations to slap the Sooners silly and scored 13 of his 15 points in the second half. He's become so much more aggressive, which enables him to show off the sweetest free-throw rotation on the team. He never misses. After a sometimes-passive, sometimes-inattentive first half, Tyshawn Taylor (21 points) made all five of his second-half shots, including a pair of three-pointers and had five assists without a turnover after three first-half spills.
And then there was Thomas Robinson, who made all six second-half shots and, to round out a 20-point, 17-rebound night, had 12 points, 11 boards, three assists, two blocks and two steals after halftime. Robinson and Taylor combined to make 11 of 11 shots in the half, and KU made 17 of 20 shots inside the three-point arc.
A team doesn't play that well if it's thinking about a game scheduled to be played three nights later.
"I don't think it was difficult to focus on this game because of our last game," Taylor said, meaning the loss at Iowa State. "We wanted to bounce back. We knew we couldn't look past OU. They played at K-State and beat them. We knew it was going to be a tough game."
Still, he acknowledged, the invisible shadow of Saturday night's showdown in the Show-Me State crept onto the scene.
"I think a lot of our focus was not all the way on Saturday, but in the backs of our heads, we were thinking about that game," Taylor said. "It's probably the biggest one we have on our schedule so far. Coach said in the locker room it's something we can start thinking about now because that's our focus."
Watching the game, it was difficult not to think about Missouri.
Every time Robinson scored, the same question surfaced: What player on Missouri's roster can slow him down? Tough to find an answer for that one.
Conversely, when Kansas passed the ball on the perimeter of Oklahoma's tight zone defense and too often settled for a jumper in the first half, the same question surfaced: Is Missouri watching this and planning to play a zone for much of Saturday night? If so, can Taylor find the angles to exploit and not turn it over against such quick Tigers defenders? Will KU be able to figure out a way to get Robinson the ball on the block?
When Releford dropped down to play power forward, immediately the mind raced to how that lineup will be used plenty Saturday against the smaller Tigers.
Keeping focus trained on the task at hand will be a challenge for residents of both Border War states for the rest of the week. Look for productivity to decrease significantly in every office in both states. Sure, the 21st century is relatively young, but Saturday certainly shapes up as the regular-season Game of the Century for both schools.
It meets that lofty standard not just because Missouri is booking for the SEC, but because it's a battle with first-place implications and even more so because it's a contest between two Top-10 teams that bring such different strengths and vulnerabilities to the court.