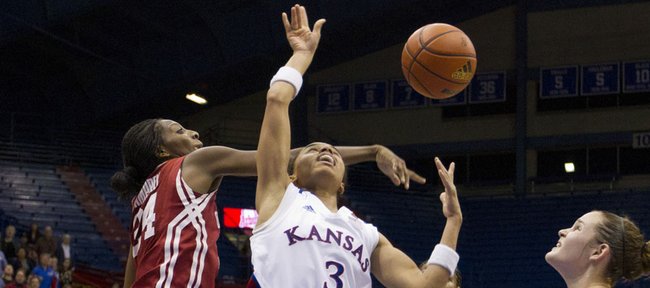 The Kansas University women's basketball team drained clutch three-pointers in the final seconds of each half during Tuesday night's Big 12 battle with Oklahoma.
Unfortunately for the Jayhawks, the only buckets that truly mattered came in overtime, where the Sooners made more and held off the newly ranked Jayhawks, 74-68 in overtime.
"Both teams had leads and the chance to take control, and they had the last one and held on," KU coach Bonnie Henrickson said.
Tuesday's loss was KU's third at home in conference play this season, and it dropped the Jayhawks, who were ranked No. 25 in the ESPN/USA Today coaches poll, to 16-5 overall and 5-4 in the Big 12.
After the loss, the Jayhawks utilized varying degrees of descriptions to describe their struggles at home.
"Look at all three of them, it's been gut-wrenching," said Henrickson of recent home losses to Kansas State, Texas A&M; and Oklahoma. "In this league, you gotta protect your home court."
Added junior guard Monica Engelman: "I'd just say it sucks."
Despite both teams playing with incredible energy and defensive intensity, the Jayhawks led for much of the game. Junior point guard Angel Goodrich made sure her team took the lead into halftime, when she buried a buzzer-beating three-pointer from a few steps inside of halfcourt to give Kansas a 27-25 lead and a huge lift.
"It got us some momentum, and I didn't know what to do," Engelman said. "I didn't know if I should run at her or just stand there screaming."
Midway through the second half, KU used a 7-0 run to turn its two-point lead into a nine-point cushion and led 53-44, with 9:30 to play. First, Engelman hit one of two free throws. Goodrich followed with a bucket in transition and added another highlight to her night by recording one of her six assists while falling out of bounds. Senior forward Aishah Sutherland (nine points, eight rebounds) was the recipient of that Goodrich gem and she calmly laid it in and sent the fieldhouse crowd of 2,872 into a frenzy. OU responded with a timeout and then made its run.
The Sooners' first lead of the second half came at the 2:12 mark, when Morgan Hook buried a three-pointer from the corner. The Sooners, who lead the Big 12 in three-point shooting, made just 2 of 10 all night. The second one — at the 1:29 mark in OT — also gave them a lead.
"We did a great job defending the three until overtime and then they make some plays and we don't," Henrickson said.
The Jayhawks and Sooners reached overtime thanks to a clutch shot by Engelman with five seconds remaining in regulation. After Sharane Campbell hit two free throws to give OU a 64-61 lead with 12.8 seconds to play, Goodrich raced the ball up the floor and feathered a pass to Engelman on the far wing. Despite making just 4-of-15 shots on the night, Engelman stepped into it and buried it.
"It's a play we have," said Henrickson, who watched her team run things perfectly without the luxury of being able to call timeout to set the play up. "It's a great screen by Carolyn, a great pass by Angel and a great, in-rhythm shot by (Engelman)."
With momentum again on its side, KU jumped out to a 66-64 lead in OT on a quick bucket by Davis. As was the case in regulation, however, KU simply could not pull away.
The Jayhawks next will travel to Texas A&M; on Saturday. The Jayhawks and Aggies are slated to tip off at 7 p.m.