Photo Gallery
KU men's basketball clinic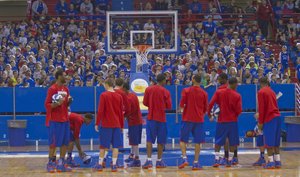 Pictures from the KU men's basketball clinic on Thursday, Dec. 27, 2012, at Allen Fieldhouse.
A long line of kindergarten to sixth-grade boys and girls stretched from the southeast end of the Allen Fieldhouse floor all the way to the southwest end Thursday afternoon.
The 450 youths in attendance at Kansas University's 2012 Men's Basketball Holiday Clinic made it clear that one of their favorite players was red-shirt freshman Ben McLemore, who, along with his teammates, signed a steady stream of autographs for an hour.
"A couple people were telling me the line was longer than coach (Bill) Self's (line). I don't believe that, but everybody kept telling me that," McLemore said with a smile.
The 6-foot-5 St. Louis native returned to Lawrence on Wednesday afternoon after a relaxing 31⁄2-day Christmas vacation. He acknowledges the best present he received was not one of the wrapped gifts sitting under his mom's Christmas tree.
The gift he'll cherish forever was the opportunity to visit big brother Keith Scott, who is locked up in maximum-security Potosi Correctional Center in Mineral Springs, Mo. Scott, who is eight years older than Ben, celebrated his birthday on Christmas Day. He has been in jail for five years.
"It made my Christmas," McLemore said of being granted an audience with his 28-year-old brother Sunday. "It was great seeing him. I didn't get a chance to talk a lot with him. The thing I'm grateful for is getting to go out there and see him. I think he was even more happy to see me than I was to see him.
"He told me to keep my head up, just keep playing, keep doing what I'm doing, to have fun out there. That's what I've been doing."
McLemore and his teammates had a blast Thursday, taking part in drills with the youths at the clinic, which was held in the fieldhouse and the Jayhawks' practice facility.
"It's great taking time out of our day to get to play with the kids and have fun," McLemore said.
In speaking with the campers, Self gushed about the ability of the high-flying McLemore, who leads KU in scoring (16.5 ppg) and is third in rebounding (5.7 rpg) entering Saturday's 7 p.m. home game against American University.
"He has a chance to have his jersey hung up there," Self said, pointing to the south rafters of the fieldhouse. "He's that talented. He's an even better kid."
Self's birthday: The campers sang "Happy Birthday" to Self at the urging of KU senior point guard Elijah Johnson. Self celebrated birthday No. 50 on Thursday.
"I turned 40 this year. It's embarrassing to say that I turned 40," Self said with a smile. "I used to be a young coach. Now I'm one of the oldest coaches around. Birthdays, I guess, when you get to be on the downward half or spiral or whatever it is ... I guess birthdays are great because it means you are still having them. I'll take it and go with that."
Self, who is in his 20th overall season as a coach, has 486 victories (against 159 losses). Recently, SI.com's Andy Glockner wrote that KU's Self has the best chance of any active coach to catch Duke's Mike Krzyzewski as college basketball's all-time winningest coach. Krzyzewski has 938 victories.
"Zero," Self said, asked the odds of him catching Coach K. "Whoever wrote that doesn't know me very well. I don't think I'll want to coach near that long. But if you coach at a place like Kansas, you are going to win a lot of games, that's for sure."
Asked if he likes being "in the conversation" for all-time winningest coach, Self said: "Nobody is mentioning me in the conversation. That's one guy. Trust me, that's not anyone's topic of conversation, at least any meaningful conversation."
Norm's joke: KU assistant coach Norm Roberts came up with a lighthearted jab of Self on his birthday: "I think he looks pretty good for a 60-, 70-year-old guy. He has kept himself up. He's got it put together pretty well."
Wesley update: KU junior forward Justin Wesley, who broke the little finger on his left hand on Dec. 13, might be ready to play in the Temple game on Jan. 6.
"He has a splint on his finger. Hopefully he can start noncontact (drills) immediately and be out there with contact hopefully within a week," Self said.
Self on KU's first two practices since the end of holiday break: "Both were marginal at best, not a lot of energy," he said. "The best thing we got out of it is some conditioning.
"Jeff is not back yet," he added of senior Jeff Withey, who Thursday attended the memorial service for his grandmother in California. He should be able to practice today. "I would not say great practices by any stretch, but it's good to have them back together. Attitudes are good, but we haven't gotten better the last two days."
More on McLemore's draft stock: NBAdraft.net, which currently has McLemore being taken No. 3 overall in the 2013 NBA Draft, wrote Wednesday that it's possible he could vault to No. 1. He'd be the first shooting guard taken No. 1 overall since Austin Carr in 1971.
"If McLemore can continue his rate of improvement and learns how to further impose his will on the game, by the time draft day rolls around, anything is possible. In a draft with no clear cut No. 1 pick, a shooting guard such as McLemore has a legitimate chance to be the top overall pick, something we have not seen in 40 years," Greg Sandler of nbadraft.net wrote.
Draftexpress.com currently has McLemore being picked No. 10 overall and Withey No. 25. NBAdraft.net has Withey going No. 30 overall.