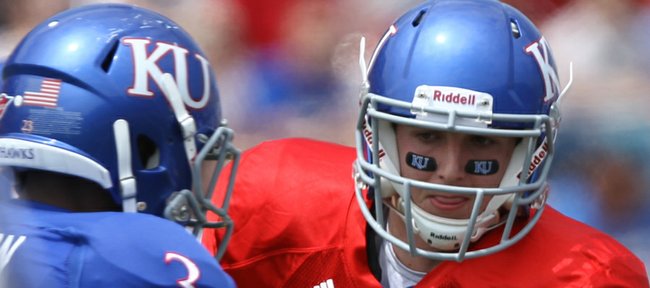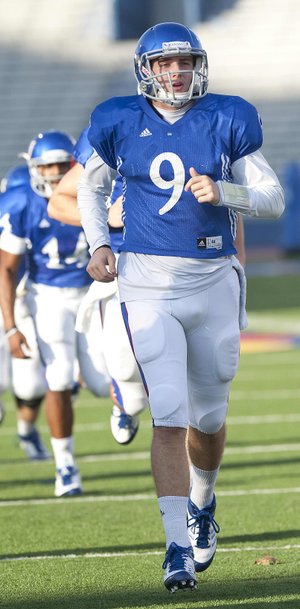 With the Kansas University football team struggling to keep up with West Virginia and the disappointment of the 2012 season ticking away quarter by quarter, minute by minute, the unofficial beginning of the 2013 campaign was under way.
Back home in Lawrence, as he watched the 59-10 loss on television, third-year sophomore Jake Heaps sent his thoughts about plays, performances and the future to KU coach Charlie Weis via text message. Weis referenced the texts in his postgame news conference, and, by the time the Jayhawks returned home, Heaps had become the team's leader.
It was a role Heaps had waited an entire season for, one he practiced, pictured and wondered about for months.
"Learning this particular offense and getting to know coach Weis and what he's like and what he expects from you, I think that's a huge deal," said Heaps, the former BYU quarterback who transferred to Kansas last December to play for Weis.
Weis, beginning his second offseason in charge of the Jayhawks, recruited Heaps out of high school and has known for a while what kind of quarterback — and leader — the 6-foot-1, 210-pound junior-to-be from Skyline High in Issaquah, Wash., would be. It's the rest of the people associated with KU — from teammates and coaches to fans and foes — who have yet to truly see what Heaps can do.
Don't count KU's defensive coaches in that group. They saw it a little too much during 2012, when Heaps led KU's scout team.
"The defensive staff would be delighted not to see any more of Jake Heaps," Weis said. "Because every day in practice, he just tore them up. He really performed at a very high level."
Some have high hopes and believe Heaps will be the guy who finally leads the KU offense back to something that resembles the point-scoring machine it was under record-setting quarterback Todd Reesing. Others are more skeptical, partly because they don't know Heaps yet and partly because of the failed Dayne Crist experiment that plagued KU's quarterback position during 2012. Heaps is ready to show both camps what he can do.
"In no way, shape or form do you want to shy from expectations," Heaps said. "You want expectations to be really, really high, and you want to meet those, and you want to go beyond them, but that can't be your concern. Your concern has to be working as hard as you can, being the best teammate, being the best player and hopefully making the team the best it can possibly be."
Added Weis: "Most people in (Heaps' position) would have wallowed away in anonymity. Not Jake Heaps. He was grinding from the day he got here. He's been nothing but a positive influence around here. If I asked the players to vote for their favorite player on a team, he might win it without having played. I'm not going to anoint him as the second coming. I'm just saying that's where we are right now, and that's a good place to start."
It has not yet been determined whether Heaps will be KU's starting quarterback heading into the 2013 season, but he certainly appears to be the heavy favorite and already has started acting like it. He looks the part, has been an active participant in KU's offseason recruiting haul and even carries himself with a different bounce than he did in the shadows.
"Jake's a great player, a great teammate, and I'm excited to see him compete," Crist said. "I think it'll be good for him to finally be eligible and be able to do some meaningful stuff. He can be a very special player."
That's the goal, of course, but Heaps is more than willing to let things play out naturally. After all, Heaps said he would not have changed a thing about his time in Lawrence thus far.
"It's been fun to sit back and gain perspective on what it's like to be here, what it's like to be a Kansas Jayhawk and where I fit in with this team," he said.
As for the pressure that comes with manning the most important position in Weis' offense, Heaps is more than up for that.
"That's the fun part about it; you run the show," he said. "As you go the team goes. That's why I love the position.
"You guys will get to know me a little bit better, but I am a very competitive guy. I love every opportunity that I have to go out on the field and get better. There are no gimmicks, no special way to get it done other than competing, having fun and working hard."