Sunday, December 16, 2012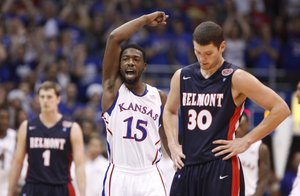 A healthy Elijah Johnson has helped rejuvenate Kansas University's basketball offense, which has averaged 89.5 points a game in back-to-back victories over Colorado and Belmont in Allen Fieldhouse.
Johnson, who bruised his left knee against Saint Louis on Nov. 20, scored 11 points and dished three assists against two turnovers in a 90-54 victory over the Buffs on Dec. 8. Seven days later, he scored seven points, dished nine assists and suffered just one turnover in an 89-60 victory over the Bruins.
Coincidentally, the 6-foot-4 senior point guard from Las Vegas, who had helped the Jayhawks (8-1) average 73.6 points through the first seven games, said he felt close to 100 percent against both CU and BU.
"Travis (Releford) said he thought I was moving better, moving up the court and pushing the tempo. He said when he saw that, it hyped him up so much and made him so excited for the night. Ben (McLemore) said the same thing," Johnson said.
"I didn't know me just running up the court fast could bring so much energy to the team. I did, but I wasn't conscious of it being in my own shoes. I know that's what I've got to do now. I don't have a problem doing it because I see how much my teammates feed off it."
Johnson is "definitely getting better. He's getting his knees back, his athleticism back. He controlled the game," KU freshman McLemore said after Saturday's rout of Belmont. "He was the key player of the game. He's out there leading the team. We just follow along."
KU coach Bill Self, who pointed out that Johnson also had nine assists in victories over Saint Louis and Oregon State, says Johnson was the best player in the game Saturday.
"I am really liking his health right now," Self said of Johnson, who banged his hand after getting knocked down on a dunk attempt in the Oregon State game and also needed treatment for that bruise. "It seems to me he is so much more explosive and faster than he was earlier."
Johnson made sure the Jayhawks headed into the locker room on a positive note at halftime versus Belmont. First, he hit a driving layup with nine seconds left. Then, after a Belmont turnover, he accepted an in-bounds pass in KU's backcourt at :05, sped down-court and found McLemore for a dunk and foul shot just before the buzzer.
"Some of the plays he made … the back-door pass (to Releford earlier in half) … those are special plays. He's getting better all the time," Self said. "That was a great way to end the half."
Johnson has 21 assists against seven turnovers the last three games and 46 assists to 23 turnovers for the season.
He explained the full-court dash right before half.
"That's something where you get one chance to look at the clock," Johnson said. "I knew I had five seconds. Once I caught the ball (inbounded in KU backcourt), the only time you get to look at the clock is half-court. I glanced at the clock and saw I had 21⁄2 seconds at half-court. I just made a play. I knew I didn't have to rush."
Self likes the direction of the offense heading into Tuesday's 6 p.m. home game against Richmond, a 9-2 team from the Atlantic 10 Conference.
"I think the ball is moving. I think we're driving to pass. We're touching the paint off the bounce more," Self said. "We fell in love with the three too much to start the game. Six of our first eight shots were threes (on a night KU hit 10 of 21), so we've got to do a better job of getting inside touches."
It's all a work in progress, Self said.
"We need to have a good week, play well against Richmond, then end the break right up in Columbus (vs. Ohio State Saturday) and hopefully have a little bit of momentum going into Christmas."
Transfer possibility update: Former UCLA center Joshua Smith, who has KU, Washington and Georgetown on his list of transfer possibilities, will have one semester of eligibility remaining at his future school. If the 6-10, 305-pound native of Kent, Wash., enrolled for second semester classes at KU, he'd be able to practice, but not play in games until after final exams in December of 2013. He'd miss about nine games of his senior season. The former McDonald's All-American averaged 5.2 points and 4.2 rebounds and 13.2 minutes a game in six games this season, his junior campaign. He averaged 10.9 points and 9.9 points in 2010-11 and 2011-12 respectively. Smith was the No. 23-rated player in the recruiting Class of 2010. He had 17 points and 13 boards in a 77-76 loss to KU on Dec. 2, 2010, in Allen Fieldhouse. He had one point and one board in 13 minutes in a 72-56 loss to KU last season in Maui. He has battled weight problems his entire college career.