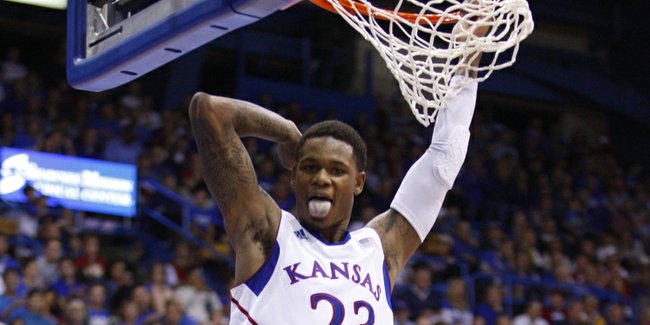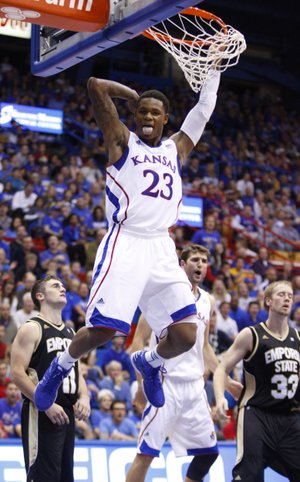 He rises up, winds up, throws down a monster dunk, and in a blink 16,300 spectators also rise up and roar approval. All of them wish they could do the same. Ben McLemore smiles and sprints so smoothly to the other end of the court.
What must it be like to be McLemore, Kansas University basketball star, floating sky-walker, owner of a million-dollar smile and a jump shot to match?
For a little insight, listen to his response when asked to name the happiest day of his life.
"The happiest day of my life is every day just being here," McLemore said during a one-on-one interview Wednesday. "Waking up every morning and being able to see my family, my teammates, my coaches and being able to play basketball, the game I love."
But before thinking he has it all, that his life can't get any better and his heart never aches, consider his answer when asked to identify the saddest day of his life.
"The saddest day of my life is every day, not being able to see my big brother," McLemore said. "Him not being able to see my first game. Him not seeing me play anymore. That's pretty sad. I can't bring him here by wishing to God he was here. That definitely is the saddest thing in my life."
Ben's brother Keith Scott, eight years his senior, is locked up in maximum-security Potosi Correctional Center in Mineral Springs, Mo., for "things he did that he wishes he never did," Ben said. "When I go back home for Christmas break, I have a chance to visit him. He's been in almost five years now. His birthday's on Christmas Day."
Ben remembers the first time he dunked on his older brother in St. Louis, their hometown.
"We were playing at the Rec Center, and I caught him by surprise," McLemore said. "I guess he didn't think I could do it. He chased me down on the fast break. I jumped and dunked it on him and he was like, 'Wow! That's my little brother?' I think I was a freshman in high school. I had fun playing against him. He had fun playing against me."
Ben McLemore III, son of Sonya Reid, is the fourth of her five children.
"I learned a lot from my three older sisters growing up," McLemore said. "I look up to them, and they tell me things they went through, and they tell me they don't want me to do those same things."
He listens and in turn dispenses advice to his younger brother, Kevin, a senior on the Normandy High basketball team in St. Louis, where, older brother Ben proudly pointed out, Kevin totaled 15 points, seven assists and five steals in a recent game. Kevin's the last of the McLemore basketball players, but far from the first.
Ben said he inherited his smile from his mother, his athletic gifts from his father, Ben McLemore II.
"People who saw my dad play in high school, they tell me, 'Your pop, he was nice. He used to run the Spectrum, he used to take over and dunk on people. It was crazy.' The court we played on at the Spectrum in St. Louis, there was a hoop that was taller (than regulation). People tell me there was only one guy who dunked on that hoop. Then my dad dunked on it, and there were two guys then," McLemore said, smiling. "He surprised me before one of my games this year, came to my room. I was shocked, almost came to tears. I hadn't seen him in a while."
In October of 2011, he experienced a shock of a different sort along with teammate and classmate Jamari Traylor. They were told that the NCAA ruled they would not be allowed to participate in practice or games the first semester of their freshman year, but could earn with success in the classroom the right to practice without playing in games second semester.
"My heart broke down," McLemore said. "Still, in my head I thought maybe this is a blessing, maybe God did this for a reason. And it was a blessing. I took it and told myself I'm not going to let that stop me. I'm going to work hard every day on and off the court."
McLemore fell just short of a 3.0 grade-point average first semester and studied his way onto the Big 12 honor roll second semester with a GPA that exceeded 3.0.
"That means a lot to me," McLemore said. "I worked very hard last year on my academics, and my mom was proud of me."
He's not bashful in taking pride in his basketball accomplishments during that time.
"Second semester came around, and we were eligible," he said. "Our first practice was at Sprint Center, and it was a great practice. I decided then I was going to take every practice like it was game night. We got better, and our teammates got better, and as you can see, we made it to the Final Four and the championship game."
Seven games into his college career, McLemore leads the team in scoring (14.9 points per game) and free-throw percentage (.840), ranks second in steals and dunks and third in rebounds and blocked shots.
Numbers can't capture what McLemore said he believes life as a student at KU has done for his personal development.
"I love it here," McLemore said. "I'm learning to take on more responsibility with different things in my life, not needing as much help with things. Going to college, you want to learn how to do things and not always ask for help. It's nice to be able to say, 'OK, I can do that on my own. I'm becoming a man now.'"
He said he played football as a sophomore and junior in high school and was used as a wide receiver, tight end, defensive end, punter and kicker. He said he played some baseball and was used as a center fielder, but his first love never has changed.
"I just remember picking up a basketball and dribbling and thinking, 'This is what I want to do. I want to play basketball.' I grew up in a basketball family, and it just excited me to play basketball," he said. "I always used to get a basketball for Christmas."
McLemore's signature play, the one-handed dunk, mirrors what he has done in life to this point. He has risen up above his surroundings. Nothing about the way he conducts himself suggests that he will allow basketball to use him. He already seems to understand he can use basketball to carve out a better life. He makes his primary goal in life sound so simple.
"I just want to make my family proud," McLemore said.