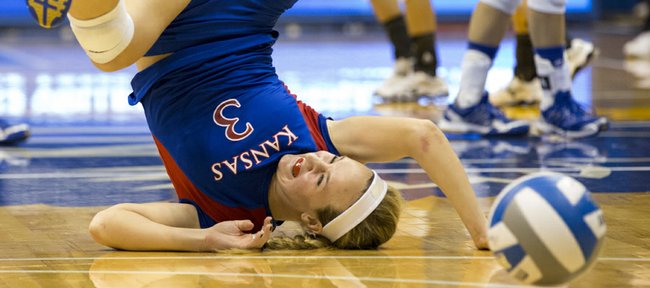 Kansas University junior volleyball standout Caroline Jarmoc sat at a table in the NCAA Tournament interview room, her eyes welling with tears following the Jayhawks' 3-1 season-ending loss to Wichita State on Saturday before 4,478 fans in Allen Fieldhouse.
"You can probably tell by what I look like now ... you put so much work into something, it's hard when it ends so quickly," Jarmoc said of the second-round setback that ended KU's season at 26-7. Wichita State, which advances to a Dec. 7 Sweet 16 contest against USC in Austin, Texas, improved to 24-9.
"All of us are so close. We had such a great season, we don't want it to end. Bri (Brianne Riley) even said in the locker room she wanted to practice on Monday. It's just something hard to accept," Jarmoc added.
After winning the first set 25-23, the Jayhawks were steamrolled, 16-25, 19-25 and 21-25, by WSU, which lost the first two sets versus Arkansas in the first round Friday before rallying to defeat the Razorbacks, 3-2.
"The key stat ... they passed the ball to their setter better than we did," KU coach Ray Bechard said. "Their offense was more in tune than ours. It's disappointing you don't play at your best when you need to, but your opponent has a lot to do with that. We're still extremely proud of the season we had and these young ladies."
Technically speaking ... "We didn't do one skill well enough tonight. That's first contact when they were serving. Our setter didn't have enough options. We've got to get the ball to Jarmoc (10 kills) and Tolefree (Tayler, seven kills) like we have all year. Jarmoc's having an All-American year, and we just didn't put her in a good situation tonight to have an All-American night."
Sara McClinton and Catherine Carmichael had 18 and 13 kills respectively to lead the Jayhawks.
Ashley Andrade, Elizabeth Field, Emily Adney and Ashlyn Driscoll had 18, 13, 11 and 10 kills for WSU, which advances to the Sweet 16 for first time in school history. KU also was trying to reach that destination for the first time.
"They were tough on our passers, hitters making good decisions, aggressive decisions," Tolefree said. "They were coming after us."
WSU coach Chris Lamb said the Shockers of the Missouri Valley Conference embraced their role as a mid-major school that beat SEC and Big 12 programs in successive nights.
"Our kind of little motto lately is, 'We're great against strangers,'" Lamb said, seated in an interview room with three Shocker players still wiping away tears of joy a good 20 minutes after the match. "These guys love to play the strangers. The (USC) Trojans are going to show up. We're going to show up. I have no problem saying we're playing with house's money.
"The Shockers are going to come (to Texas), and the Shockers are going to play hard," he added, "and we're going to find a game plan and give everything we have. We think we made a statement today. These things don't come around every day, so we're going to enjoy it ... forever. I've got the game ball."
The Jayhawks lose just one player — Lawrence native Tolefree — off this year's team.
"I'd like to thank this group right here and the University of Kansas for taking us on the most enjoyable ride we've had in the history of Kansas volleyball," Bechard said. "As we know around here, the NCAA Tournament comes to an abrupt end when you don't play as well as you would have liked. It's tough in that locker room when you know you'll be around this group for the last time. There will be a point in time we understand many of the things we got accomplished this year. That's probably not going to be for the next few days."
Notes: KU officials indicated the two-day event drew 8,029 fans, second most of any of the 16 sites (behind Nebraska) for first- and second-round matches. ... There were 28 ties and 10 lead changes. ... WSU ended KU's five-match winning streak. ... KU fell to 1-5 when trailing 2-1 after three sets. ... KU is 3-4 all-time in the NCAA Tournament. ... KU leads the all-time series vs. WSU, 39-13. The two teams had last met in 2002. ... WSU junior Chelsy Feekin set the school record for assists in an NCAA Tournament, posting 102 in the two matches. ... Junior Brianne Riley finished with 23 digs, marking the 15th time this season she has posted 20 or more digs in a match. ... Riley collected 39 digs over the two matches, which is second-best in KU history in an NCAA Tournament. She only trails Jill Dorsey (53). ... Erin McNorton's 89 combined assists was the third-best total by a Jayhawk in one year of the NCAA Tournament. .... McClinton finished with a combined 34 kills, which is tied for the third-best in Kansas history in an NCAA Tournament with Jana Correa in 2003.