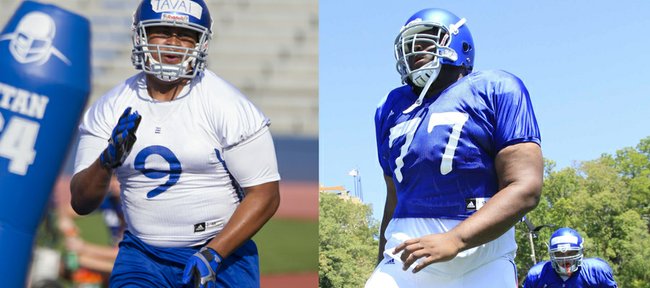 Two of Kansas University team's most recent arrivals officially became starters on Tuesday, when KU football coach Charlie Weis released the first depth chart of the regular season.
Offensive lineman Aslam Sterling was penciled in as the starter at right guard and defensive lineman Jordan Tavai was tapped as the top option at nose tackle.
The question now is: Does the fact that both guys were able to work their way into the starting lineup in less than a month say more about their ability or the team they joined?
"I think it says a lot about those guys," senior offensive lineman Duane Zlatnik said. "I saw film on them both before they came here and I knew they were gonna come in and compete right away. The best players are gonna play."
In the case of Tavai, a 6-foot-3, 290-pound junior-college transfer from El Camino, Calif., that was exactly the explanation Weis gave.
"He's been one of our best guys in his brief time here," Weis said of Tavai.
Not only is Tavai listed as the starting nose tackle, he also is listed as a potential back-up at both defensive end spots. The reason? Weis said he's the one guy on the roster who could start inside and transition outside effortlessly.
For Sterling, a 6-foot-5, 348-pound monster from Nassau Community College in New York, the move has been just the opposite. After spending most of his three weeks in town at tackle, Sterling began working at right guard early last week.
"I didn't really expect to go play right guard," Sterling said. "But I'm starting, so I'm happy."
The move, though challenging, has not been that difficult for Sterling. For starters, he has previous experience at the position and also has a built-in advantage.
"When you're moving from right tackle to right guard, you know what the guy next to you is doing, so it's not that bad," he said.
Both Weis and offensive line coach Tim Grunhard said putting Sterling at guard and allowing junior Gavin Howard to play right tackle gives KU's O-line the best shot for early success.
"He's a big road-grader, so we're excited about seeing what he can do," Grunhard said.
Added Weis: "We've settled the offensive line down. Instead of there being roving parts, we've settled it down. Gavin and (junior) Riley (Spencer) have settled down at right tackle, and Aslam and (junior) Randall (Dent) at right guard. I think you should expect to see all four of those guys playing in the game."
While Sterling's size — he's down about 20 pounds from his reporting weight — is unmatched on the KU roster, his hard work is what earned him the opportunity to start. From going all-out at practice every day to spending nearly an hour a night extra in his playbook, Sterling did all he could to make up for lost time. That included extra one-on-one sessions with strength coach Scott Holsopple, both in the mornings and after practices.
"It's not fun at all. Not for a guy my size," he said. "But I'm getting through it, and my conditioning is getting better each week."
In other notable depth chart news:
Senior transfer Anthony McDonald, a linebacker from Notre Dame, was not listed. "Anthony could play," Weis said. "But, right now, I don't believe that Anthony could turn it loose. When he can turn it loose, the depth chart will change."

Red-shirt freshman Michael Cummings continues to hold the lead over sophomore transfer Turner Baty in the race to back up starting quarterback Dayne Crist. At running back, juco transfer Taylor Cox edged out sophomore Brandon Bourbon for the No. 2 spot at running back — behind sophomore starter Tony Pierson — but Weis said all three backs should get carries on Saturday.

KU's two-deep features 14 newcomers, including five who will enter the season as starters.

Tavai and freshman wide receiver Tre' Parmalee were the two players whose names appeared three different times on the depth chart. While Tavai is listed in three spots on the defensive line, Parmalee was listed as a reserve at three different positions — wide receiver, punt returner and holder.

Although most of the battles for first- and second-string spots have been settled, a few instances of "OR" remain on the depth chart. Weis doesn't mind.
"Hopefully, they'll never resolve themselves," Weis said. "The reason you have those is because you like 'em both, not because you like neither. It's a little tougher when the "or" is in the first position."
Preparation Ouch
During Tuesday morning's Missouri Valley Conference coaches teleconference South Dakota State coach John Stiegelmeier pointed out that preparing for the Jayhawks could be tough because they had no recent film to watch from Weis coaching the Jayhawks.
"We don't see anything because there's no film on 'em, obviously," Stiegelmeier said. "You can look at Florida, with coach Weis and his offense there but that's a whole different level and different type of player."
Later in the day, Weis seemed genuinely confused when Stiegelmeier's comments were brought to his attention.
"No film on me? Take your pick," he said. "Florida, Chiefs, Notre Dame. You get tons of film on me, what do you want to pick? Fortunately, I've done a lot of different things, so I think you have to decide what you're gonna get ready for."
So much, in fact, that Weis said he was not concerned at all about the concept of spies observing practice from KU's campus.
"We've done so many things on offense that if you video-taped all we've done and tried to get ready for it, it would take you about three years," Weis said. "So, if they can figure that out, they're a lot smarter than I am."
QB update
As for the health of SDSU quarterback, Austin Sumner, on whom there is plenty of film to watch, Stiegelmeier said the sophomore was "questionable" for Saturday's 6:06 p.m. kickoff.
"He had an injury in fall camp and, right now, he is more out than in," Stiegelmeier said. "He's doing everything he can, but it's very doubtful that he's gonna play."
If Sumner cannot play, red-shirt freshman Eric Kline would get the start, but Weis said the injury report would not change KU's practice plans.
"Sumner is who we'll prepare for," Weis said. "And if it ends up being Kline, we'll be ready to go."
Oh, those Dakotas
All of the talk about playing South Dakota State in the opener has brought back plenty of memories of KU's season-opening embarrassment at the hands of North Dakota State in 2010.
Although Weis was not here at that time, he said he had reminded his players plenty about that 6-3 loss.
"I think they're well aware of that," he said. "I think bringing back moments from the past, both good and bad, are good teaching points."
With that in mind, Weis said the least of his concerns was about his team looking past the Jackrabbits.
"I don't think we're worried about being overconfident," he said. "We just lost a hundred in a row."
Snap judgment
Last weekend's suspension of starting long snapper Justin Carnes made the KU coaching staff adjust quickly. As it turns out, the bad news might have turned out to be a blessing, as senior center Trevor Marrongelli has taken over on short snaps and freshman Reilly Jeffers is listed as the first-team deep snapper.
"Trevor is actually a better short snapper, it's just that you had an opportunity to take your starting center and not have to put him out there," Weis said. "In reality, what we're doing is we're just forcing Trevor to do more work. But at the same time we actually get a very, very good short snapper."
Asked if Jeffers, a true freshman from South Bend, Ind., was ready for the load, Weis praised Marrongelli yet again.
"If Reilly wasn't good enough, he wouldn't be doing it because Trevor'd be doing that, too," he said. "Trevor could long-snap, too, but I don't want to listen to him whine about having to run 45 yards down the field after he snaps the ball. I think we feel pretty good about it. You never going into a season just having one guy do it. You have other guys that are set and ready to go."
Position changes
KU's latest official roster revealed position changes for a couple of Jayhawks not on this week's depth chart.
Junior Darius Willis, who started every game of the 2011 season at middle linebacker also has begun working as a defensive end. Sophomore Victor Simmons, who played 11 games at safety last season, has been moved to linebacker.