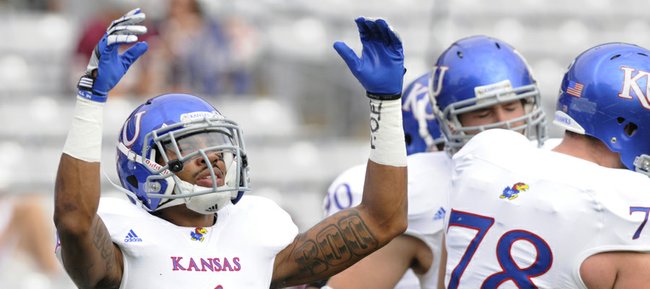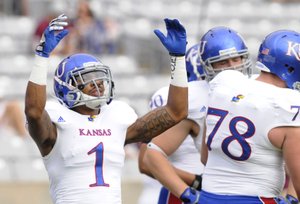 There are a dozen different ways to describe Kansas University safety Lubbock Smith.
Tough, rough and tenacious characterize his play.
Focused, friendly and fun-loving convey his demeanor.
And then there are more specific terms such as "member of The Sporting News' freshman All-Big 12 team," or "honorable mention freshman All-American." The last two tags came following the 2009 season, when Smith started as a red-shirt freshman and was among the team's leading tacklers before an injury cost him the season finale.
Since then, it has been quite a ride for Smith, who has gone from the top of the world at 5-0 and ranked in the Top 25 in 2009 to two new coaches and too much time on the bench.
Through it all, though, KU assistant coach Clint Bowen — who recruited Smith out of high school — has come up with the best way to explain not only what made Smith so successful but also what made him keep going.
"Lubbock Smith is one of those guys that just gets it," Bowen said
And that's why he's back on the top of the depth chart heading into his senior season.
"I've definitely had my ups and downs," Smith said during a recent interview. "It's tough. But I've just been sticking with it and staying hard-nosed, just riding with it. This has been my story."
A year ago, when Smith first realized the coaching staff led by Turner Gill wanted to start someone else in what had been his spot, he did not understand why. Although the demotion hurt, Smith refused to let it define him, and instead chose to become a better player and teammate.
"What I was told was that they needed more speed out there," Smith said. "I had my ups and downs with my coaches, but I took it as an experience of being humbled, making the most of the experience, working harder."
Smith still played in 11 of 12 games last season and even made two starts, but he also began to feel a disconnect and wondered if the best days of his playing career were behind him.
"To be honest, I really didn't know what to expect," he said. "I just knew that I had to accept my role on the team and just do the very best that I could. I did the most I could. I came in and watched more plays, watched more film, everything."
If he hadn't, he might not be where he is today.
Smith is not the only player on the KU roster who had fallen out of favor with the previous coaching staff only to be elevated to starter again by first-year coach Charlie Weis and his crew this season.
Junior linebacker Huldon Tharp has traveled the same road, and a couple of others have stared at the same kind of scenery.
Smith still remembers how he felt when he saw the first spring depth chart with his name listed No. 1 at strong safety.
"It was very encouraging and uplifting," he said, his eyes brightening and posture straightening. "I just felt like my hard work paid off. I didn't feel like it was given to me at all, because I did have to work for where I was at. It gave me the confidence that I need."
Since then … well, Smith tells that story, too.
"Since then, I haven't taken a day off whatsoever," he said. "With the coaches we have, you can never take a day off."
Smith likes that, though. Remember, he's a worker. And putting in effort the past eight months has paid off big-time.
"The coaching has definitely strengthened my play," said Smith, praising both Bowen and defensive coordinator Dave Campo. "To know exactly what it is I'm doing.... I would definitely say coach Bowen has toughened me up a lot and made me a lot more sound, knowing my schemes and everything I'm supposed to be doing."
With nearly everything about his current situation in better shape than what Smith endured during the past two seasons, the 5-foot-10, 200-pound Carter High graduate from Dallas said he's having more fun with football than ever before.
But with season opener fast approaching, Smith knows that all of the good vibes will be gone if the results on the field don't change.
That's why he gave the answer he did when asked what part of his game he still was working to improve.
"Right now, I'm working on South Dakota State," he said, "trying to know the ins and outs and everything we can about those guys so we can be successful the first game."