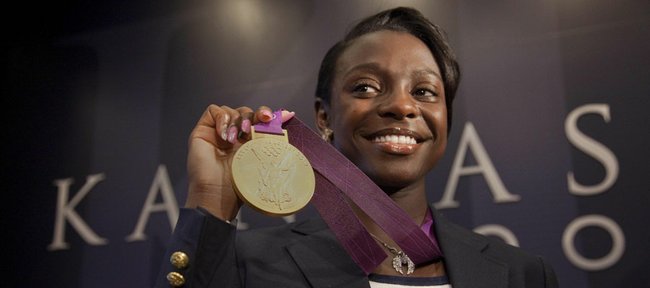 Many described Diamond Dixon as shy. Others even said unfriendly, using the labels as if she had been born with those traits, as if nothing in her background had contributed to the cocoon she had built around herself.
Now that she wears a smile that goes so well with her Olympic gold medal and sprinkles feel-good dust on everyone within range of its radiant glow, few seem to spend much time wondering how she has come so far so quickly. Everyone is just glad she did because the emerging personality is loaded with charm and sweetness.
The distance she put between herself and others extended well beyond her track performances and didn't come from out of nowhere. She's making strides. For example, she recently allowed someone other than the woman who raised her to give her a haircut.
That topic surfaced when she discussed during a 30-minute, one-on-one interview on campus Friday, things people might find interesting about the Olympic village in London. First, she mentioned a 24-hour cafeteria.
"They have stores and shops and a place where you can get your nails done for free and your hair done for free," Dixon said. "I could have taken advantage of getting my hair done. That would have been pretty cool."
But she didn't.
"With my new haircut, that's the first time I ever let anybody other than my aunt touch my hair," she said. "I did it in Kansas City at a little shop. I saw this lady at my (Olympic celebration) party and her hair just looked really pretty and I asked her, 'Where did you get your hair done?' She went there with me."
Diamond's words painted a self-portrait of a young woman who has difficulty trusting people, an image enhanced when she discussed her early interactions with fellow members of the Kansas University track and field team.
"Last year, I didn't mean to be rude, but it just wasn't in me to speak," she said. "I was just a really quiet person. I keep to myself and I'm a little anti-social, but it's not rude. It's just how I am."
Dixon sensed others didn't see it that way.
"Some people on the team were like, 'She's rude. She's stuck up.' It's not how I am," she said. "I just don't speak until I'm spoken to. When I do come out and speak, I feel like I surprise people. Even my best friend, my roommate now, (teammate) Denesha Morris, who is from Jamaica, she told me when I first got here, she thought I was mean."
Morris learned otherwise.
"As she got to know me, she said, 'You're so cool. I love you.' I was like, 'I wish other people on this team would know that,'" Dixon said.
She acknowledged, "I do have a difficult time trusting people."
The next question was on the loaded side and very personal. She could have ducked it, but did just the opposite: Why do you think that is?
"I think that comes from the fact that my mother, she didn't raise me like she was supposed to," Dixon said. "Yes, she was young (16) when she had me, but once I saw she was taking care of my little sister, I didn't understand why she couldn't take care of me and why she left me with my aunt."
The woman Dixon refers to as her aunt is her grandmother's sister. Dixon's mother lived with them as well until Dixon was "6 or 7." When she left, she took Dixon's sister with her. Diamond was not invited. Need anyone ever again wonder why trusting people doesn't come easily to KU's and America's gold-medalist in the 4x400 relay in London?
"Not that I didn't love my aunt," Dixon said of the woman who moved with her from El Paso to Houston when Diamond was 8 to pursue a better employment opportunity. "I loved living with my aunt. You never know. I could have gone with her and been, 'Oh God, I'm ready to go back with my aunt.' But I just felt like she should have come and taken care of me like she was taking care of my sister. Then when she left without even telling me, that really just broke all trust."
An experience with a boyfriend who "basically treated me really bad" her freshman year at KU made matters worse.
"I do have a problem trusting people, but I honestly feel like I am getting so much better at that," Dixon said. "I'm learning that the whole world isn't against me. I have a lot of people here who support me and those are the people who matter, not the people who have hurt me in the past."
The attention she has received for winning a gold medal since returning to Lawrence has made Dixon a local celebrity. Another student who recognized her from her picture in the paper stopped her, couldn't believe she was in the presence of Olympic gold, and asked if she could pose for a picture with her. While Dixon dined in Kansas City, a woman recognized her and whipped out her camera.
"My cheeks are kind of sore from taking so many pictures," Dixon beamed.
She is proud of her gold medal, but in her mind it doesn't compare to winning an individual gold, her goal for the 2016 Olympics in Rio de Janeiro, the inspiration for her new nickname: "Diamond Rio."
"I'm nowhere near to my peak," she said. "I definitely have two more seconds in me, maybe even three. By the time the Olympics come around, I should be on 48 pace."
Dixon stands 5-feet-6 inches and weighs 112 pounds. She said she vows to be more religious about working out with weights, will cut back on her trips to her favorite Lawrence restaurant, Gran-Daddy's Barbecue, and will even try to mix more vegetables into her diet.
Dixon can't change the heartache she has suffered, can't ever totally shake it, but she can influence where her focus settles.
"I tend to look at the more positive things now and tend to be a little more optimistic, because that's what's going to make me happy," she said. "I knew I was supposed to be at the Olympics. Everything about it made me realize I have to be happy and smile and that's going to be the best thing for me."
And for everyone lucky enough to feel the warmth of that smile in person.