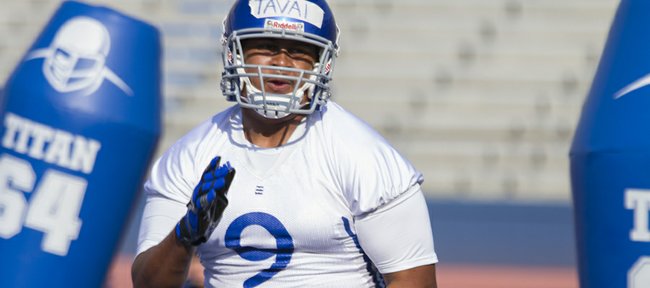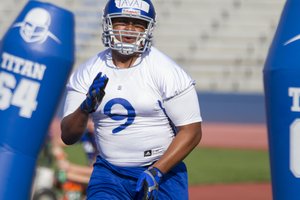 Since arriving in Kansas on Aug. 10 for his first day of practices, Jordan Tavai has been busy telling teammates about his heritage.
"It's kind of big to be Samoan, because most of the time when you're Samoan, everyone thinks you're a football player," the defensive lineman said. "You're supposed to be a big player. You're supposed to be a playmaker and all. So I'm trying to be a playmaker."
Tavai's maternal grandmother came to the United States along with her siblings when she was 19 in hopes of getting a better education.
The Samoan part of Tavai's family history has helped shape his football career.
"When you're Samoan and you get to the field, you're supposed to be aggressive. Your attitude is supposed to be different," Tavai said. "You're supposed to be known for being a good player on the defense. ... That's what I do live up to."
It hasn't taken long for the 6-foot-3, 290-pounder to get noticed during KU practices.
After just a few times going against Tavai, KU offensive lineman Aslam Sterling already knows that the junior's strength is being able to use his hands well.
"He moves them around a lot," Sterling said. "For an offensive lineman, a guy that moves his hands a lot, they try to trick you."
Slapping hands down also can result in getting offensive linemen off-balance.
"My hands are faster than the offensive lineman's," Tavai said, "so I can knock them down faster, and I can get around them faster."
For now, the challenge for Tavai is getting caught up after arriving at camp late following the delayed completion of his final junior-college class.
Not only is Tavai behind physically, he also is still learning KU's defensive play calls.
The biggest issue now is getting the play call from the sideline, then getting into the right place in time. He attends extra meetings with KU defensive-line coach Buddy Wyatt to try to learn all the formations.
"I'm lining up kind of slowly, but I'm getting used to that," Tavai said last week. "That's where the mental part gets in. The faster I line up, the faster I react to seeing the offense."
Tavai played defensive end and defensive tackle at El Camino (Calif.) Community College, and KU coach Charlie Weis has said that Tavai is flexible enough to play both positions.
"I think Tavai is a fast-twitch guy," KU defensive coordinator Dave Campo said. "I think he's a guy that, especially inside ... some guys that aren't great pass-rushers outside all of a sudden are really good inside, because you're playing against more bulk but not quite as good of athletes in there."
KU's coaches have continued to move him around during practices.
Tavai, who also considered Texas Tech, Cal and Hawaii, received calls on the night before February signing day from schools trying to get him to change his commitment.
He stuck with KU because of Weis.
"He told me I was a little piece of this big puzzle," Tavai said, "that could come together to fit to help turn this program around."
Tavai's goal is to be ready — both mentally and physically —for the team's first game Sept. 1 against South Dakota State.
"I know his expectations are pretty high," KU linebacker Schyler Miles said. "He's depending on coming here and helping right away."