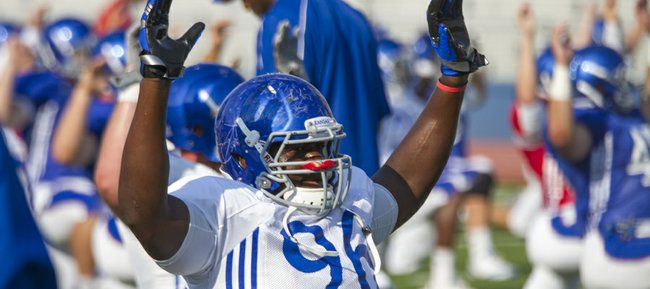 Of all the body transformations by Kansas University football players this offseason, one player's journey has been the most talked about.
Whether it's head coach Charlie Weis marveling about the player in the photo book strength coach Scott Holsopple made for him — images of every KU player before, during and after offseason conditioning are in it — or Holsopple himself talking about how it all happened, defensive lineman Keba Agostinho appears to be one of the biggest beneficiaries of KU's new strength program.
"He's one of those guys where you look at the picture and say, 'Who is that?'" Weis said of the junior from Katy, Texas.
From the time he was a senior in high school to the end of last season, Agostinho gained three pounds. From the time Holsopple got ahold of him in January to today, Agostinho gained 30. But it was not just hours in the gym and thousands of biceps curls that helped Agostinho bulk up from 252 pounds to 283. It also took a complete overhaul of his mindset, particularly with the way he ate.
"You can't just eat to eat," Holsopple said. "You have to eat with a sense of purpose and know what you're putting on your plate. So you have to have some type of — buzzword — discipline. But, also, when you're working to extreme fatigue, your body wants to go into, as I call it, 'Night night.' You want to rest, you want to lay down, you want to sleep. Those are the types of situations that make it kind of hard."
That certainly was the case for Agostinho, who recalls setting his alarm on the weekends for much earlier than he would like just to make sure he got up to eat. After wolfing down a high-protein breakfast, Agostinho almost always went back to sleep. And always with a full stomach. After all, the early-morning meal came just a few hours after a late-night snack designed to pack on the pounds, as well.
"You gotta eat something with a lot of protein," Agostinho said. "Before I went to sleep, I always ate two bagels with a lot of peanut butter on 'em and chocolate milk."
Holsopple said KU's nutritionists created the meal plans, but he was there, eating with them nearly every day, to keep them accountable.
"I'm kind of the enforcer of it," Holsopple said. "Because I'm there all the time."
While Holsopple deflects the credit for the transformations back onto the players — "It's nothing I did," he said. "Each individual buys into what he has to do to become a better football player and to help the team." — Agostinho said he could never have done it alone.
"We set up a whole plan of how I was gonna gain weight and what I had to do everyday," he said. "It was hard because it's something you have to be disciplined to do, but it paid off in the end so I'm really glad. I even surprised myself. I knew I was gonna gain weight, but I didn't know I was gonna gain 30 pounds."
Agostinho said Holsopple's plan of attack helped make the end goal realistic.
"We took it day by day and weighed in every day," he said. "By the end of the week, I saw I had gained five pounds. It was weekly goals. It wasn't something that I just planned to gain all this weight so fast, it was something that I had to take day by day."
The extra meals and added weight have allowed Agostinho to move to back to the position where he flourished during his final two seasons at James E. Taylor High — defensive tackle.
During his first two years at KU, Agostinho was stuck at defensive end.
"I was 250 pounds," he said. "I had no choice but to be outside."
But that did not keep KU's coaches from preparing him for a return to tackle.
"I've always told Keba I thought his best position would be inside," defensive line coach Buddy Wyatt said. "But his size was more suited for an outside player. Now that he was able to put on some weight, Coach Weis and I thought that would be the best place for him because we were trying to get more athletic and more active inside."
Asked when they first thought about making the move, Wyatt answered quickly.
"When Keba got up to 283 pounds," he said with a laugh. "So far, he's looked good."
Because he has experience at both positions — Agostinho was a unanimous all-district selection as a D-lineman in high school and has played defensive end in all 24 games of his KU career — the KU junior said he was comfortable at either one, but added that he was happy to move back inside.
"Coach Wyatt's been to Nebraska, TCU, Alabama," Agostinho said. "So if he tells you something like that, you gotta believe it because he's seen 'em all."
On KU's first depth chart of the fall, Weis listed Agostinho as a starter at defensive tackle. The Jayhawks have brought in several newcomers to bolster the D-line, but one of the few veterans they have said he was not discouraged by the added competition.
"That's something every team needs," Agostinho said. "Whether I end up starting or not, if I know I was competing with a guy who out-worked me then I'll at least be happy that the right guy is in there and he deserves to be in there."