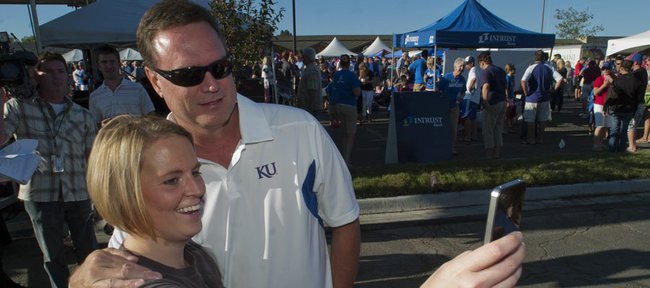 Prairie Village — Kansas University basketball coach Bill Self was asked Friday if he'd be interested in being the coach for the 2016 United States Olympic men's basketball team.
"Yeah. They're not going to call, though," Self said. "But I think there's a guy named Popovich (Gregg, San Antonio Spurs coach) and a guy named Rivers (Doc, Boston Celtics coach) and some guys like that that probably have a better relationship with Dream Team-type players than what I do."
Duke's Mike Krzyzewski led the U.S. men's basketball team to gold during the last two Summer Olympics, but he has decided not to return in 2016.
"It's pretty flattering," Self said of his name being mentioned, "but I really don't anticipate getting a phone call."
McLemore update: Self said that he didn't believe freshman guard Ben McLemore would need surgery for his hip flexor injury.
"No, no, no. We don't think that at all," Self said.
McLemore was injured during KU's practice on Aug. 4.
"He's hurt. He couldn't play now," Self said. "We'll get him off until school starts."
European highlight: Self was asked Friday if he brought anything back with him from KU's weeklong exhibition trip to Europe.
"I brought back knowledge. I couldn't afford to bring anything else back with me," Self said with a smile. "But I brought back knowledge and a couple pairs of shoes. But it was a good trip. A lot of churches, a lot of castles, a lot of palaces, a lot of shopping, a lot of mountains."
Self later said the coolest part of the trip for him was visiting Switzerland.
"I didn't know there could be that much natural beauty in one place without it being somewhat manufactured," Self said. "That was incredible to me.
" ... If I went back again, I think I could just take the gondola up to the top of the mountain, go on a boat ride and be very content."
Self on team: Self ended his five-minute speech to the KU fans at Friday's rally by talking about the players on this year's team.
"We've got a long ways to go, but I am excited about it," Self said. "They're talented, they're fun, they're athletic, and I really believe this: If we all stick together and everybody's on the same page, we're going to shock a lot of people come March."
Keating a candidate for Fordham A.D.: KU special assistant to the athletic director Larry Keating is one of eight candidates for the Fordham athletic director position, the New York Post is reporting.
Keating has previous ties to Fordham's league — the Metro Atlantic Athletic Conference — as he served as assistant commissioner for basketball and football operations from 2001-03.