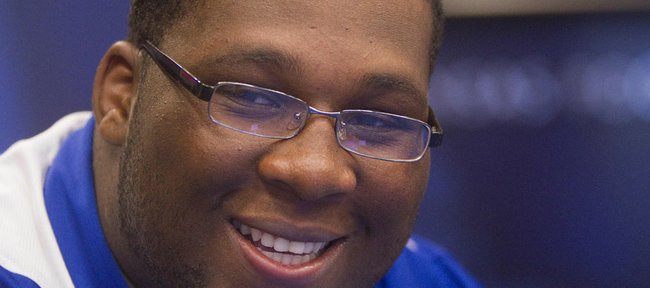 Every August, at colleges across the country, new students go through orientation, a meet-and-greet with school representatives which helps the fresh faces get acclimated to new surroundings.
With their welcome-to-town event already behind them, nine Kansas University football newcomers got to go through it all over again Wednesday, when they met with the media for the first time.
Watching them enter the Chancellor's Lounge at the Anderson Family Football Complex elicited visions of watching elementary school students seek out their desks on the first day of classes. They walked in softly and with shy expressions on their faces, none wanting to stray too far from the others. After the KU media relations crew directed them to their seats, the cameras and recorders began rolling and orientation was under way.
"What brought you to Kansas?" "How do you like it here?" "How has camp been?" "What are your strengths and weaknesses?"
All of the classic questions came out. And, with each minute that passed, the Jayhawks grew more comfortable, their faces more relaxed and the interactions more enjoyable.
While Wednesday's group did not include all of the newcomers on the roster, it was a good mix of offense and defense, young and old, outgoing and reserved. These are some of their stories.
Schyler Miles, LB, freshman, 6-foot-2, 228 pounds
Schyler Miles does not look the way most true freshmen look when they first set foot on college campuses.
There's a reason for that, and it all started when back home in Tampa.
"My dad's a personal trainer," said Miles of his father, Brandon, who played football and wrestled at Indiana. "So he's been on me. I grew up working hard and was in the weight room all the time. Working hard at a young age and getting better every day is what brought me here."
Unlike most of his friends, who eased their way into working out, Miles got into it early in life. He still remembers how early and even laughs when thinking about it.
"Yes, sir. It was age 7," he said. "My dad had me running in a trash bag outside, trying to get in shape and cut weight for pee-wee football. He's been on me like that ever since."
While most of Miles' early workouts were organic, his father left very little out of the routine.
"I was drinking Slim-Fast and eating all this wheat stuff," Miles remembers. "He's been like that since I was a little kid and still is right now. Where we live right now, he has this big hill where he trains people and he usually takes me to the hill and runs me and makes me do push-ups, lunges with weights, kind of like a fast-speed workout."
Miles said training with his dad was the perfect warm-up for daily workouts with KU strength coach Scott Holsopple, who Miles said is a little crazier than his dad but great at pushing the Jayhawks to their limits without breaking them.
Miles' father and Holsopple met when Miles made his official visit to KU, and the linebacker said his dad immediately approved of the man he would be passing the baton to.
"My dad loved everything he had to say," Miles said.
Tre Parmalee, WR, freshman, 5-foot-10, 168 pounds
Before Charlie Weis became the head coach at Kansas, it looked as if Bishop Miege High prospect Tre Parmalee would be competing for a spot in the secondary somewhere out of state.
Now, it looks as if Parmalee has emerged as a serious contender for playing time at wideout, and the thought of playing a different position is hard for him to picture.
"D-Back? Right now, no," said Parmalee when asked if he could imagine playing cornerback. "Honestly, I can't. I love the receiver position and every day I'm just out there trying to perfect that skill."
Although the small and compact playmaker did not appear on the Jayhawks' initial depth chart of the preseason, teammates have said he had been one of the more consistent players on the team.
"Every day I just go out there and try to do my best and put myself in the best position so the coaches notice me."
Josh Ford, WR, junior, 6-foot-3, 211 pounds
Standing 6-foot-3, and blessed with 4.4-second 40-yard dash speed, junior-college transfer Josh Ford is known for his big-play ability. But, with nearly a dozen other wideouts on the KU roster vying for playing time, Ford already has realized that how well he grasps the little things, and not just the big plays, might determine how much he's on the field this fall.
"I just do whatever they tell me and try to be the best at everything they tell me to do," Ford said. "If they give me a one-yard pass, I'll take it."
So far, most of Ford's time in camp has been spent fine-tuning his skills and learning the offense. He thought he had it when camp began, but quickly realized that the coaching staff was far from finished with its installation. That sent Ford back to the beginning and inspired him to revisit his fundamentals.
"Catching the ball, working on routes, individual drills with our coach, ball security, basically all the little things," he said.
All of that paid off during a recent scrimmage, when Ford scored a touchdown on a deep ball from sophomore quarterback Turner Baty.
"It was just a straight go route," Ford said. "And it was a big confidence booster for me."
Tevin Shaw, FS, freshman, 5-foot-11, 185 pounds
When Piscataway, N.J. standout Tevin Shaw first heard that the school he had committed to no longer had a spot for him, he was devastated.
"It was hard at first," recalled Shaw of the day the Iowa coaches told him they were out of scholarships. "It was really hard. But after talking with my parents and my high school coach, they just kept me optimistic. When a couple other schools started talking to me, it really lifted my spirits."
One of those schools was Kansas — West Virginia and Rutgers also showed late interest — and because of the similarities between Weis and Shaw's high school coach, the two-way, all-state prospect decided to sign with the Jayhawks.
Although the Iowa experience stung initially, Shaw quickly learned how to transfer his negative thoughts from a bad situation into positivity for his second chance.
"I'm not gonna say that's my main motivator," Shaw said. "But it helps remind me to not take anything for granted because nothing's for certain. I believe everything happens for a reason and the way things turn out is usually how they're supposed to."
Shaw sits as a second-string free safety, who, coaches say, could push the starters for playing time right away.
Aslam Sterling, OL, junior, 6-foot-5, 358 pounds
When you're the biggest guy on your team, it's kind of tough to sneak into the room. But that's how Nassau County CC transfer Aslam Sterling arrived in Lawrence earlier this summer.
"It was kind of like (kindergarten)," Sterling said. "But I knew a couple of guys so it wasn't that bad."
The mammoth offensive tackle who is down 12 pounds to 358 from the day he arrived — and is hoping to settle into a playing weight between 320-330 — remembered meeting senior Tanner Hawkinson and sophomore Trent Smiley on his official visit, and he has leaned on both of those guys a lot to get acclimated to Lawrence.
"Any time I need help with a play, I just go to (Hawkinson's) room and he'll explain the scheme and everything that's going on during that play. It really helps," Sterling said.
So far, Sterling has received reps with the first and second teams, but he's worrying more about his own progress than where he sits on the depth chart.
"My experience has been good," Sterling said. "I've been working hard every day and really trying to get the plays down and get better every day."
Greg Allen, CB, freshman, 5-foot-11, 204 pounds
When he signed his letter of intent to play football at Kansas, Houston cornerback Greg Allen figured he would have a chance to compete for playing time as a freshman.
But even that knowledge did not prepare him for the moment he actually saw his name listed as a second-string cornerback on the Jayhawks' first depth chart of the preseason.
"Man, just reality," said Allen when asked what he first thought after seeing that. "I knew I had to step up because the coaches were gonna be hard on me and I had to be ready to take advantage of the challenge in front of me."
Allen said he expected a grace period.
"I thought I might be able to ease in and get better and work on my techniques and become a better cornerback," he said. "But when I saw (the depth chart), I realized there was no time and I just had to learn fast."
So far, so good. Although Allen said he was glad that the first game of his college career was still two weeks away, he said he was much more comfortable today than he was when camp began.
"The coaches are very hands-on and that's helping me out," he said. "They're giving me more repetitions, and, if I do it bad, I have to keep doing things until I get it right. If I had to go in today, I'd just put all that into my mind on the field and I'd be ready."
Jordan Tavai, DL, junior, 6-foot-3, 290 pounds
It turns out that arriving late to camp might have been the best thing that ever happened to defensive lineman Jordan Tavai.
Had he reported with the rest of the team on Aug. 1, Tavai may have approached camp with a different mindset. Instead, the late start has driven him to do everything he can to close the gap.
"I felt I was behind," he said. "I'm almost caught up. I'm getting closer and closer to reaching the other defensive linemen on the team."
While finishing classes at El Camino CC kept him away, Tavai said he did a lot of running and extra push-ups and sit-ups to try to keep pace. It helped, but it was not nearly the same kind of conditioning the rest of his team was going through. Tavai knows that. He feels that. But he has not let it discourage him.
"They're more in shape than I am," he said. "But I'm getting there."
In addition to adjusting his body and his mind to his new surroundings, Tavai said he had done his best to learn the ins and outs of his new coaches. Defensive coordinator Dave Campo has been particularly fun to work with, Tavai said.
"He's kind of a crazy little man," he said. "I'm liking him, though. He's a very energetic man. He has a lot of enthusiasm, and he has a lot of plays he can call on defense. Being wise, he knows what the offense can do, and he tries to help the defense get in position to stop the offense from doing that."