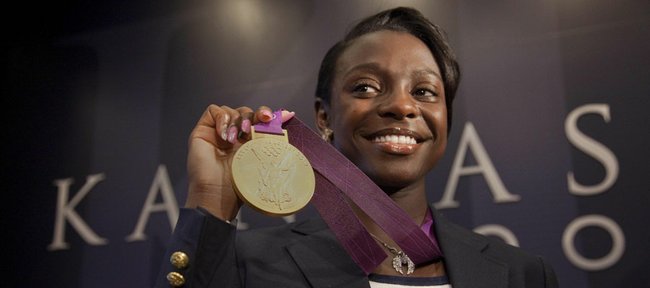 Diamond Dixon had just the right accessory to wear over her Ralph Lauren-designed white "Team USA" dress and blue blazer on Wednesday.
That'd be a shiny new 2012 London Olympics gold medal.
"I am going to keep it in my room awhile, hopefully in a secret spot because I don't want it to get stolen," said Dixon, Kansas University's junior sprint sensation, proudly displaying her 4x400 relay prize to a pack of media members during a news conference in KU's football complex behind the Memorial Stadium track.
"The (Jayhawker) Towers aren't as inaccessible as they should be," she added with a big smile, referring to her apartment complex. "Then I'll probably send it home to my aunt (Carolyn McGrew, who raised her in Houston). She can keep it safe somewhere, put it somewhere nice and fancy where she can brag about it when she has company."
Dixon likely will have her medal with her at all times ... at least until the start of first-semester classes on Monday. She's mighty proud of the award she earned on Saturday in London, but didn't receive until Tuesday at KC International Airport.
"I had to come home without it (Sunday). They told me they'd send it to me," said Dixon, who did not run in the 4x 400 relay final, earning gold because of her participation in the semifinal. Dixon blazed to a KU record 50.88 on the third leg, a leg in which she started in second place, passing to anchor DeeDee Trotter with the U.S. in first.
"I was kind of nervous. I was, 'Please don't send it. It could get lost or stolen.' Tim Weaver ... he ended up flying back with it. I'm pretty sure he took care of it like it was his child," Dixon added of the U.S. relay-team coach and former Kansas Relays meet director.
"Me and coach Redwine (Stanley, KU) drove to the airport, picked it up (from Weaver) and coach Redwine was the one to put it around my neck. I was very happy. I couldn't do anything but hug my coach. It was a great moment for both of us. It was something we both accomplished. He helped me out."
Dixon — the 2012 NCAA Indoor champ in the 400 and third-place finisher at the Outdoor championships (she won the Big 12 Outdoor the past two years) — will run for Redwine two more seasons at KU.
She declined first-place prize money of $25,000 which the Olympic Committee offered for any U.S. firsts at the Games. Accepting the money would have kick-started her pro career.
"Yes ... I had to turn down the money," Dixon said, laughing. "It's OK. I don't need it. Those ladies (professionals on the relay team) need it more than I do. It's their job. It's what they do. I'm still running for KU, still representing KU. I plan to stay here through my senior year. No point in me going professional right now. If they want me now, they'll want me then. I'm here to represent KU and take in everything I can while I'm here."
Dixon, who turned 20 on June 29, plans on accomplishing a lot in her final two seasons. She learned a lot about competition at the Games. The 4x400 finalists (Trotter, Sanya Richards-Ross, Allyson Felix and Francena McCorory) all are seasoned pros.
"I feel at my national meet, I stressed myself out (in getting third). I said, 'I have to run. I have to get out. I have to do this.' I changed the way I run. That doesn't work," Dixon said. "It is about having fun. I realized when I am having fun I tend to P.R., so from here on out I'll think of the Olympic Games and 'fun, fun, fun' across my forehead. That's what I'll be doing."
Dixon took it in stride when a reporter asked her if she'd change her name now from "Diamond" to "Gold."
"Right now, it's going to be 'Diamond Rio,''' she said. "I'll be working on the Rio Olympic Games."
The 2016 Games will be held in Rio de Janeiro, Brazil.
"Hopefully in the next four years I'll win an even bigger gold medal in an open event," said Dixon, KU's first women's track athlete to win gold at the Games and the Jayhawks' first overall Olympic gold medalist since Al Oerter in 1968. "My true goal is to be able to run my open event (400) and get a gold medal. Being able to run the 4x4 so soon ... it was cool. I have a lot more work to do to accomplish the full goal. It's what I'll be working on the next four years."