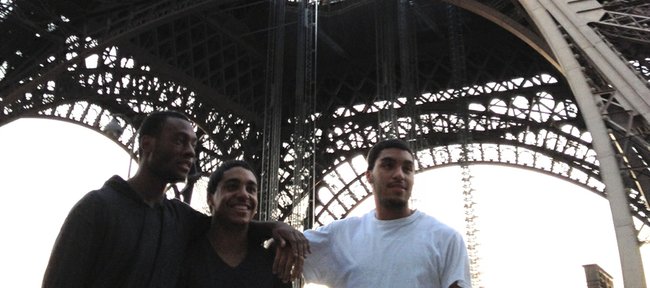 Photo Gallery
KU travels to Paris, Eiffel Tower on Thursday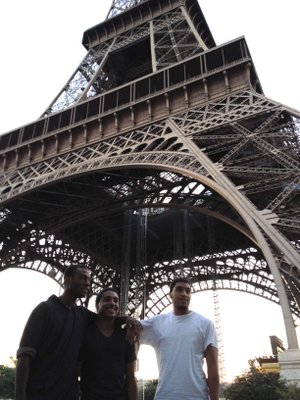 The Kansas men's basketball team traveled by high-speed train from Zurich to Paris before touring the Eiffel Tower on Thursday, Aug. 9, 2012.
Paris — From atop the second story of the Eiffel Tower — nearly 400 feet above the city of Paris — Kansas freshman forward Landen Lucas leaned against a railing and tried to describe the view around him.
"It's unbelievable," Lucas said while looking at the horizon. "You don't get a chance to see stuff like this too often."
After winning the first two exhibition games over the Swiss national team Tuesday and Wednesday, the KU men's basketball team made its way from Zurich to Paris on Thursday.
Following a four-hour, high-speed train ride, the Jayhawks spent two hours at the most-visited monument in the world.
Players took turns snapping photos of each other with cameras and cellphones after ascending the Eiffel Tower in an elevator.
"You've got to be in (photos) to prove you were there and have those memories," Lucas said. "I've definitely been taking a lot of pictures and videos for back home."
Lucas especially wanted to document the day for his parents, Shelley and Richard, who weren't able to make the trip.
He planned on sharing his snapshots with a few more people as well.
"Facebook, Twitter, Instagram, all that," Lucas said with a smile. "I'll make sure they get out to the world."
When asked about his impression of the 1,063-foot structure, KU freshman forward Zach Peters said it was "crazy" before stretching his neck to look to the top of the tower above him.
"You don't realize how big Paris is until you're up here and you see everything," Peters said. "It's been awesome so far — a really awesome experience."
KU coach Bill Self also enjoyed the view, stopping to take cellphone photos of the scenery while circling the structure with his wife, Cindy, and daughter, Lauren.
The players and coaches received an extended look around Paris earlier in the day, taking a two-hour bus tour in the afternoon.
"I think there's so much to do, you've got to be here longer than four days," Peters said. "We're going to try to do as much as we can. I'm excited. I think this is a really cool city."
The Jayhawks will have two exhibition games against pro team AMW Team France at 1 p.m. Central on Saturday and Sunday in Paris.