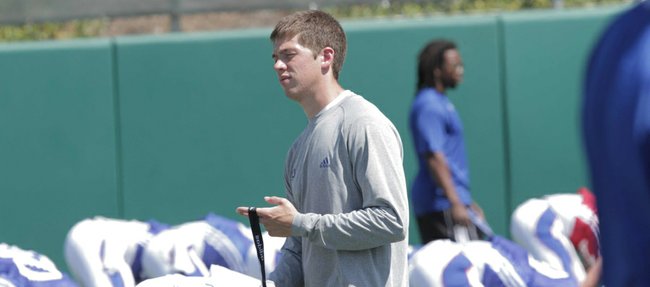 To those on the outside of the Kansas University football program, Charlie Weis Jr. looks nothing like a college football coach, barely looks like a college student and goes virtually unnoticed at most KU football gatherings.
To those on the inside, it's a much different story.
"Charlie Jr. is invaluable," said sophomore quarterback Turner Baty, who took full advantage of his friendship with the younger Weis, who is listed as a student manager but functions more like an associate head coach. "Since Charlie's a student, I was able to talk to him a little bit more in the summer, and that was just huge. He was in the dorm room next to me, and we could get up on the grease board, go over stuff. It gave me a good feeling coming into camp."
Baty is not alone in viewing Weis Jr. — son of head coach Charlie Weis — as an asset for the KU football team. From starting quarterback Dayne Crist to freshman wide receiver Tre Parmalee, several other KU players have said in recent months how impressed they were with the younger Weis' knowledge, passion and understanding of his dad's offense.
To watch Weis Jr. on the field is to see a football coach in control of the situation. Several times throughout spring practice and preseason camp, the younger Weis took charge of a drill or stopped the action to instruct. His dad gives him the freedom to do so, and the athletes give him the respect to deliver.
"The players all go to him because, let's face it, he knows the offense as good as any assistant coach, and he's non-threatening because he's not the guy who decides who plays," the elder Weis said. "So you're a new guy, a quarterback or a wide receiver or a tight end or a running back, why wouldn't you go to him?"
Baty agrees.
"The ability to have him there to help you take mental reps is huge," Baty said. "He knows the offense so well, and he's eager to help. When we're in meetings, he'll bring up stuff, and you're just like, 'Did that just come out of his mouth? Really?' He's a great friend of mine, and it blows me away. It's really cool."
It's one thing for the players to be impressed, but it's completely different for full-time assistants with years of experience to feel the same way. That's the case with KU running backs coach Reggie Mitchell, who earlier this offseason passed along high praise for the boss' son.
"Reggie came up to me, and he said, 'I just want you to know your kid's ready for his own room,'" Weis said. "And what that means, and these were Reggie's words not mine, (is) Reggie said he's ready to be a position coach at the Div. I level."
Wait. There's more. According to Weis, an NFL team approached him this offseason about offering his son a full-time quality-control job.
"I told 'em that my wife would divorce me if I encouraged that to happen," Weis said.
The senior Weis was flattered, but not surprised, to hear such feedback. It has been this way nearly everywhere the father has been, though the son has become much more hands-on during the past couple of stops.
"Reggie learned the offense pretty much from Charlie," the elder Weis said. "Think of that. He was an 18-year-old kid at the time.... Charlie taught the offensive GAs how to break down a game. So he's been doing this for a while. Imagine that. You've got two college graduates in here, and you've got some 18-year-old kid teaching you how to do it? It's a little humbling. And I always say to them, 'Be nice to him. He might hire you someday.'"
Weis Jr. turned 19 in April but acts well beyond his years on the field. While his dream is to join his father in coaching full-time, the younger Weis does not let the big picture get in the way of his responsibilities.
"For a kid who could be a spoiled brat, he kind of tries to be as anonymous as he possibly can," senior said. "He works with us about 50 hours a week, and then he goes out and takes five classes and 15 hours and gets a 4.0 (grade-point average). What can you say about the kid?"
Plenty, said tight ends coach Jeff Blasko, also a young coach, who worked with the Weis family at Florida. Blasko said Weis Jr.'s duties were limited to the wide receivers at Florida, but at Kansas he has free rein to work with the entire offense.
"He has never worked with the offensive line, but he could probably draw up the protections as well as anybody we have in the program right now," Blasko said. "He's sharp. It turns a lot of heads, but if you spend some time with coach Weis Sr., it doesn't surprise you. The intelligence, the creativity, you can tell that the apple doesn't fall too far from the tree, and he has been very, very impressive up to this point."