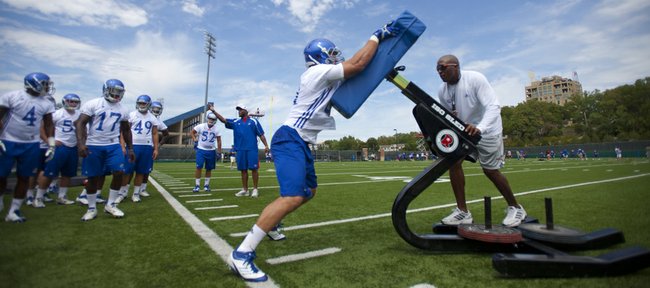 Of all the events that go into offseason conditioning, Kansas University co-captains Dayne Crist and Toben Opurum zeroed in on one number.
Forget faster sprint times, bigger biceps muscles or even added stamina. Crist and Opurum's main focus this summer was to slice into their body fat percentage.
Boy, did it work.
When the summer conditioning program began, both Jayhawks had a body fat count of 13-14 percent. Thursday morning, when the team kicked off the 2012 season with a back-breaking conditioning test, both players registered right around 10 percent.
"I was mad that I didn't crack nine," said Crist, who added that the drop was the best of his life. "I got right to 10.2, or something like that. I said I wanted to come back in a couple days and do it, but they wouldn't let me."
Though generally pleased, Opurum also was a little disappointed by the number.
"I wanted to get down to single digits," Opurum said. "I was single digits when I was about 235 (pounds). It's kind of tough to be 245, 250 (and have) single-digit body fat. But that's what I wanted to drop back down to."
With poor conditioning plaguing the Jayhawks during the past couple of years, starting the season off in "fourth-quarter shape" provided a lift for this year's new-look squad.
The general vibe was summed up best by defensive coordinator Dave Campo, who Thursday, got his first extended look at his new team since the end of spring practice.
"I think this football team is in shape," Campo said. "And that's all you can ask at this point."
Added Opurum, when asked what it was like to hear that kind of talk from his coaches: "Well, that's a start. The strength and conditioning staff, that's the backbone of our team. The fact that our coaches are noticing it on the first day, I think that says a lot."
Perhaps the most encouraging part about the current make-up of the Jayhawks' roster is that these guys are not finished. Far from it, in fact. The work they put into the offseason not only toned muscles, shed fat and built confidence, but also became contagious. One by one, nearly all of the players who were in Lawrence this offseason replaced remote controls and fast-food runs with extra reps and unyielding effort.
"It started kind of slow," Opurum said. "But you have to kind of show other guys and convince them that if one hour on these one or two extra days can help us become a better team, why would you not want to do it? After hearing and seeing that, we started filling up the weight room."
What they did there was the more impressive part.
"There really were no gray areas," senior offensive lineman Tanner Hawkinson said. "It was all black and white. We knew that if we bought in and did we were supposed to do we were going to put ourselves in position to win some games and surprise some people. So, really, it was just the motivation of knowing what could happen if we all gave 100 percent throughout the training process."
It was, of course, a lot more detailed than that. Buying in helped, but so did the insanely meticulous workout plans and the head-to-toe emphasis on improving each day.
"I'd say it's just different because we did a lot of workouts that I haven't done before," Opurum said. "We really focused on different parts of the body that we haven't done before. Everything from ankle workouts and shin workouts; we literally would do small stuff like different shoulder circuits to work different parts of your shoulders. It just was a whole lot of work."
And, even though Opurum said the summer sessions had an almost mandatory feel to them, most of their time in the weight room was voluntary.
"I feel like there's so much more opportunity to do extra," Crist said. "Not to say that guys I have played with in the past weren't passionate and didn't care, because that's not at all the case. But there was just so much more opportunity to clock hours, fine-tune what you wanted to do. That was new to me."
The whole thing is new to the Jayhawks, many of whom were still sitting the bench playing junior varsity football in high school the last time the Jayhawks started a season on such a high note.
While the early reports about Thursday's conditioning tests seemed favorable — Damon Martin, Daymond Patterson, Tony Pierson, Tyler Patmon, D.J. Beshears, Victor Simmons and Chris Omigie all received praise for their performance from the team's captains — Crist said he got the sense that the summer success was just the beginning and that the entire team recognized that it was now time to elevate yet again.
"It's real," Crist said. "This is the start of the season. It's all business and it's what you work all year for. All the outside stuff that you're doing all year, it all leads to the football season. And it's all irrelevant if you're not taking care of business and winning games. We're in season. It's the most exciting time of the year."