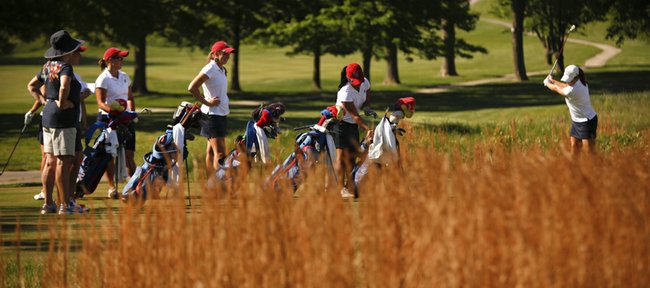 Kansas University senior golfer Katy Nugent is cheering for Mother Nature to play some tricks during this weekend's Big 12 championships at Lawrence Country Club.
Weather forecasts call for a chance of thunderstorms today with wind gusts around 20 miles per hour.
"These greens have a lot of slope on them, and if the wind gets blowing, things will get real fun," Nugent said with a smile. "We're hoping that it starts howling out of the south."
The reason for wanting to play in tougher conditions is simple: The Jayhawks have golfed at Lawrence Country Club enough in the last year to know how the course plays in each type of situation.
After sunny, mostly wind-free practice rounds Thursday, other Big 12 schools might be at a disadvantage to see the course at its toughest.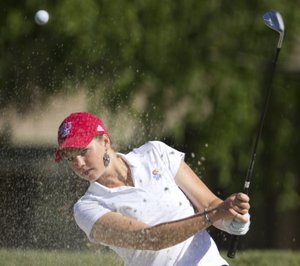 "I think that'll be a big advantage, because we've played it when it's so windy," KU junior Audrey Yowell said. "And it definitely plays different."
The Jayhawks have been preparing themselves for this weekend for a long time.
Nugent estimates she's played at LCC around 100 times since the fall season. It's gotten to the point where she'll get to a spot on the course and won't have to measure the distance to the pin; she's been in that location enough times to know exactly where she is.
Yowell stayed in Lawrence over the summer and was able to play the course "a ton" then.
"When you first come out, (the course) doesn't look that challenging," Yowell said. "I think a lot of people will underrate it. The greens can be really tricky, and there's definitely some shots you can't miss. You can never miss long — stuff like that."
KU coach Erin O'Neil said one key to playing at LCC was to stay in the fairways because of the long rough. She also believes her team will know the best places to attack the uneven greens.
"We're very comfortable with being out here and playing the course," O'Neil said. "I know we're excited to show everyone what a great place this is and for the challenge of hosting."
The three-day Big 12 championship, which is free to the general public, begins today at 8 a.m.
KU will be paired with Missouri and Kansas State today and will tee off at 8:40 a.m.
The tournament consists of three rounds, with one round being played each day. The lowest four individual scores each day count toward the team total, with the lowest three-day team total winning the league championship.
Seven of the 10 programs playing this weekend are ranked among the top 50 in the latest Golfweek/Sagarin ratings. That includes Texas A&M;, Oklahoma State and Baylor, who are ranked Nos. 16, 17 and 18, respectively.
The tournament will be missing one top competitor, as Texas junior Madison Pressel — who won last year's Big 12 championship — will not be playing this weekend because of a right shoulder injury, UT coach Martha Richards confirmed Thursday.
At Old Hawthorne Golf Club in Columbia, Mo., last year, Pressel posted the lowest 54-hole score in the league's championship history with an 8-under 208.
---
Here is a look at the five Jayhawks competing:
Thanuttra Boonraksasat, so., Thailand, 76.5 scoring average
O'Neil on Boonraksasat: "(Thanuttra) is a very good iron player. She has one of the best mental attitudes of everyone. She's always positive and keeps fighting back, doesn't get down on herself and hits the ball a long way. She has good ball-striking."
Katy Nugent, sr., Wichita, 76.9 scoring average
O'Neil on Nugent: "Katy is 'steady Eddie.' It isn't always pretty, but she'll find a way to get that ball in the hole. That I know. She always has her head in a good spot. She also has a very good short game."
Meghan Potee, so., Noblesville, Ind., 77.8 scoring average
O'Neil on Potee: "Meghan is a good ball-striker and has a good short game. She'll get excited and worked up, and sometimes that's good, and sometimes that hurts her a little bit. But she's a competitor — a true competitor would be the best way to describe her."
Audrey Yowell, jr., McPherson, 78.6 scoring average
O'Neil on Yowell: "Audrey is very methodical. She has a plan. She works very hard. She probably has one of the best work ethics on the team. She just gets the most out of her game."
Gabby DiMarco, fr., West Chester, Pa., 79.7 scoring average
O'Neil on DiMarco: "She's a freshman. She's learned a lot. We've been working hard on her game this year. Her ball-striking is really good right now. We've got her in a new putter, and she's doing well with that. She's a thinker, too. She'll try to plan her way around the golf course. She's another one that keeps her head in a good spot. She's always positive and enjoys being out here."
Here is a look at five strong contenders for the individual title from other Big 12 schools:
Kelsey Vines, Oklahoma State., jr., San Antonio
Vines ranks 21st nationally in the latest Golfweek individual rankings, which is the highest rating of any Big 12 competitor. The junior's 72.8 scoring average ranks third among all competitors this weekend.
Gabriella Dominguez, Texas Tech, jr., Chilton, Texas
Dominguez ranks first in the Big 12 with a 72.3 scoring average. She is ranked as the 35th-best golfer nationally by Golfweek.
Katerina Ruzickova, Texas A&M;, so., Czech Republic
Ruzickova ranks 42nd in Golfweek's national rankings, posting an average score of 73.7 in eight events this season.
Kimberly Kaufman, Texas Tech, jr., Clark, S.D.
Kaufman's 72.6 scoring average is second among this weekend's competitors, behind only her teammate Dominguez. The junior is ranked 47th nationally by Golfweek.
Hayley Davis, Baylor, fr., England
Davis is one of only four players at this week's event to have an average score under 73 (72.9 scoring average). She is 49th nationally according to Golfweek's latest rankings.