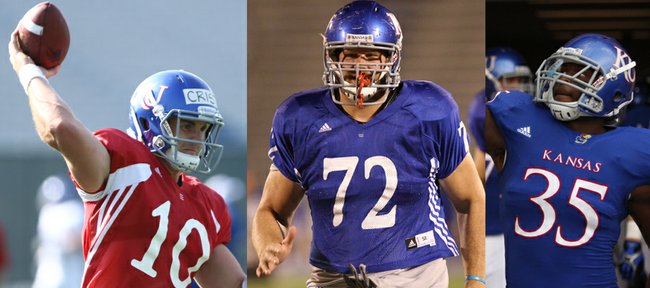 Most seasons and at most schools, college football teams select their captains in August, a few weeks after players report to preseason camp.
Not this year. At least not at Kansas University under coach Charlie Weis.
Because of a multitude of factors — including the team's transitional nature and the Jayhawks' genuine need for structure — Weis had his players vote for captains on Monday. Prior to Tuesday's practice, he revealed that senior quarterback Dayne Crist, senior offensive lineman Tanner Hawkinson and senior defensive end Toben Opurum had been selected by their peers to lead the 2012 Jayhawks.
"I couldn't have hand-picked three players any better than that," Weis said after Tuesday's practice.
In addition to the three permanent captains — one more than Weis expected because the vote between Crist and Hawkinson for offensive captain was "too close to call" — a special-teams player will serve as a fourth captain each week during the regular season. Weis said the fourth captain would earn his spot by standing out during the previous week's game.
Picking captains during the spring caught some Jayhawks by surprise and came in the wake of Weis' dismissal of two KU players for their role in an alleged altercation at a bar over the weekend. The incident, along with others like it, opened Weis' eyes to just how much his new team needed to be held accountable by someone other than the head coach.
"I think it's really important to have some leadership on the team that's been documented," Weis said. "These are the guys I'm turning to when there's a problem, because they will be the immediate intermediaries between me and the team."
Each of the captains said he believed his responsibilities stretched beyond the gridiron.
"First and foremost, we've been having a lot of off-the-field issues," Opurum said. "And I think that's one of the things that needs to be immediately addressed. ... We need to make better decisions as a team."
Added Crist: "I think that's the biggest emphasis that the captains want to make sure we work on, limiting mistakes off the field, because that's hurt our team quite a bit so far."
With spring drills set to wrap with Saturday's spring game, the rest of the offseason will be a busy time for Weis and his coaching staff.
"Now's the time I need the leadership," he said. "I don't need it in June. I need it now. I need it in May, when the coaches are on the road recruiting. I need it now, when I'm flying from place to place to speak at lunches and dinners. I need veteran guidance for these players to make sure there's somebody there saying, 'Hey, don't do that,' and, 'Why would you do this?'"
Weis insists that the recent dismissals were not made to bring an iron-fisted approach to Kansas football.
"It isn't like I go out on Saturday night looking to see what people are doing," he said. "I'm not trying to be a drill sergeant here. I'm just trying to make practical decisions based on how people act on and off the field. That's all."
The first-year KU coach also made it abundantly clear that he was not about to waste his chance to lay down the law.
"I think you get one opportunity to set it right," Weis said. "It's a common philosophy with coaches that it's always easier to loosen up on a team after it's been rigid than it is to tighten up on a team after it's been loose. I think if you start loose, you have no chance."
Crist and Hawkinson are both first-time captains, while Opurum, a captain in 2011, was selected for the second time.
Crist, who has been in town for less than four months, said he was honored by the news.
"It's great knowing that your team supports you," he said. "But at the same, time it's just a title. I'll be the same guy, and I'll come to work the same way that I had been prior to being named a captain."
Gibas gone?
After going through most of offseason conditioning and being seen around the KU football complex earlier this year, sophomore long snapper Tanner Gibas has been taken off the KU roster. Asked what happened, Weis said Tuesday that it was a personal thing on Gibas' part, and that was all he could say.
Gibas appeared in all 12 games during 2011 and significantly upgraded KU's special teams.
Berglund still searching
Former KU quarterback Brock Berglund, who suited up for a couple of practices and was dismissed from the team by Weis after missing a mandatory team meeting in January, has not picked a new school.
According to a recent update from the Associated Press, Berglund has talked to at least one coach from every major conference and will begin taking official visits this weekend. His first visit will be to Ole Miss, with UCLA, UNLV, Miami (Fla.) and Utah to follow. The report said Berglund, 6-foot-4, 220 pounds, also visited Liberty, where former KU coach Turner Gill is now the head coach.