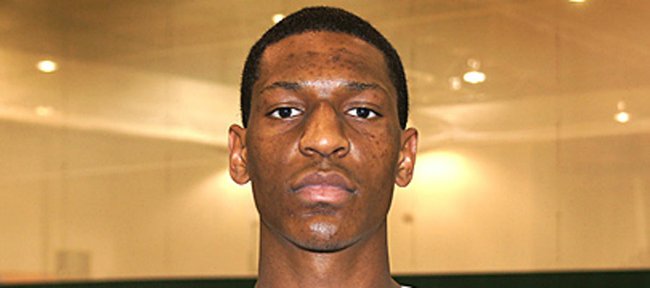 Blue-chip basketball prospect Andrew White, who orally committed to Kansas University on Dec. 2, learned a lot about his new school before finally signing a letter-of-intent with the Jayhawks on Monday.
"I've seen all of the games Kansas played this year except for one. After watching those, I started to look up a lot of tape on Brandon Rush," said White, a 6-foot-6, 210-pound guard/forward from Miller School in Charlottesville, Va., who has been compared to Rush, a 6-6 wing with the NBA's Golden State Warriors.
"I found some of Bill Self's sets at Kansas when he was there early (in his nine-year tenure) — a lot of YouTube," White added in a phone conversation. "I sat down with either my dad or coach to watch a good majority of the games."
White, Rivals.com's No. 51-rated player, is determined to arrive at KU ready for action.
In announcing White's signing Monday, the sixth day of the monthlong spring signing period, Self said he expected White to be "an impact player for us beginning from day one upon his arrival on campus."
"He's a tall guard. He can shoot it. He's a good athlete. He's tough, loves to play and certainly will be a great representative of our university," Self said.
White, who averaged 22.9 points and 10 rebounds a game for (20-10) Miller School this past season, chose KU over North Carolina State, Virginia Tech, West Virginia, Richmond, Texas, Georgetown and others.
"We had talked about that. Coach told me that was his need and expectation," White said of the "impact player" tag. "It's not a big surprise, just something I need to keep working toward every day to get there and meet his standards."
White signed his letter before family and friends at an afternoon reception at his high school. He said he has been working on individual drills since the end of the season.
"Recently I've been jumping rope and working on leg strength and my vertical and ballhandling," said White, who attended both of KU's games at the Final Four in New Orleans. "In general, my footwork and my pull-up jumper. It's something I need to work on every day. I will be playing a lot of 2-guard. It will help me help the team and the point guard. That's a main focus."
White said he planned to attend first session of summer school and report to campus in early June. He's been thinking about requesting either jersey No. 4 or 25.
"I'm glad we can finally talk about Andrew," Self said. "He's been committed for a long time, and we are so excited to have him. He's has been very well drilled and well coached at Miller under (coach) Scott Willard. The transition to the collegiate level should be very smooth for him.
"Andrew's entire family has been great and so supportive to us throughout this process and what a great job Joe Dooley did in recruiting him," Self added. "One of the reasons we like him so much is the quality of person that he is. I believe having the Whites as part of our KU family will do nothing but enhance our program."
White hopes to be part of a lot of victories and Final Four berths.
"It was a good experience from the outside looking in," he said of his trip to New Orleans with his dad. "It's a place I would like to get to. I see that level of play takes a lot of work and good coaching. I will work to get back there, do a little every day so I can contribute."
KU now is at the NCAA limit of 13 scholarship players for next season. Junior-to-be Justin Wesley, who arrived as a walk-on, was placed on scholarship last season.
Parker ppd.: Tony Parker, a 6-9 center from Miller Grove High in Lithonia, Ga., now plans to choose a school Monday, not Friday, his high school coach told the Atlanta Journal-Constitution. He has a final list of KU, Duke, UCLA, Georgia and Ohio State.