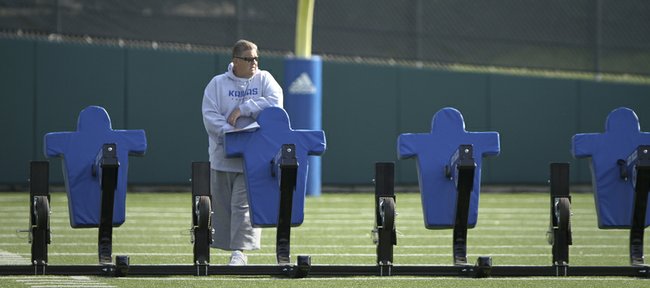 When Kansas University wide receivers coach Rob Ianello first began coaching with Charlie Weis in 2005 at Notre Dame, he spent the early days tacking a "cheat sheet" to each day's practice schedule to help him keep up with the demands of Weis' offense.
No such study aide has been needed this spring, as Ianello, Weis and the rest of KU's new coaching staff have brought the first-year KU head coach's pro-style offense to Lawrence. Typically when a new coaching staff takes over, the assistant coaches spend the first several months — sometimes longer — familiarizing themselves with new offensive and defensive philosophies. Teaching it to the players almost becomes secondary and is an ongoing process. But that has not been the case at KU, at least not with the offense. Along with Ianello, quarterbacks coach Ron Powlus and tight ends coach Jeff Blasko all came to Kansas with a strong understanding of Weis' system, and that has given the Jayhawks a head start this spring.
"A lot of our installation is complete," Ianello said following Tuesday's practice. "So now we keep going over some things. Maybe it's a different formation or maybe it's a different way of calling something, but the conceptual part of our offense is in."
Ianello and Powlus worked with Weis at Notre Dame from 2005-09. They took the framework of Weis' offense to Akron, where Ianello ran a similar attack as the head coach and employed Powlus to help his players learn it. Blasko was not at either stop but worked with Weis most recently, spending the 2011 season as Weis' right-hand man at Florida.
"That's been a tremendous benefit to us on offense," Ianello said of the staff's familiarity.
KU's advantage has not been limited to coaches. After a couple of seasons of struggling to identify a replacement for record-setting quarterback Todd Reesing, the Jayhawks finally appear to have a guy in place who can challenge what Reesing did on the field: fifth-year senior transfer Dayne Crist. Last winter, Crist chose to play out his final season of eligibility for the man who originally recruited him to Notre Dame. He said Tuesday that Weis' offense stuck with him even after Weis left.
"As crazy as it sounds, it really did," Crist said. "When coach left Notre Dame, I was at a good place in terms of my understanding of the offense. What I was lacking, really, was just the experience on the field with that offense. As soon as I knew I was coming here, I got back into the playbook and looked over some materials that I had saved, and it really came back pretty fast."
Crist's comfort within the offense, as well as his ability to help his new teammates comprehend it, has allowed the Jayhawks to sprint through the first half of spring practices.
"The coaches' pace is definitely a big factor in us learning it so quickly," senior receiver Kale Pick said. "It's actually a must. You better learn it at this pace or you're going to be left behind, and then you're going to lose reps."
Just because KU's offensive coaches are more unified and, therefore, better equipped to teach, does not mean that learning the new offense has been easy.
"It's definitely more difficult because of the terminology," Pick said. "I mean, some of our play calls are two sentences long, and you gotta listen to that in the huddle. That's a little more tough than four or five words. But once we get that down and transition that to action on the field, that's going to be a big success for us toward the end of the spring."
Crist said he had no doubt the Jayhawks would head into the summer with a solid understanding of the offense.
"The most exciting thing is seeing the work ethic that guys have in terms of learning the playbook," he said. "Sure, they can go out there and work hard on the field every day, but them texting me constantly with questions and saying, 'Hey, what about this, this and this,' and just their desire to get better mentally is great to see. I'm enjoying seeing the progress guys are making, and we're getting to a point now where guys are comfortable enough with their assignments and scheme and things like that where they can go out there and just play and be athletes."