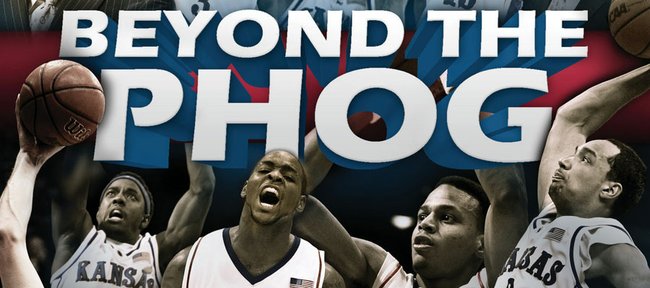 The following is an excerpt from "Beyond the Phog - Untold Stories from Kansas Basketball's Most Dominant Decade." Compiled by Jason King of Yahoo! Sports and Lawrence Journal-World sportswriter Jesse Newell, the 400-page book includes interviews with 40 players and coaches from the most successful era in Jayhawks history. "Beyond the Phog" will be available in stores Friday. For more information or to pre-order the book, check out kubook.net. KUSports.com will run excerpts from the book through the next week.
In Wayne Simien's words ...
LIVING A LIE
When you go on a recruiting visit, it's not uncommon to see things get wild and crazy. But once you sign with a school and get to campus, you realize that life can be like that every night. It's up to you.
I definitely got caught up in that lifestyle my first few years at Kansas. I was partying, I was drinking, there were girls, I was smoking (marijuana) … just doing a little bit of everything. I hadn't been involved in any of that kind of stuff back home. I didn't smoke or drink or party in high school. But when I got here, I figured, "Hey, I guess this is the way it's supposed to be done." It was college life. When you see 20,000 other college kids around you doing the same thing, you just figure, "Hey, this is just the way that it is. It's the way it's supposed to be."
One night, after we beat UCLA when I was a sophomore, I went out and celebrated. I was in a bar, and a drunk guy walked up and said, "Man, I wish I had your life." When he said that, I felt like I'd been punched in the face. It may have looked like my life was great with wins and Final Fours and NBA draft projections and stuff. But he didn't know that, inside, I was a wreck. I left the bar, went back to the Towers and cried myself to sleep that night.
All the stuff I was pursuing – wins, notoriety, fame, the NBA dream – none of it satisfied me. I was gripped by fear and insecurity. I was afraid of not performing well. I was afraid of getting injured. I was afraid of what people might think about me. I was one of the biggest, strongest guys on campus, yet I was walking around afraid and insecure. I didn't want to live like that anymore.
In the midst of all that, I just started searching for something greater to live for other than just myself and basketball. That's all I had lived for the previous 15 years of my life. None of it was really making me happy.