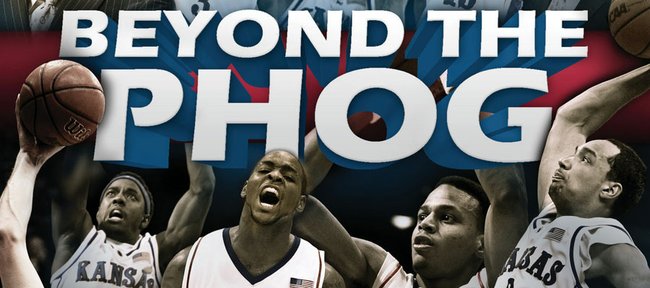 The following is an excerpt from "Beyond the Phog - Untold Stories from Kansas Basketball's Most Dominant Decade." Compiled by Jason King of Yahoo! Sports and Lawrence Journal-World sportswriter Jesse Newell, the 400-page book includes interviews with 40 players and coaches from the most successful era in Jayhawks history. "Beyond the Phog" will be available in stores Sept. 30. For more information or to pre-order the book, check out kubook.net. KUSports.com will run excerpts from the book throughout the next few weeks.
In Sherron Collins' words ...
BRANDON RUSH
B-Rush is one of the goofiest guys I know. When you were around him, you couldn't help but laugh. Every day in practice, B-Rush had something about going left baseline. Seriously, he wanted to go left baseline every time. Instead of shooting a pull-up jumper or an open jumper, he'd put the ball on the floor and go left. ...
[Coach Self] kept making fun of him for it, too, because Brandon has that short arm that he broke when he was little. Coach Self used to mimic him by walking around with his arm dangling all crooked-like, just like Brandon. He'd say, "Here's what you do. You get the ball, and you put it down on the floor with your little short-ass arm, and then you go to the lane." Coach Self got so frustrated that he set up a treadmill on the baseline especially for B-Rush. Every time he passed up a jump shot and went baseline … before he ever made it to the basket, Coach Self had blown his whistle and said, "Treadmill!" B-Rush would have to run.
I've never seen B-Rush get into an argument with a teammate. As a matter of fact, I've never seen B-Rush get into an argument with anyone on the court, not even an opponent. He probably never said anything back to Coach Self. B-Rush is just laid back all the time. He really didn't have any problems. He's always in a good mood.
B-Rush could turn a bad situation into a good one on the court without even trying. Coach Self would be hollerin' at everyone, but then he'd look over at B-Rush, and he'd have this stupid look on his face. Then Coach Self would start laughing, too. He couldn't get serious. He'd be like, "What, Brandon?" B-Rush would say, "I don't know what you're talking about. I'm just listening."
The other thing about B-Rush is that he never lied. Coach Self would be like, "Did everyone make curfew last night? If you didn't make curfew, raise your hand." All of us that broke curfew kept our hands down — except B-Rush. He'd raise his hand and tell on himself. Coach Self would ask him why he didn't make curfew and he'd say, "Because the club was crackin'!" Everyone would laugh and he'd make B-Rush run a little bit.