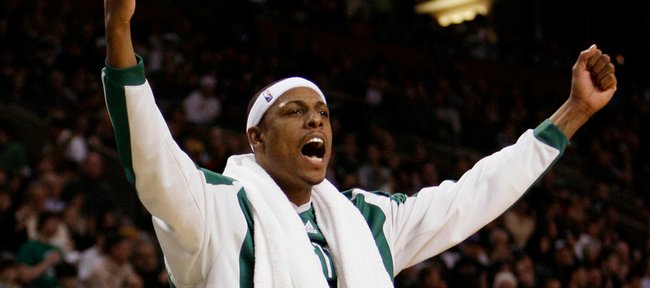 Reader poll
Legends of the Phog exhibition game

81%

1243 votes

KU men's basketball regular-season opener vs. Towson

18%

275 votes
1518 total votes.
There's no football game on tap Saturday at Kansas University.
Instead, there's an early preview of basketball season — the Legends of the Phog exhibition game involving KU's current NBA players, set for 4 p.m. in Allen Fieldhouse.
"It should be a great day," KU coach Bill Self said. "Of course, getting Paul (Pierce, Boston Celtics) to come back was the key. He seems real excited to come back. A lot of the other guys are going to come back. Everybody wants to be here. Some have prior engagements, but not a lot. I think they all are excited about running out of the tunnel one more time. The ticket pricing is so good ($20 adults, $10 students). I think it'll be a pretty neat experience for these guys."
Other NBA players confirmed to play in KU's sold-out Legends game: Cole Aldrich (Oklahoma City), Darrell Arthur (Memphis), Mario Chalmers (Miami), Nick Collison (OKC), Xavier Henry (Memphis), Darnell Jackson (Sacramento), Marcus Morris (Houston), Markieff Morris (Phoenix), Brandon Rush (Indiana), Josh Selby (Memphis) and Julian Wright (Toronto). Drew Gooden, who has prior plans for his 30th birthday celebration, and Kirk Hinrich, whose wife is expecting the couple's second child, likely will not attend.
Former KU coaches Ted Owens and Larry Brown will be the honorary coaches.
Former KU coach Roy Williams, now head coach at North Carolina, is not expected to be in the house.
"They were invited, but I was told their schedule would not allow them to attend," Self said of the UNC staff that also includes former KU players Jerod Haase and C.B. McGrath.
Former KU players who have said they will attend thus far and could wind up playing include: Nick Bradford, Eric Chenowith, Jeff Graves, Jeff Hawkins, Ron Kellogg, Greg Ostertag, Scot Pollard, Ryan Robertson, Wayne Simien, Billy Thomas and Darnell Valentine. More names and details about the exhibition should be announced this week.
More on Anderson
Self was asked Sunday if he had any different feelings about the Braeden Anderson situation two days after it was revealed he was ineligible to play at KU.
Anderson, a 6-8 freshman from Okotoks, Alberta, Canada, on Wednesday was deemed by the NCAA to be a partial qualifier, which would make him eligible for financial aid and possibly earn the right to practice second semester but not play in games. Because of Big 12 Conference policy, all partial qualifiers must be approved by the league's faculty athletic representatives. Anderson's case was not approved for aid. Therefore, he will not attend KU.
"I understand there are policies, rules, bylaws that everybody has to live by when they are part of an organization —in our case part of the NCAA and part of the Big 12," Self said. "I personally struggle with the fact that even though there is a policy and they have every right to do so, the Big 12 can trump the NCAA at this strange state of our league right now. That the Big 12 can trump the NCAA when the Big 12 is an uncertainty in who knows its existence in moving forward."
Of Anderson's future, Self said: "Hopefully he'll make a decision on where he would further his academic and basketball career in the next day or two.
Anderson told the Journal-World he'd not be attending a prep school, likely a junior college or another university in a conference that accepts partial qualifiers.
Recruiting
KU will hold an in-home visit with Shabazz Muhammad, a 6-6 guard from Bishop Gorman High in Las Vegas on Wednesday, Rivals.com reports. The top-ranked player in the Class of 2012 has scheduled visits to Texas A&M; next weekend and Kentucky for Midnight Madness on Oct. 14. ... Andrew White, a 6-6 forward from Miller School in Chester, Va., will make an official visit to KU for the Legends of the Phog game. White, who is ranked No. 56 by Rivals.com, will visit Texas on Sept. 30 and Louisville on Oct. 14.