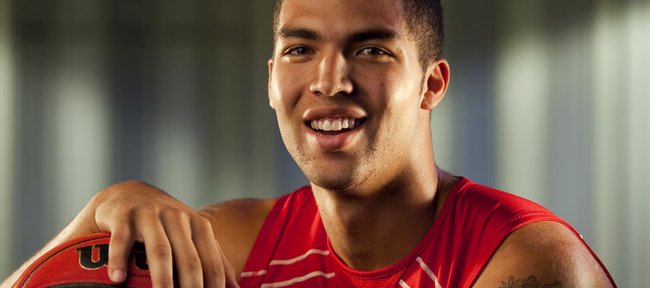 Braeden Anderson shed tears during an emotional meeting with Kansas University basketball coach Bill Self late Friday afternoon.
"It's a sad day for me. I've done everything I'm supposed to do to make my dreams happen here at Kansas. It's all coming crashing down right now," Anderson, a 6-foot-8 power forward from Okotoks, Alberta, Canada, told the Journal-World in a phone interview. He was speaking two hours after Self revealed that Anderson had been ruled ineligible to be on scholarship at KU this school year.
The NCAA on Wednesday deemed Anderson to be a partial qualifier, which would make him eligible for financial aid and possibly earn the right to practice second semester but not play in games. However, because of Big 12 Conference policy, all partial qualifiers must be approved by the league's faculty athletic representatives. Anderson's case was not approved for aid. Therefore, he will not attend KU.
"I will do everything I can to come back someday," said Anderson, who said one option would be to attend junior college for three semesters and gain eligibility that way.
He said he can't afford to pay his own way as a walk-on.
"You may see me working at McDonald's," Anderson said dejectedly. "It's a confusing situation right now. I don't have many options. It's my dream to play here but it would cost $28,000. I'd love to walk on if I could," added Anderson, who was packing up his belongings during the phone conversation.
Self said he was "very disappointed but I know Braeden is even more crushed. He has worked very hard to be in a position to come here. I certainly understand the uniqueness of his academic record coming from Canada. I understand the NCAA ruling and I understand the Big 12 policy that states that the faculty athletic representatives must approve, but I am extremely disappointed in the outcome. Braeden has been great since he arrived here. Our goal for the immediate future is to give him as many options as possible moving forward so that he can make the best decision that fits him so that he can get on with his academic career."
Anderson said he truly regrets the fact the Big 12 faculty reps didn't rule in his favor.
"Everybody knows I care about academics," he said. "I want to go to Law School. I still will do that. It will just be delayed a few years. I mean a CLEP exam gave me nine credits coming into college. I got two A's in summer school. I got a 1,450 on the SAT. I'm college-ready. The Big 12 ... words don't explain how disappointed I am and surprised. Nobody thought they would do this."
Anderson, who first attended high school in Canada, said the problem stems from re-doing his junior year at Christian Faith Center in North Carolina, a school he said was recommended by his Canadian summertime AAU coach. He said that marked his fourth year of high school by NCAA standards and the NCAA did not recognize his work at the school.
He next transferred to Wilbraham and Monson Academy in Massachusetts. After leaving school last February, Anderson took online courses back home in Canada.
"I've been screwed, man," Anderson said. "I was told everything would be fine (if he attended Christian Faith Center). I was 15 years old. I was a little kid. You trust the adults around you that they'll put you in the right situations to succeed."
Anderson's summertime coach, Ro Russell, told the J-W on Friday night that Anderson never attended Christian Faith Center.
"None of the courses on his transcript were from there," Russell said. "He took online courses before he got there that the NCAA didn't accept. This is very unfortunate. It's a big shock. He is a great kid and will bounce back."
Informed later that Russell said he never went to Christian Faith Center, Anderson said: "I'll decline comment except to say that our basketball jerseys said 'Christian Faith Center' on them. We practiced at Christian Faith Center every single day."
Regardless of particulars ... reality is the Big 12 faculty reps nixed Anderson's bid to be on scholarship at KU, leaving him with the option of attending juco or quickly enrolling at a school that accepts partial qualifiers, such as in Conference USA.
"If I could, I'd pay my own way, take classes and show everybody I'd get all A's and a 4.0. That's what I was going to do," said Anderson, who has six siblings and doesn't have the funds to pay for college on his own. "I wanted to use basketball as a way to someday support my family. I am so willing to fight it and do well. I'm so confident I'd do well in school. The Big 12 is not giving me the opportunity. It's late right now (four weeks into school). It's not my fault it's so late. I got here three days ago when the NCAA said I was a partial qualifier. I couldn't go to class yet, but I emailed teachers and was getting ready to do the work. I know I'd be able to catch up. I'd work so hard I'd be caught up in a few days."
Anderson could turn pro if he wished and play in Europe.
"I mean if I was a top 100 guy, then yes I'd look at those options," he said. "I am not (ranked in Rivals.com top 150). I don't have the politics to be able to do that. I worked my way from nothing to get here. I worked my butt off where the coaches at Kansas said, 'Let's go check this kid out. He's not ranked but making a lot of noise. It's late and nowhere for me really to turn. I'm at one of those situations where you don't have a lot of options. I haven't even wanted to think about it. I wanted to be at Kansas. I still could be at Kansas. If I can find a way to be back here, I'll be back here."
Two other KU freshmen, Ben McLemore and Jamari Traylor, are being allowed to attend class as the NCAA continues to examine their transcripts. Both recently were cleared to be on scholarship but not yet cleared to practice or play in games.