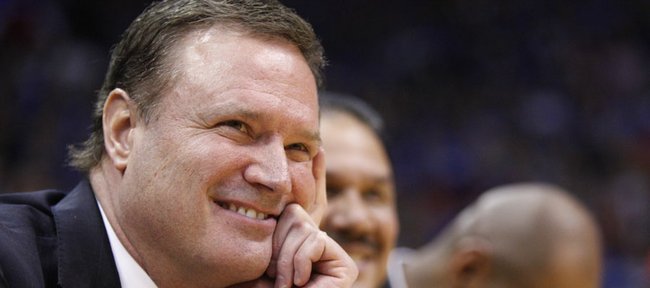 Bill Self gave a simple, direct, forceful answer when asked if the uncertainty surrounding conference realignment is something that might someday drive him out of college athletics.
"No. No ... because everybody adjusts," Self, Kansas University's ninth-year basketball coach, said Wednesday in an interview with the Journal-World.
"There could be some nervous moments, but we are going to be fine. I really believe that. I have confidence in our leadership. I have confidence in our chancellor. I have confidence in our athletic director. This isn't going to keep people from watching TV. This isn't going to keep people from getting excited about the BCS bowls. This isn't going to keep people from being excited about the NCAA championship.
"This won't keep people from getting excited," Self added, "but there could be a lot of frustration and rough times to get to the point where everybody is happy about it. I don't think it is going to put a damper on coaches' zest for coaching and players' zest for playing."
Self did not wish to discuss specifics about the future of the Big 12: "Our chancellor and athletic director should be the only ones who talk about specifics," he said.
But Self acknowledged, "this is a crucial time regarding college athletics in the world of which we have grown to know it.
"The television, the networking rights, all these things are to the point where they appear to be unbelievable factors in realignment and changing the scope of college athletics, natural rivalries and certainly in kids traveling great distances — not in their geographical range — in order to participate."
Self said the move toward superconferences could be inconvenient for student-athletes and fans.
"You have athletes that potentially could miss three days of school a week when they are missing one day of school a week the way it is now," Self said. "You want to always put these student-athletes in the best position to graduate. It will force schools to step up their academic support staff even more so than what we are doing now. Kids will miss a lot more school. Maybe there are studies they will not miss as much school. It appears to me it'd be very difficult to travel halfway across the country and not miss more school especially in non-revenue-type sports that don't charter.
"Fans will be affected in a great way if certain things happen. You go from wanting to support your team by getting in a car to travel to supporting your team in an airplane to travel. I don't think people are making decisions on what fans want."
As far as the Big 12, Self said he did not begrudge Texas its new Longhorn Network, one that apparently angered Texas A&M; enough that the Aggies applied for admission to the SEC.
"We set the rules. I don't blame anybody," Self said. "Everybody looks out for the best interest of their institution, which they should. Hopefully what's in the best interest of the institution is also in the best interest of the masses. That's what we have to work on. Everybody is not going to be totally in camp with every decision that's made. We understand that. Some schools carry a different weight than other schools when it comes to exposure. We understand that. When ESPN is offering, 'You could make this amount of money if you do this,' we can understand because we are all in the business of raising money.
"That is part of what college athletics does is generate money. That's why you have television contracts, not just Texas but the Big Ten network, and things like that. It's just unfortunate that everyone is not on the same page. You could look at it, 'Well, this wouldn't have happened if it weren't for a certain institution,' but you could also say maybe because of that institution, it's forcing everybody else to be aggressive and work in a way to maximize your exposure as well. I think it's the nature of the business, and the rules are in place for certain things to take place, and people are doing things obviously in the best interest of their place."
He continued: "People were upset at Nebraska last year for wanting out. They were doing what's best for them. People are upset at A&M; for leaving. A&M; is doing what's best for them. The way our society is, and the way the structure is set up, it allows for this type of movement. Of course I don't like it, but it is what it is."
Self said it was unsettling.
"We are at a crossroads. This is important," Self said. "This is something that could certainly impact the landscape of college athletics in a way that nothing else has for the last many years. The world as we see it today will not be the same in four or five years. There could be potential positives too. The positives certainly could be money generated through different avenues and that kind of stuff, and maybe that is a positive or aligning yourself with different rivals. Maybe that's a positive. I don't know. I personally am kind of old-fashioned. I kind of like the way it is."