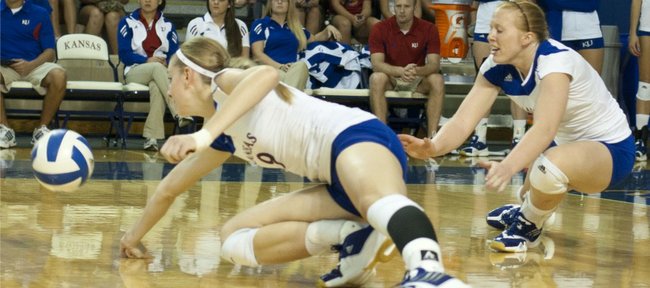 For the second consecutive weekend, Kansas University's volleyball team won a tournament title.
The Jayhawks swept South Dakota State, 25-11, 25-21, 25-23, on Saturday at Horejsi Center to win the Jayhawk Invitational and stay undefeated at 6-0.
"We put a lot of pressure on them with our serve, our block and our attack," head coach Ray Bechard said. "Something we've got to figure out is to how to play that way even longer. Right now, we're seeing that in spurts, which is a pretty typical early-season issue."
Kansas put together a .500 attack percentage in the opening set, while forcing six Jackrabbit errors. Kansas finished the match hitting over .300 for the fourth time this season.
KU senior outside hitter Allison Mayfield was named Jayhawk Invitational MVP, one week after being named MVP of the Georgia Bulldog Invational. Mayfield crushed 43 kills for 4.30 kills per set, and added 32 digs.
"She's been great in all areas," Bechard said of Mayfield. "Her passing, serving and attack percentages have all been great. She is doing a lot of good things for us. We're happy with the way she's been playing."
Third-year sophomore Caroline Jarmoc and junior Tayler Tolefree were named to the all-tournament team after combining for 2.30 blocks per set. As a team, Kansas averaged 2.90 blocks per set.
Jarmoc drilled 34 kills and hit for a team-leading .417 attack percentage to earn all-tournament honors for the second straight week. Tolefree led the team with her 1.20 blocks per set, while shelling out 24 kills.
"They've been working hard," Bechard said. "They're physical kids that are working hard, and they want to do well and know that's an area that can really help our team. As a whole, I think our team is off to a better start, blocking-wise, than we have been for a long time."
Kansas will hit the road to Cedar Falls, Iowa, for the Northern Iowa Invitational on Sept. 16-17.