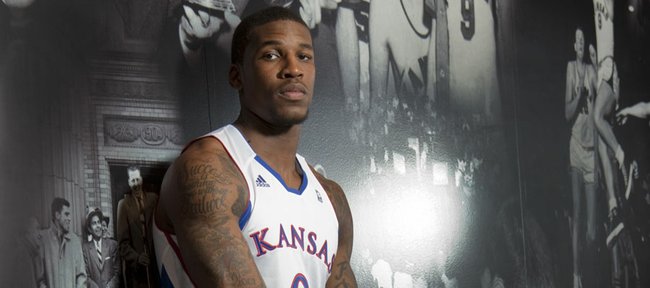 Speaking just before lunchtime, Bill Self had food on his mind when asked about his expectations for CBSsports.com preseason All-American Thomas Robinson this season.
"He's been the icing, so to speak. He's been the dessert. Now he's got to be the main course," Self, Kansas University's basketball coach, said of the 6-foot-10, 237-pound Washington, D.C., power forward who averaged 7.6 points and 6.4 rebounds in just 14.6 minutes per game his sophomore season.
"That was actually a decent food analogy," Self added, laughing.
Robinson — he averaged 2.5 points, 2.7 boards and 7.2 minutes his freshman campaign — realizes he's capable of bringing more to the table.
"I'm going to expand my game," Robinson said of his offensive repertoire including jumpers from the outside as well as an assortment of dunks, layups and jump hooks in the paint.
"I am not going to fall in love with it," he added of shots as far out as the three-point line, "but give people a sneak peek now and then. I have the ability to do that. Expanding my game makes me harder to guard. I know my bread and butter is in the paint. That's where I'll be, but don't be surprised if I do that some."
Robinson worked on improving his inside moves with assistant coach Danny Manning this past offseason.
"One of my main reasons for coming back (and not turning pro) was to spend more time with Danny," Robinson said. "He gives me a list of moves I can do. There's a lot more stuff he's teaching me now that he wouldn't have told me as a freshman."
Self is all for Robinson moving away from the basket on occasion.
"Thomas has improved his stroke. There's no question about that," Self said. "I have not come up with a rule we'll have for him. Take Russell Robinson ... we knew he was going to take two bad ones (deep shots) a game, two awful ones, so he could take them in the first five minutes or whatever, but he was done after that. Thomas ... I don't know what it's going to be, but he can't live on the perimeter. He needs to use his athletic ability and motor as opposed to being (only) a skilled guy. He needs to be able to make shots, but also needs to be efficient. That's by driving the ball and getting to the free-throw line.
"He's got to get to the line and become a better free-throw shooter than he has in the past. He'll be harder to guard than what he's been in the past because he stepped out to make the shot."
Robinson hit 49 of 96 free throws for 51 percent last season.
"It's something I feel is mental," Robinson said of free-throwing. "I shot the ball great in the offseason last year. I got in the game and unfortunately it didn't transfer over. It's all mental. If you have big-enough heart, you'll step up to the line and knock the free throws down."
Blessed with a natural nose for the ball, Robinson figures to improve his rebound numbers his junior campaign.
As far as the equally-important defensive end, "I need to be smarter so I can be in the game longer," said Robinson, who was whistled for 67 fouls in 482 total minutes his sophomore season for 35-3 KU. "Last year I didn't have to be in the best shape. This year I do. I have to stay healthy, keep running, be in the best shape of my life."
Self said: "He can't foul 32 feet from the basket because of not being disciplined and reaching. We've got to do some things to eliminate him from being in those situations. We have not had a lot of guys play 30 minutes (before) because we've had enough depth to keep guys fresh. We could literally have starters that could all play that (30 minutes) if they stay out of foul trouble. Thomas is as important as anybody we've had to keep on the court."
Self expects Robinson to be big on intangibles.
"Even though he has not played a lot, he has more life experiences than most people go through in a lifetime," Self said. Robinson's mom and two grandparents died last school year. "He has matured at an unbelievably rapid rate because he's had to. People look at Thomas as a pillar for us. He has been able to lead without talking because of his actions."
Robinson embraces his new leadership role.
"I would say the toughest challenge for me is there will be a time we are down 10 points and not much time on the clock. Somebody might have to step up and keep everybody on the same page," Robinson said. "Usually I've been preached to. Now I'll be the one doing the preaching with Tyshawn (Taylor, senior) and Travis (Releford, fourth-year junior). I'm a person who will have to step up. It's a challenge, but I'm ready."
Sherron Collins safe, sound
Former KU guard Sherron Collins, who plays basketball professionally in Ankara, Turkey, reports on Twitter that his city was not affected by the recent earthquake.
"We're good over here. It didn't hit us," Collins said.
Tickets available
A letter from KU coach Bill Self to fans was sent out via e-mail on Monday informing fans tickets are on sale for the Nov. 1 exhibition opener against Pittsburg State. A reserved family 4-pack is available for the game for $69, general admission seats $10 and reserved seats $20.