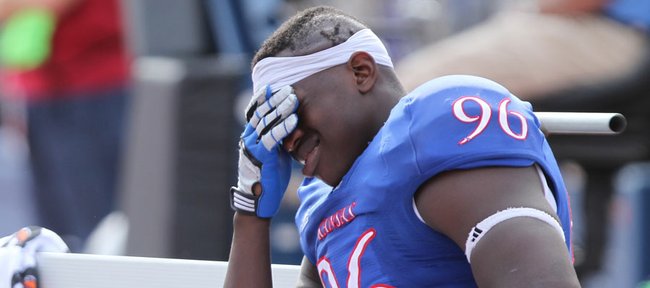 Podcast episode
Kansas coach Turner Gill talks to reporters following the Jayhawks' 59-21 loss to Kansas State on Oct. 22, 2011.
KU vs. Kansas State
Want to know just how wide the gap is between the football programs at Kansas University and Kansas State?
Look no further than the two-minute sequence that spanned the end of the first half and the beginning of the second on Saturday at Memorial Stadium.
During that tiny portion of the Wildcats' 59-21 rout of the Jayhawks — the second such beating suffered by KU versus KSU in the Turner Gill era — K-State turned a 28-14 lead into a 45-14 laugher in front of a crowd of 47,157.
During that stretch, KSU picked up a gift field goal, scored a touchdown on a kickoff return and tacked on another TD after KU fumbled on its first play from scrimmage in the third quarter.
"We let the game get away from us at the beginning of the second half," junior linebacker Toben Opurum said. "When a team scores two touchdowns in less than two minutes, it's going to shoot anybody's momentum down. We kind of let that bring us down as an offense and a defense."
It wasn't just the scores that were discouraging, but how they came. The field goal, which was kicked on the final play of the first half, was the result of a blown coverage by KU that allowed freshman wide receiver Tyler Lockett to pick up 48 yards. The kickoff return, a 97-yarder by Lockett, seemed to be the blow that buried the Jayhawks.
That was obvious by what followed. On the ensuing kickoff return, KU (2-5 overall, 0-4 in Big 12 play) committed three different penalties — a hold, an illegal block and a personal foul — then fumbled on the first play from scrimmage. Asked after the game to explain the collapse, Gill was direct.
"It's discipline," he said.
Gill, who has won just one Big 12 game in 12 tries since coming to Kansas, didn't stop there, choosing instead to praise the Wildcats just as he did following recent losses to Georgia Tech (66-24), Texas Tech (45-34), Oklahoma State (70-28) and Oklahoma (47-17).
"You've got to give credit to them," Gill said. "They're a great football team and that's why they're ranked as one of the top teams in the country."
What began with promise — KU actually controlled the field-position battle early and had a first down near midfield with the game tied at zero — ended like so many games before it. The 38-point loss was the ninth of 28 points or more in 19 games under Gill. It marked the sixth loss of 35 or more.
"Things are getting repetitive," junior cornerback Greg Brown said. "You don't like losing. You don't like getting used to losing, which it seems like we're doing as a team."
K-State's 466 yards of offense were a season high but came in far below the numbers KU had given up in recent weeks, as OU and OSU both topped 600 yards. However, it should be pointed out that the Wildcats pretty much shut it down offensively after the scoring flurry in the third quarter. Lockett's touchdown catch with 10:33 to play in the third gave KSU a 52-14 lead. After that, K-State (7-0, 4-0) ran a lot of "Wildcat" plays and simply tried to salt the clock away.
Another week resulted in yet another record for a KU opponent. KSU quarterback Collin Klein's 195 yards passing were a career high. Klein, who added 92 yards and four TDs rushing, topped his previous high of 146 passing yards by throwing for 176 yards in the first half alone. In addition, Lockett's five receptions and 110 receiving yards were both career highs, as were the two sacks by K-State defensive end Meshak Williams.
The 59 points were the most scored by KSU since scoring that amount against KU a season ago. In that one, the Wildcats racked up 470 yards of offense, four more than they tallied Saturday.
Numbers such as those added credibility to the KSU contingent that serenaded exiting KU fans with chants of "Just like last year."
It wasn't just the KSU offense that shined on Saturday. KU's powerful rushing game was limited to just 76 yards on 37 carries, and the Jayhawks lost two fumbles. What's more, the Jayhawks ran nearly half a dozen plays that went for negative yardage.
"They play hard," said junior receiver Kale Pick. "They are a really disciplined team. They hustle hard to the ball and try to strip you every chance they get. They are coached well and they stay to their assignments and techniques and don't make any mistakes."
Added sophomore running back James Sims: "They just outplayed us. They came out ready to play, and we didn't."
This summer, many believed KU's season would produce three or four wins at most. Gill remained more optimistic. So much so that at a pep rally in Prairie Village in August, he responded to a question from a fan about the chances of beating K-State this season, with the following: "This year, we're gonna get the last laugh. That's hearing it from me and my football players."
Oops. With 27 minutes to play on Saturday, the number of purple shirts in the KU student section outnumbered the number of blue shirts. The only thing that topped the purple? Silver. As in the color of the Memorial Stadium bleachers.
"When the score's like that, and it just starts rolling for them, it's gotten to the point where you expect it," said sophomore cornerback Tyler Patmon, asked about seeing mostly purple in the KU student section in the third quarter. "Yeah, you want our fans to stay, but when we put on a performance like that, you can't be wrong by leaving. That's understandable."