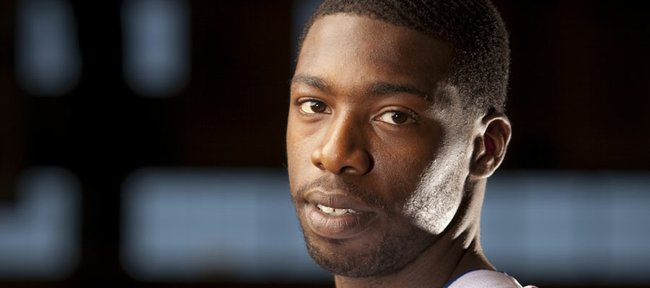 Elijah Johnson — who has not played significant minutes in his two-year Kansas University basketball career— enters 2011-12 as a candidate for a breakout season in the Jayhawk backcourt.
"He has a chance to blow up. He does," KU coach Bill Self said of the 6-foot-4 junior combo guard who averaged 3.4 points and 1.8 assists in 13.7 minutes a game his sophomore season. "He's been very impressive to us (since end of last season). He's been a kid for whatever reason has not quite put it all together yet. He needs to put it together for us to have our best chance. I think we haven't seen a glimpse of what he can be. He's one of the better all-around guards we've recruited since we've been here. He just hasn't had a chance to show it."
Johnson, who averaged 15.9 points and 4.8 assists a game his senior year at Las Vegas Cheyenne High, appreciates his coach remaining in his corner.
"To hear him say I'm improved … that means a lot. It means I'm doing what this team needs me to do," Johnson said.
The area on which he has improved the most?
"Being a leader," Johnson said. "Really just that. I feel everything else just falls into place."
As far as on-court production, Johnson is KU's leading returning three-point shooter. He hit 22 of 55 last year for 40 percent.
"I guess that means I get to shoot a little bit, huh?" Johnson said with a smile. "I plan on knocking my shots down, making open shots."
His length and athleticism could prove beneficial on defense.
"I just take it as ... I don't even want to say as a challenge. I feel disrespected when someone tries to dribble and go past me nowadays," Johnson said. "My attitude has changed. Someone scores on me, I take it personal. Even if you can't see it on my face, I take it personal nowadays. I think coach Self put that in me."
Self has said the Jayhawks may run a bit more this year as they take advantage of a backcourt that includes ultra-athletic Johnson and Tyshawn Taylor.
"They've become close, kind of bonded more. Maybe it's because they know they have to lean on each other a lot. I think that could be a good backcourt," Self said.
"I feel we can be a real good (backcourt)," Johnson noted in agreement. "I feel there's really three of us. I feel like Thomas (Robinson) is a big guard. He just runs like a guard. He just runs, he runs, he runs, he runs. He's so athletic. I feel like he's 6-4, but he's really 6-9. With Tyshawn running one wing and me on the other wing and Thomas coming down the middle, how would you look at it if you were on defense?"
KU's backcourt-mates are so close that Johnson refers to Taylor as "his twin."
"Our games are similar," Taylor said. "We both like to get up and down. We know where we are going to be. We've spent a lot of time together in the offseason working out. We're comfortable with each other."
The country knows all about Taylor, KU's first four-year starter since Aaron Miles.
As far as Johnson, just a few years ago he arrived on campus as Rivals.com's No. 24-rated player overall and No. 4-rated point guard in the Class of '09 behind only John Wall (Kentucky, now in the NBA), Abdul Gaddy (Washington junior) and Eric Bledsoe (Kentucky, NBA).
His name just hasn't been mentioned as much since then. Johnson did not receive any votes for honorable mention in this year's preseason Big 12 coaches poll.
"Nope, not mad at all," Johnson said, asked if he was bothered by the snub. "Let them keep talking (about others). Like I sad earlier, we need somebody to talk. I can't be mad if my name is not mentioned."
Matt Kamalsky of draftexpress.com thinks many may know Johnson's name at the end of this season.
"Johnson is not the first highly-touted recruit to start his career on the bench, and he would not be the first less-than-experienced prospect to put it all together as an upperclassmen either," Kamalsky writes on his website. "While he has yet to prove the things he'll need to prove in order to legitimize his draft stock, he has proven to be an efficient role-player, and has all the tools to be successful when he begins to see significant minutes. For those reasons alone, Johnson is a player to pay especially close attention to this season as he could rocket up draft boards and a prospect we'll surely be revisiting as he teams up with Tyshawn Taylor and Thomas Robinson to step up in place of the Morris twins. Elijah Johnson's time seems to have finally arrived in Lawrence."