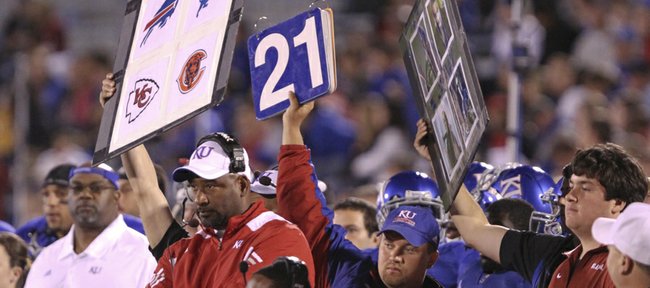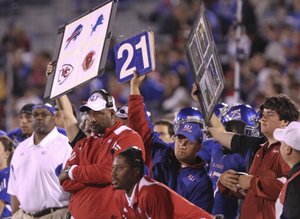 With Kansas University's football defense ranking dead last among FBS programs heading into Saturday, KU coach Turner Gill and his defensive coaches opened their minds to any idea that may put the Jayhawks on the right path.
That even included using Big Bird, a couple of rappers and an actor or two.
Saturday night, during a 47-17 loss to No. 3 Oklahoma, KU's defensive calls were sent to the field in a new manner. Instead of using long, drawn-out hand signals, the coaching staff utilized a couple of large image boards that featured a wide variety of visual signals.
"That was something new that we incorporated," Gill said. "Again, (we're) trying to get our guys information of calls that were made with signals or by showing a picture so they know what it is and so on and so forth. We're just trying to get it in as fast as we can to get our guys to play faster and to play more confident."
The new approach may not have changed much in terms of the final outcome. The Sooners, like two teams before them this season, cracked the 600-yard mark and nearly scored 50 points in the 30-point victory.
However, in the grand scheme of things, the change resulted in the KU defense playing a more ferocious style, something the players said they could build on heading into the final six weeks of the season.
"Once we see the sign, we just read and react," junior safety Bradley McDougald.
Asked to share some of the specific images on the boards, McDougald spoke in vague terms.
"You've got everything from rappers, you've got cartoons, you've got actors," McDougald said of the boards that also included images of NFL team logos. "It made sense (to use the boards) because Oklahoma has been known to read signs, especially defensively. And once an offense knows your signs, they're going to dial up plays that they know are going to work."
The big boards were not the only new element the Kansas defense tried Saturday. The coaches also changed the way they sent plays to the field during drives when OU did not push its up-tempo offense. That, too, added to the defense's improvement. One week after giving up eight straight touchdowns to open the game in a loss at Oklahoma State, KU limited the Sooners to four field goals and five touchdowns in 10 trips to the red zone.
"We talked as a staff about trying to make things simple," Gill said. "Coach (Buddy) Wyatt and coach (Robert) Wimberly (had both been) doing the signals, so we switched it up. Coach Wimberly was signaling for our secondary, and coach Wyatt was signaling for our defensive front. That helped our guys get the signals a lot faster. I think you just saw our players played a lot more confident and were moving around and running like you want to see a defense run."
Hatch questionable for K-State
Senior offensive lineman Jeremiah Hatch, who left Saturday's game on a cart and was taken to the hospital for evaluation before returning to the sideline late in the game, has been listed as questionable for Saturday's 11 a.m. contest against Kansas State at Memorial Stadium.
Gill said Hatch suffered a neck injury against the Sooners but appeared to be in good shape when the Jayhawks reported to practice Sunday.
"It's a day-by-day deal," Gill said. "He probably won't do anything on Tuesday, and we'll see what happens on Wednesday. But he's fine. He's sore and all those things, but he had movement back, and that's why he has a chance to play this week."
Wildcats crack Top 15
With a 41-34 road victory against Texas Tech on Saturday, Kansas State improved to 6-0 overall and 3-0 in Big 12 play. The hot start has KSU ranked 12th in the latest Associated Press poll and 11th in the season's initial BCS rankings, which were released Sunday night.
When the odds were released Sunday, K-State opened as a 15-point favorite over Kansas. By Sunday night, the line had dropped to KSU minus-12 in most places.
The Jayhawks have lost two straight to the Wildcats after winning three straight games from 2006-08.
Saturday's kickoff is scheduled for 11 a.m. The game will be shown on FSN.