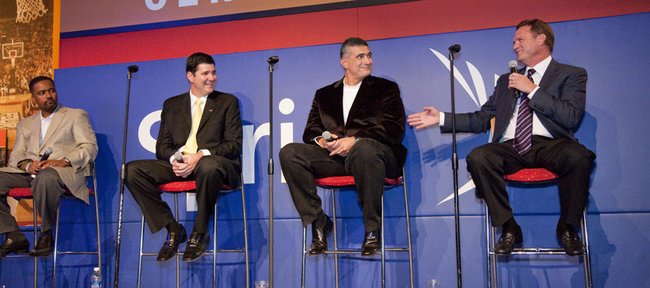 Kansas University basketball coach Bill Self applauds the addition of TCU to the Big 12 Conference.
"I think it's good. From our standpoint, I love it when the Texas schools are in because that needs to be a recruiting base for us," Self said Tuesday at the Coaches vs. Cancer Season Tip-Off in College Basketball Experience next to Sprint Center.
"Anytime you can play another game in the Metroplex is positive," he added. "I think it'll be good for football. They've (Horned Frogs) been down a little bit basketball-wise, but they'll raise their level to compete. I think it's a good add."
With Missouri apparently in the fold for at least the 2012-13 season, according to Tuesday's comment by interim Big 12 Commissioner Chuck Neinas, the league is back at 10 members.
"To be honest, I think 10 is not a great number. I think the best number is 12 or nine because I think 18 games are too many in basketball," Self said. "I'm glad that we are where we are at and not at eight trying to add. We are at 10, and I think there's a good chance we could be adding. By the time Missouri makes the decision on what they are going to do, I wouldn't be surprised if we have at least two more teams in our league."
Kansas State coach Frank Martin, who attended the function with Self, Missouri's Frank Haith and UMKC's Matt Brown, says 12 is the league's magic number.
"Let's say six years from now you have a defection and are at 12, you don't have the issues, 'Oh the league is falling apart.' You replace one team and move on," Martin said.
Haith said MU would likely decide on its future conference affiliation sooner rather than later.
"I think we all would like to see it come to an end," Haith said. "I think that will happen here shortly. I think there will be some decisions made in the next couple weeks.
"Obviously I think there's a lot of rumors and stuff out there that's probably not true," Haith added. "I think until there is a comment from Dr. Deaton (Brady, chancellor) and our folks, it is what it is right now. We're in the Big 12 as of right now."
Self said the Big 12 is "just weeks away from being as solid as this league has been since its inception in '96. I think it's going to be a fabulous league. Of course we want Missouri to stay. I think it'd be bad for Kansas, bad for other teams in our league if they leave. They've got to do what they've got to do. If they do leave, I think our league is fine regardless."
KSU's Martin said it's healthy that MU has voiced some concerns about the Big 12.
"In this day and age when there is confrontation, people run for the hills," Martin said. "I love confrontation because when people care, confrontation forces communication and makes us all respect each other's values a little bit more. Every team in the league understands just what a special thing we've got going and how much we need each other.
"I've love to keep them. We are standing here in a building in the state of Missouri that's the history of college basketball. Next door is a building that hosts our conference tournament. There's not a better atmosphere than the one we have here (in Big 12 tourney). I call it a triangle from Columbia to Manhattan up to Iowa State. Those fans all come. I'd like to keep our tournament here and keep it exciting. That means keeping Missouri a part of it."
Baylor the best?
KU coach Self said he voted for Baylor to win the Big 12. "When you line it up, they have more pros than anybody. They have a couple potential lottery picks," he said. "Coaches can't vote for their own team. I'm not sure I would have anyway, but I definitely picked Baylor," added Self, who said 14-4 or 13-5 would be a "great league record."
No word yet
Self said he expected word soon on the eligibility of freshmen Ben McLemore and Jamari Traylor, who have been allowed to attend classes on campus, but not participate in official team activities until being cleared by the NCAA. They were not able to compete in the two-week Boot Camp, but are allowed to play in unsupervised pick-up games. Practice begins officially with Friday's Late Night in the Phog.
Self on Boot Camp, which ended Thursday
"Boot camp wore me out, but our guys did great." he cracked. "I was real pleased how they worked and competed. I'll admit I'm real excited about this year. It's going to be fresh, new exciting. I believe we have some unknowns now, but those things will work themselves out."
Adversity at MU
MU's Haith is facing questioning from the NCAA about possible wrongdoing when he was coach at Miami.
"I think our team ... there's been some adversity stuff, too — the Miami thing with Frank Haith," Haith said. "I would say this ... our team has gotten stronger, our coaching staff has gotten stronger. I feel comfortable and confident our guys are excited for the start of practice Friday.