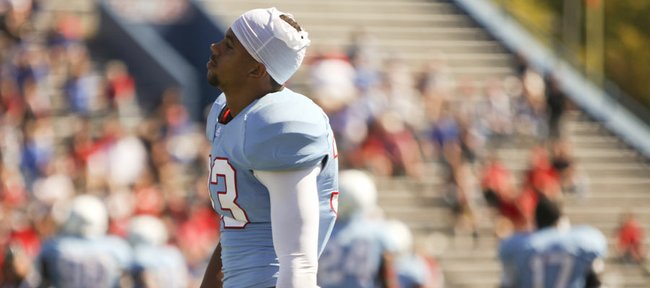 Podcast episode
Kansas coach Turner Gill talks to reporters following his team's 45-34 loss to Texas Tech on Oct. 1, 2011, at Memorial Stadium.
KU vs. Texas Tech
For the second straight game, the Kansas football team played competitive football in the first half only to suffer through a brutal third quarter.
The Jayhawks were outscored by three touchdowns in the third during Saturday's 45-34 loss to Texas Tech. That means KU has been outscored 49-0 in the period during the last two games and 76-21 this season.
"We've got to continue to address it with our staff and our players to see if we can become better to make more plays in the third quarter," KU coach Turner Gill said. "That's very, very important."
The reasons for the second-half struggles Saturday were numerous.
Defensively, KU had troubles stopping Texas Tech's hurry-up offense. The Red Raiders picked up their pace significantly after halftime.
"Sometimes that hurts you, because you can't get the call off quick enough," KU freshman safety Keeston Terry said. "We'll definitely make adjustments and fix that."
Getting the play called takes some time, and it begins with diagnosing the positions of the offensive players on the field. A two tight-end set will call for a different formation than a five wide-receiver set.
Defensive players' alignments also change based on what they see across from them.
"Play call is a big deal, especially when you're one of the safeties, and you've got a lot to read," KU junior Bradley McDougald said. "Once you get the play, you have to do a certain thing within the play. The speed of the play call could come in faster, but that's nothing to point the finger at, I wouldn't say."
The quick pace not only limits substitutions, it also forces defenders to analyze things quickly.
"At the time, we weren't necessarily aggressive," KU senior linebacker Steven Johnson said. "When they started going fast, it was like we were on our heels and against the ropes. We were trying to fight it off, but it got hard."
The third-quarter numbers for KU's defense aren't pretty.
The Jayhawks have allowed touchdowns in 12 of their opponents' 14 third-quarter drives (85.7 percent) this season.
Each of KU's four opponents also has scored on its first possession of the second half. That includes drives of 76, 66, 63 and 91 yards.
Offensively, KU failed to score in its three third-period possessions.
"We had a roll in the third quarter," KU offensive coordinator Chuck Long said. "We came out and we had some hits, had some yardage, and all of a sudden, we throw a pick, then they eat up the clock."
In the 15-minute span, KU had 15 plays for 73 yards (4.9 yards per play). That was after a first half when the Jayhawks posted 39 plays for 303 yards (7.8 yards per play).
"(Texas Tech) did adjust well, and hat's off to them," Long said. "But we just beat ourself. If you look at our drives, we just sputtered because we beat ourself."