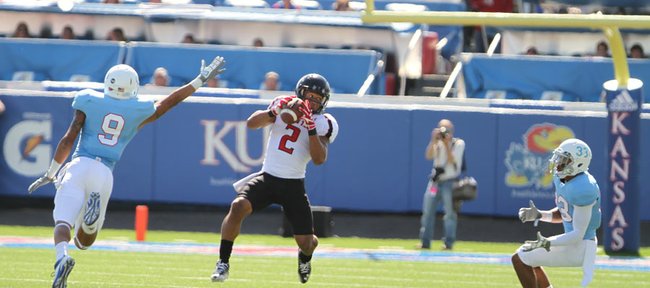 Podcast episode
Kansas coach Turner Gill talks to reporters following his team's 45-34 loss to Texas Tech on Oct. 1, 2011, at Memorial Stadium.
KU vs. Texas Tech
Texas Tech's undefeated football team has trailed in three of its four games this season.
"Deja vu ... start slow, end fast," second-year Tech coach Tommy Tuberville said after the (4-0, 1-0) Red Raiders' 45-34 victory over Kansas on Saturday at Memorial Stadium. "As I told the team, one of these days we're going to start fast. The great thing about it is we know how to come from behind. We can do it on the road, at home and (with) different people doing it."
Tech — which trailed by 10 points in its home opener against Texas State and by 14 again at home last week against Nevada — on Saturday dug a 20-0 hole with three minutes left in the first quarter. The Jayhawks (2-2, 0-1) looked as if they might win in a rout.
"They were fired up, playing a home game, homecoming, new uniforms. It seemed like we couldn't stop them. It didn't look good," Tuberville said. "You don't like spotting teams 20 points. There's not many teams in the league the rest of the way we can spot a lot of points and have a chance. We're going to have to play much better."
It was Tech's first comeback victory on the road of 20 or more points since a 31-30 decision over the Jayhawks on Sept. 25, 2004 at Memorial Stadium. Tech trailed 30-5 in that one with :48 left before halftime also in the Big 12 opener for both teams.
"We've been in that position before. It's nothing new for us. We didn't panic. We knew it was going to be OK," Tech quarterback Seth Doege said after completing 29 of 46 passes for 366 yards, three touchdowns and one interception. He was sacked once.
"They played hard," Doege added of the Jayhawks, "but at the same time I felt it was us stopping ourselves."
Tech was flagged 17 times for 154 yards.
"Seventeen penalties? You've got to be kidding me. I won't get into that," Tuberville said. "We had to fight through a lot of long-yardage situations on offense and we kept making them and making big plays."
Tuberville barked at the officials on several occasions.
"I've got their names. We always converse. They'll jump on me. I'll jump on them," Tuberville said with a smile. "That's part of it. I just complained about judgment calls. They are probably all (100 percent) right," he added of the refs' accuracy on calls. "The one good thing as a head coach ... you get an opportunity to express your opinion. I'll never do it in a derogatory way. We'll look at the film tomorrow and go, 'That's probably a good call.' I'm more disappointed we had that many."
Tuberville is happy he survived the game in one piece.
He went down hard after getting clobbered out of bounds following a sweep by KU's Tony Pierson.
"It took me a while (to recover). It takes a while to overcome adversity. That track is hard," Tuberville said. "When I went down on that track, I thought I was 25. I remember now I'm 57. It was all good. I know better than that. I know where to stand. That's one thing about coaching ... you never stand downfield, you stand behind the play. I had a mental lapse."
Eric Stephens rushed for 124 yards off 26 carries and scored two touchdowns. He has rushed for at least one TD in six straight games.
"We were surprised how fast they got out on us," Stephens said. "They got a quick 20-point lead on us. We never panicked, were able to stay focused and pull it out. Like coach Tuberville said, if we have to do it like this every week and still win, it's fine."
Tech notes: Doege, who had thrown 122 passes without an interception, was picked off by Keeston Terry on Tech's third possession. He has thrown for at least three TDs in all four games. ... Eric Ward had four catches for 71 yards and two TDs. ... Tech, which has won seven in a row overall, is 4-0 for the first time since going 10-0 in 2008. ... Tech is 12-1 all-time versus KU. ... The Raiders had their most penalties since being called for 18 for 169 yards in the 2008 season opener against Eastern Washington.