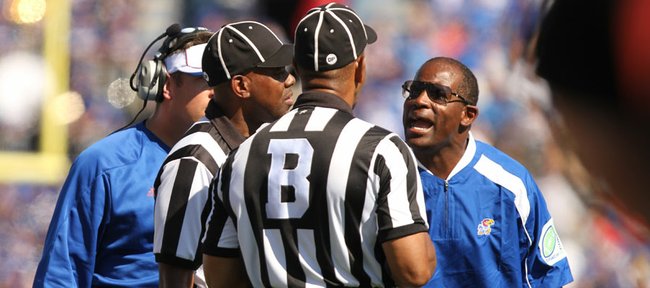 Podcast episode
Kansas coach Turner Gill talks to reporters following his team's 45-34 loss to Texas Tech on Oct. 1, 2011, at Memorial Stadium.
KU vs. Texas Tech
From the outside, it's growing more difficult to believe in the one-word motto preferred by Kansas University football coach Turner Gill: Believe.
The numbers on the scoreboard when time expired Saturday afternoon in Memorial Stadium — Texas Tech 45, Kansas 34 — didn't look so ugly. The problem: No matter what the numbers said at any point, it was difficult to believe Kansas was going to win the football game. If you can't talk yourself into believing Kansas will win when it leads by three touchdowns (and two extra points) in the first quarter, when can you believe?
A few technological advances from now, when the click of a button enables us to read minds, we'll easily determine whether a fan base truly believes in its team. Too bad that technology wasn't there yet because it would have been interesting to read the minds of those wearing blue Saturday when quarterback Jordan Webb and a wide array of talented young running backs gave Kansas a 20-0 lead with 3:39 left in the first quarter.
At that time, if you had to make a straight-up bet as to the game's winner, which way would you have gone? I tried to talk myself into believing at that moment Kansas would win the game, but I couldn't. The Red Raiders had too much firepower in the form of quarterback Seth Doege (passed for 336 yards and three touchdowns) and running back Eric Stephens (rushed for 124 yards and two touchdowns), too much strength blocking for them, too much time to believe anything but that they would catch the Jayhawks and pass them.
But did it have to happen so quickly? From the time Kansas took a 20-0 lead to the time it trailed 21-20, just 7:51 of game clock elapsed. The easy answer lies with blaming Webb for throwing a pair of interceptions that led to scores. The easy answer's not always the fair one. Webb hadn't thrown a pick all year until throwing three Saturday and one of them hit the hands of Kansas receiver Chris Omigie first.
Truth is the offense, though guilty of fits of sloppiness in this one, is ahead of schedule. The effective running game has enabled offensive coordinator Chuck Long to put Webb into good spots to taste success, drawing the defense up to stop the run and pulling it even closer with play-action fakes.
It's the defense and less-than-stellar special teams (fumbled fair catch and a blocked extra point) that don't inspire any confidence this is a football team that can escape the Big 12 cellar. The air in the George Mrkonic Auditorium, site of the post-game interviews, doesn't hint at more inspirational days ahead, either.
Very often, during post-game media sessions, athletes tend to reveal their coach's message delivered in the locker room after losses and the way they do it is by stealing his words to explain what happened. Several of the players, when asked about why the team has performed so poorly in its past two third quarters, talked about "poor execution," Gill's fall-back quote. It doesn't really say anything. The only coach ever to use the word execution in a quote in a meaningful way was John McKay in the early days of the Tampa Bay Buccaneers. When asked, after a particularly unsightly loss, what he thought of his team's execution, McKay said, "I think it's a good idea. I'm all for it."
Obviously, he didn't mean it, but he did get his point across. In most walks of life, especially when dealing with youth, nurturing confidence is the best path to creating fertile soil for growth. But football's not like most things. It's brutal. It's war without weapons. Particularly on defense, it's best played by men dragged out of their comfort zones and into a state of rage, men bent on seeking and destroying. I'd like to believe that's happening in practice, but it's difficult not to be a doubting Thomas on that front.
Don't look at the schedule to cultivate belief. It calls for a Saturday visit to Stillwater to face No. 5 Oklahoma State. The following Saturday it will be interesting to see how much red fills Memorial Stadium when the second-ranked Oklahoma Sooners visit.
For Kansas football, the great thing about the apparent Big 12 stability is that the coaches can continue to sell playing in the Big 12 to recruits. The tough thing for the coaches about staying in the conference is they have to prepare for a Big 12 team every week.