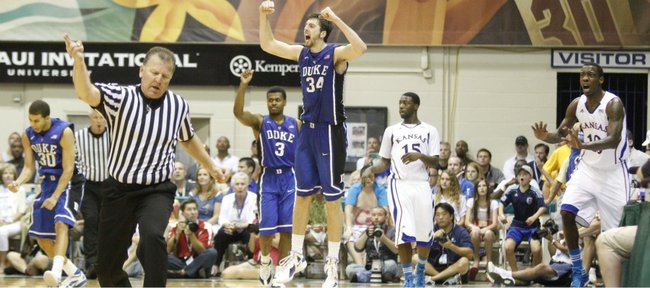 Videos
Bill Self weekly press conference: Nov. 28, 2011
Kansas head men's basketball coach Bill Self addressed the media at his weekly press conference Monday, Nov. 28, 2011 at Allen Fieldhouse.
Kansas University senior point guard Tyshawn Taylor refuses to blame fatigue for his school-record 11 turnovers against Duke.
"I think I just made some dumb mistakes," said Taylor, who played 38 minutes in Wednesday's 68-61 Maui Invitational championship-game loss after logging 33 and 31 minutes the previous two days in wins over Georgetown and UCLA.
"I've got to slow down, be a better decision-maker, be crisp with my passes, not so nonchalant. Me and coach (Bill Self) talked about it. He's been on me at practice about it the last couple days. I've watched tape 100 times already since we've been back and (thought about) ways I can correct things. They are correctable mistakes, and they will be corrected," Taylor added.
The 6-foot-3 Hoboken, N.J., native scored 17 points versus the Blue Devils and averaged 15.3 points a game in three Maui games. He hit 15 of 32 shots overall (.466) and was 4-of-6 from three.
"I think that if we had subbed for him maybe he would not have 11 (turnovers), but Naadir (Tharpe, backup point) turned that sucker over, too," Self said with a smile. "It's not like you are for sure going to cut down on your team's turnovers.
"I feel comfortable with the ball in Tyshawn's hands. I think he got fatigued. Let's look at it this way: That's three games in three days, and it's not like it's a game in which (one can relax at all). There's also a lot of humidity (in Hawaii) and things like that. That was pretty taxing on our guys' bodies.
"We are just playing our starters entirely too many minutes, especially Thomas (Robinson, 36 vs. Duke; 34.7 per game in Maui) and Tyshawn, and we've got to get Naadir and Kevin (Young) to give us some minutes off the bench. Justin (Wesley) and Conner (Teahan) will give us what they can give us. Certainly it'd be nice to have a couple more guys who could just bide some time," Self added.
Self said developing depth would be a priority as the Jayhawks (3-2) enter a five-game homestand, starting with Wednesday's 7 p.m. game against Florida Atlantic.
"I think we understand as a team we aren't as deep as we've been," Taylor said. "It's safe to say the team is a little bit different than the past. I think we get a couple guys that's on our bench playing how we want them to play and understand our offense a little bit better and understand how we play, we'll be fine," added Taylor, who went on to praise different aspects of the play of Teahan, Young, Wesley and Tharpe.
"Those are tough games to get comfortable in. Coach definitely wants to win those games. He'll play the guys he trusts," Taylor added of the last four games vs. Kentucky, Georgetown, UCLA and Duke. "I've been here four years. I know it takes a lot for coach to just throw you out there. They'll get it. When they do, we'll be even better than we are now.
"We have a team that wants to win, a coach who will push us to win, young guys who want to work. I'm excited about this team. We're going to be good," Taylor stated.
Taylor said there were lessons learned in the just-completed stretch of marquee games.
"We've got to get in better shape. It was tough playing three games in three days," Taylor said. "We were tired. I think it showed toward the end of the Duke game that we were really tired. We're going to build off what we did against good competition."
Taylor vows he'll improve as the season goes on.
"As a senior guard, I have to know, 'All right, I can't go that far. I've got to pull up right here.' Or, 'I've got to reverse it and try to get it back on the next side.' I didn't do that (vs. Duke). I continued to attack and jump in the air and make dumb plays and out of control. It's all correctable."
Robinson honored: Robinson was named Big 12 Player of the Week on Monday after averaging 17.0 points and 12.3 rebounds at the Maui Invitational.
"It's a great honor to receive the award, to be player of the week, especially in the Big 12 as many top players as we have in the conference. I don't have any plan for this to be my only one," he added, smiling.
Tickets: KU fans can receive free tickets to an upcoming men's and women's basketball game by donating to Toys for Tots. Fans can donate an unopened toy at the Booth Family Hall of Athletics between 10 a.m. and 5 p.m. Wednesday to Friday. Fans will receive one ticket per toy (two ticket maximum) to the Dec. 6 men's game against Long Beach State. Fans will also receive two tickets to the Dec. 8 women's game versus Wisconsin. ... General-admission tickets for upcoming KU men's games will go on sale to the general public Monday. The games included in that Dec. 5 on-sale date are Howard, North Dakota, Iowa State, Baylor, Texas A&M;, and Oklahoma.
White update: Andrew White, a 6-6 senior forward from Miller School in Chester, Va., says he will announce his college choice this week. White, the country's No. 56-rated player, has visited KU, West Virginia, Louisville and Texas. He also has Richmond and Georgetown on his list.
"I haven't narrowed my list of schools, and I'm not going to," White told jayhawkslant.com. "I'm just going to announce my decision this week. I haven't eliminated any schools from my list and I'm still thinking everything over. I've recently talked to coach (Joe) Dooley and coach Self from Kansas. Georgetown has also done a good job lately. The staff at Georgetown has been supportive and will respect any decision that I make. I've just got to sit down and decide what's best for me."