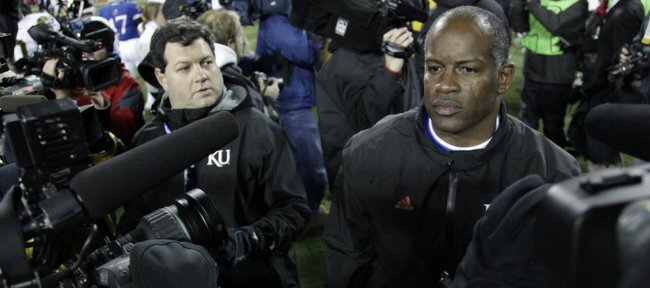 His goal was to turn Kansas University football into a dynasty, but the experiment ended with him going down as one of the least successful coaches in school history.
Through it all, KU coach Turner Gill, who was fired Sunday afternoon with three years remaining on the five-year, $10 million contract he signed in December 2009, functioned as a man of class and integrity. He just couldn't win football games.
"I admired Turner Gill as a person going in, and I admire him more going out," first-year KU athletic director Sheahon Zenger said several hours after the firing.
Zenger broke the news to Gill at a 4 p.m. meeting in Zenger's office. The discussion lasted 15-20 minutes and featured a coach whom Zenger described as cordial throughout. One other member of Zenger's senior staff was present in case questions about the contract came up. None did.
As outlined in his contract, Gill, who came to Kansas after a 20-30 stint at Buffalo and guided the Jayhawks to a 5-19 record in two seasons, will receive $6 million within the next 90 days. Zenger said the money would come from a redistribution of revenue streams — most notably the increased dollars from the Big 12's new FOX television contract — and that none of KU's share of the exit penalty that has yet to be received as a result of Texas A&M; and Missouri's departure to the SEC would be used.
"That money was going to go to whatever our top priority was, and our top priority just became this transition," Zenger said of the television dollars.
As for moving forward with a new staff, that, too, will come from existing university dollars.
"We will tighten our belts, and I will do fundraising to support the next staff," Zenger said.
In addition to dismissing Gill, Zenger also removed the KU football program's strength and conditioning staff on Sunday. KU's strength and conditioning program had been under fire for poor performance throughout Gill's tenure, and Zenger, a former football coach, said a solid strength staff was crucial to a football program's success.
"It all begins in the weight room," Zenger said. "The tone gets set there. The discipline gets set there. Everything starts in the weight room."
One of Gill's strength coaches, former KU player Joe Vaughn, told the Journal-World on Sunday night that even though he was disappointed about the decision, he understood that college athletics was a business.
"I'm happy my alma mater gave me this opportunity," Vaughn said. "I'll always love KU, no matter what."
The nine assistant coaches who worked for Gill, at least for now, have been retained. Each has 18 months remaining on his contract, and their place at Kansas figures to be re-evaluated by KU's new head coach. Many of them will continue to work for, recruit for and be paid by KU in the coming weeks.
Running backs coach and recruiting coordinator Reggie Mitchell has been appointed as KU's interim head coach, and beginning today the Jayhawks will move ahead with heavy hearts and a new focus.
"Right now, I can't even explain it to you," said sophomore linebacker Darius Willis, who also played for Gill for one season at Buffalo. "I'm all over the place right now. The dudes that want to be leaders on this team are going to have to step up and just keep us together. We can't lose each other. We lost a great coach, but we gotta stick together, because if we don't, it's going to get a whole lot worse."
Gill and his coaching staff met with players in small groups for about two hours Sunday evening. Many emerged from the Anderson Family Football Complex with tears in their eyes and spoke to reporters about being surprised and disappointed by their head coach's firing. Others elected not to talk. Gill was a member of the latter group.
After the final players exited the facility, Gill left through the back door without saying a word. His wife, Gayle, and their youngest daughter, Margaux, pulled their car around back to pick Gill up and he walked past reporters without talking. Many players said Gill remained positive even while meeting with them for the last time.
During his short time in Lawrence, Gill completely changed the culture of Kansas football. The answer to the question of whether he changed it for better or worse was what ultimately led to his removal.
The Gill Era started on an embarrassing note with a loss to FCS opponent North Dakota State. Gill's team followed that up with a spirited upset of No. 15 Georgia Tech, but no momentum from that performance carried into the rest of his reign. Gill's teams too often looked unorganized, undisciplined, unable to adjust and uncompetitive.
Overall, his teams lost by 30 points or more 10 times, including losses this season by scores of 66-24 (Georgia Tech), 70-28 (Oklahoma State), 59-21 (Kansas State), 43-0 Texas and 61-7 (Texas A&M;).
Gill's lone Big 12 victory, a surprise, 52-45 comeback win, came at home against Colorado, Nov. 6, 2010. Again, the momentum of a comeback from a 28-point, fourth-quarter deficit didn't carry into the next week, despite it being the largest comeback in KU history.
So now, for the second time in 24 months, KU turns its attention to another coaching search. There's a new man heading up the search this time around, Zenger, but, thanks to the realignment madness that has captivated college athletics during the past two summers, there also are new stakes.
Sources have told the Journal-World that the search will move quickly, as Zenger essentially has had the past several weeks to map out a game plan for identifying a successor to Gill.
"I have no specific timetable," Zenger said. "Naturally I would like to have a new coach on board as soon as possible."
Early signs of coaching-search mania hit Lawrence late Sunday night, when rumors of a plane carrying former Texas Tech coach Mike Leach began to surface. Many reporters and even a few fans flocked to the Lawrence Municipal Airport to await the plane from Key West, Fla., near where Leach keeps a home. When the plane parked near the terminal and the door flew open at 9:56 p.m., a Lawrence family returning from vacation stepped out, somewhat surprised by the welcoming.
"Sorry. We know who you thought it was," the father said with a laugh.
And so it begins.
For more on what's next for KU football see our list of coaching candidates.