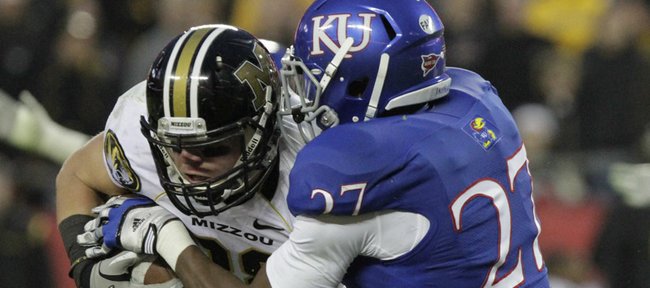 Podcast episode
Kansas coach Turner Gill talks to reporters following the Jayhawks' 24-10 loss to Missouri on Nov. 26, 2011.
KU vs. Missouri
Kansas City, Mo. — Missouri junior receiver T.J. Moe brought a personal item to Arrowhead Stadium for Saturday's Border War game against Kansas.
"We fly the flag of Quantrill in our locker room right now," Moe said. "It's up. It's my flag. I brought it."
Moe, who purchased the flag off the Internet two years ago, said after MU's 24-10 victory that the flag was still hanging on the wall in MU's locker room.
The receiver described it as a black flag with a white Q in the top-left-hand corner.
"You've got rivalries who kind of developed over good football games. We're talking about ... we went over there and killed all their people and burnt their city down. OK?" Moe said. "So that's what makes it. They hate us. We hate them, too.
"We were maybe on the wrong side of the deal (then). However, we're the good guys now," he added with a smile.
The O'Fallon, Mo., native isn't ready to see the rivalry die.
"I will miss 'em. Yeah," Moe said of the Jayhawks. "It's like your brother. You fight with him every day, but at the end of the day, you need him to have the rivalry, and it's fine. I don't like 'em at all, but you need them to have a rivalry, don't you?"
Moe pointed out that, even though they're not in the same conference, Georgia and Georgia Tech and Florida and Florida State still play each other every season.
"I've been telling everybody: The players would like to continue year after year," Moe said. "You've got Bill Self, he's all fired up about not ever wanting to play Missouri again. I heard coach (Turner) Gill over there, he didn't want to, either. It's mostly the higher-ups. Their AD, he's all fired up too."
Moe said no team could replace KU as MU's rival.
"Well, dude, if they don't want to play any more, they don't want to play any more," Moe said. "Take your toys and go home. Whatever."
Moe finished with three catches for 20 yards in what most likely will be the last KU-MU football game for a while.
"They don't want to play. And really, fine," Moe said. "I was trying to score enough points to hold us over for the next 50 years."
• A previous version of this story has been updated.