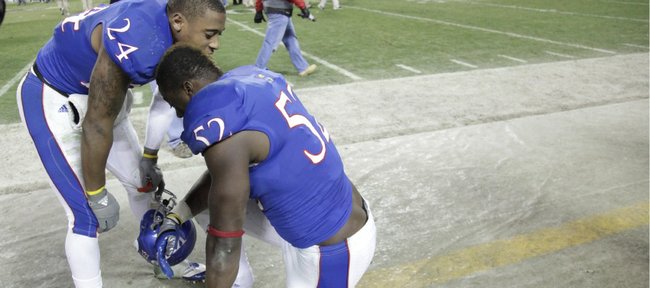 Podcast episode
Kansas coach Turner Gill talks to reporters following the Jayhawks' 24-10 loss to Missouri on Nov. 26, 2011.
KU vs. Missouri
Kansas City, Mo. — If Saturday's 24-10 loss to Missouri at Arrowhead Stadium was Turner Gill's final game in charge of the Kansas University football program, the second-year head coach did not stray far from what people have come to expect.
All of the things that plagued the Jayhawks during Gill's long and lean two seasons in Lawrence hurt the Jayhawks against the Tigers on Saturday.
Turnovers? Check.
Bad penalties? Check.
Confusion and chaos? Check.
In short, even though the 120th — and possibly last — edition of the Border War battle began with Kansas taking a 10-0 lead, it ended in the same fashion that so many losses before it had.
"It's disappointing and frustrating," said Gill, who fell to 5-19 overall at Kansas, 1-16 in Big 12 play. "When an opportunity presents itself, you cannot allow those type of mistakes, whether it's fourth-and-one, whether it's third-and-six or whatever it is."
Early on, it was the Tigers who made the mistakes. Mizzou quarterback James Franklin threw three first-half interceptions and watched as Bradley McDougald returned one of them 57 yards for a touchdown. The fast start gave the Jayhawks, as well as the KU fans in the announced crowd of 47,059, a bit of a spark.
"We felt that our defense played extremely well in the first half," Gill said.
Unfortunately for Kansas, the rest of the team did not follow suit. The offense, which finished with just 137 yards, three fumbles (one lost) and a 3-for-16 conversion ratio on third down, limped into the locker room at half with a 10-3 lead and the feeling that it should have been larger.
Although the defense's inspired play in the first half provided a momentary lift, it also may have backfired.
"The only thing I was worried about was keeping guys motivated and not taking the brakes off," McDougald said. "After we got one pick and another one, and then we got a score on defense, guys were definitely feeling good, but we tried to tone it down. I started seeing too many smiles and joking around, some laughing, some complacency that wasn't needed at the time."
Kansas received the opening kickoff of the second half, but failed execution on first and second down prevented offensive coordinator Chuck Long and Gill from digging into their bag of tricks.
"We dropped the ball on the second play, and that put us in long yardage," Gill said of the slow start to the third quarter. "We had a trick play coming up if we got the first down, but we just never got anything going."
The Tigers, on the other hand, did, outscoring KU, 14-0, in the third quarter to take a 17-10 lead. Kendial Lawrence scored on a two-yard touchdown plunge after a high snap on a punt attempt by KU set Missouri up with first-and-10 at the Kansas 15-yard line. A couple of possessions later, Franklin hit Wes Kemp for a 25-yard touchdown pass in the back of the end zone.
"We came out lackadaisical for just a split-second in the second half," senior linebacker Steven Johnson said. "And in that split-second, they just capitalized on it. We did play good. It's just those two plays I feel like it got away from us. Two plays, mental breakdowns, that's all it takes to win the game."
MU's strong third quarter — somewhat uncharacteristic for a team that had been outscored 68-40 by opponents in the third heading into Saturday — brought KU's dismal third-quarter numbers to a 145-38 advantage for KU's opponents.
Missouri padded its lead with 53-yard TD pass from Franklin to Marcus Lucas on the opening play of the fourth quarter, and, although the Jayhawks remained close, they never seriously threatened.
Kansas recorded just 77 yards of offense in the second half, including 28 yards rushing on 24 carries.
"The defense was playing real well, but I think they got tired," sophomore running back James Sims said. "And that's on us. As an offense, we have to move the ball. The defense played (all)-out today, and without them, the game could've been worse."
As the two teams sparred their way to an uneventful finish that ended with Mizzou fans filling Arrowhead with chants of "S-E-C, S-E-C" and KU fans screaming angry goodbyes to Gill as he exited the field, the reality of the end of another disappointing season began to sink it.
"It does hurt," McDougald said. "Seeing guys go out … there's a lot of tears. It's an emotional day. It's the seniors' last game. Some of those guys in the locker room will never touch a football again. Some of those players who were seniors in there are the most devoted guys I've ever met in my life. They haven't played a snap all year, but they were still in there full of emotions, shedding tears. It's just an emotional day."
Added Sims: "It's tough. The mood in the locker room was down. This is the last game we have against them, and we had a chance to win. As an offense, we just didn't pull through like we expected to or wanted to."
As for Gill, whose future at Kansas is uncertain at best, he continued to push the same message after the loss.
"I still believe we can get some things done here and move this program in the right direction and do the things that we need to do," he said. "That's obviously to win games, get to bowl games and eventually be able to win championships."
Asked if he thought he'd get the opportunity to do that, Gill said: "I do. Yes."