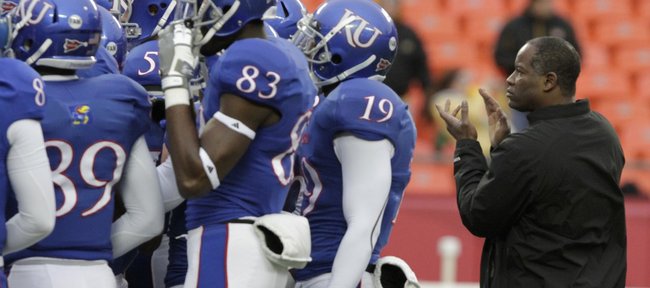 Podcast episode
Kansas coach Turner Gill talks to reporters following the Jayhawks' 24-10 loss to Missouri on Nov. 26, 2011.
KU vs. Missouri
Kansas City, Mo. — Kansas University football coach Turner Gill said after Saturday's 24-10 loss to arch-rival Missouri that he believed he would be back at Kansas for a third season in 2012.
Many inside the Jayhawks' locker room shared that opinion.
"I do," said junior safety Bradley McDougald. "Until I hear anything else, I expect coach Gill to be my coach."
KU defensive coordinator Vic Shealy was a little more passionate in his defense of Gill and his coaching staff, which has led Kansas to an overall record of 5-19, including a 1-16 mark in Big 12 play, during the past two seasons.
"I believe in Turner Gill," Shealy said. "I think he's a very bright man that understands exactly how it should be done."
Asked if concerns about Gill's future had become a distraction for the team in recent weeks, Shealy said the Jayhawks simply had been too busy to concern themselves with that.
"Really, you don't think about much other than trying to make sure that, come Saturday, you have a plan that your players can execute," he said. "Now, at 2 o'clock or 3 o'clock in the morning, sometimes in your private thoughts, are you human and you think about it? Yeah."
The topic of Gill's future also came up in the opposing locker room, where MU coach Gary Pinkel said he did not believe coaches should be fired after just two seasons.
"If that was the case, they probably would have fired me, too," Pinkel said. "I wasn't the most popular guy my first four years here. Two losing seasons, then 2003 went to a bowl, and 2004 I did the worst coaching job I ever did. And then one bowl in three years did not look real good. Everybody's got to make their own decisions, but obviously he's a very good football coach. He's a colleague and a friend, and I don't think there's any way you can make a decision on a program in two seasons. It rarely is done, because a lot of people (would) have missed if they did that."
KU athletic director Sheahon Zenger offered no new comments after Saturday's loss and has stuck to his previous statement on the matter, which came after KU's 59-21 home loss to Kansas State.
"We continue to evaluate the program on a week-by-week basis at the University of Kansas," Zenger said on Oct. 22. "We will never make a complete evaluation until the season is over and the body of work is in."
End of the road?
Although Saturday's game likely was the final football game in the storied history of the Kansas-Missouri rivalry — at least for a while — the victors were not shy about sharing their disappointment.
"I would absolutely love to continue to play Kansas," said Mizzou wide receiver T.J. Moe. "It's a fun game. It's a big game. Everybody cares. Have you seen them play that hard this whole year? They were in it. We were in it, too. We were out there fighting. I'd love to continue the rivalry, and they need to find a way to convince them to do so. It can't be that hard, you know."
Pinkel also expressed disappointment over the potential end of the Border War.
"I hope that doesn't happen," he said. "There's got to be a way to work that out. Iowa and Iowa State work it out. They go around the country to different places. They try to maintain these kind of rival games. I think, without question, this thing can continue if both schools decide they want to. It's not real complex, I don't think. Make it work. We're certainly willing to do that, and you'd like to keep this rivalry going. Hopefully, people get together, and they do what's right. I feel that can happen."
KU officials said throughout Missouri's conversations with the Southeastern Conference that if the Tigers left the Big 12 for the SEC, it would mark the end of the rivalry.
Miller does not play
Gill said freshman running back Darrian Miller, of Blue Springs, Mo., missed Saturday's game because of a one-game suspension for violation of team rules. Miller, second on the team in carries (136), yards (559) and touchdowns (four), was informed of his suspension Thursday.
"He's a good football player," Gill said. "He would've helped us. But (his absence) wasn't the reason why we lost the football game."
Matthews' rise continues
Although sophomore wide receiver Christian Matthews never fully took over for starting quarterback Jordan Webb during Saturday's loss, he did take more snaps than normal and looked good doing it.
"In the second half, that was going to be the plan, to incorporate him in there some, and it was successful," Gill said. "We had a chance to move the ball a lot more than we had."
Matthews finished with a career-high 31 yards rushing on six carries and also completed his only pass for 12 yards. It marked the first completion of his career and the first time he had thrown out of the Jayhawk formation all season.
This and that ...
The Jayhawks won Saturday's opening coin toss and deferred their choice to the second half. Missouri elected to receive the opening kickoff, and the Jayhawks started with the ball in the second half. ... The Jayhawks recorded three interceptions in the same game for the first time since 2008. ... Senior linebacker Steven Johnson led Kansas with 10 tackles, giving him 124 for the season, the most by a Jayhawk since Nick Reid recorded 133 in 2003. Johnson's double-digit, single-game total marked the eighth time he achieved that feat this season. ... Saturday's game marked the final collegiate contest in the careers of 15 Jayhawks. ... Temperature at kickoff was 44 degrees, under cloudy skies with winds of 10-15 mph from the north.