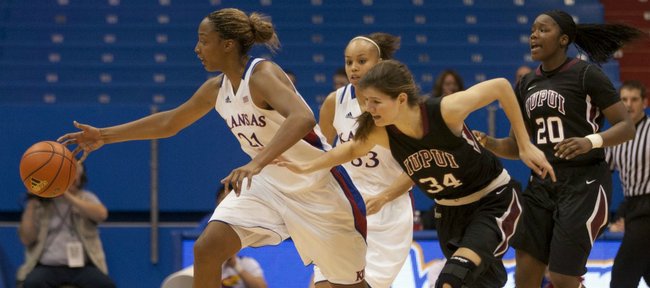 Document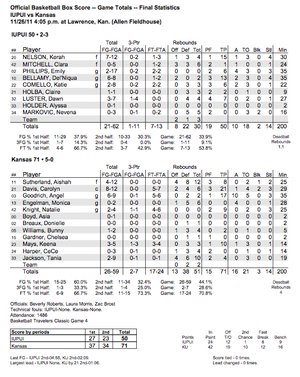 The scoreboard might have painted another picture, but Kansas University women's basketball players and coaches thought the Jayhawks came out flat Saturday in their second game at the Basketball Travelers Classic.
KU won, 71-50, in its second of three straight days of home games at Allen Fieldhouse, but coach Bonnie Henrickson said the Jayhawks didn't come close to resembling the team that beat Lamar by 50 points the night before.
"We were just flat — really, really flat — and that was disappointing for as good as we were (Friday) night," the coach said.
Although Kansas (5-0) led by 10 at halftime and steadily extended its advantage over the Jaguars (3-3) in the opening minutes after the break, Henrickson said she never felt comfortable enough to take starting junior guard Angel Goodrich out of the game. The 5-foot-4 floor leader, in fact, played 35 minutes and didn't leave to take a rest on the bench until there was 13:21 left in the game and the Jayhawks held a 51-31 lead.
"We'd be in big trouble quite a few nights if it weren't for her," the eighth-year KU coach said of Goodrich, who scored 17 points and dished out 10 assists. "She's our catalyst. She's our engine. She's our motor. She's our glue."
According to Henrickson, Goodrich, a captain from Tahlequah, Okla., plays with energy and speed on both ends of the floor.
"We've got to get (other Jayhawks) to play at her pace right now and her tempo," Henrickson said.
One KU player in particular who drew the coach's ire was junior guard Monica Engelman, a captain. She came in averaging 10.5 points a game, but didn't even get a shot up until missing a potential putback after an offensive rebound with 6:00 left. She finished 0-for-2 from the floor with no points, six rebounds and four assists in 28 minutes.
"She had no sense of urgency," Henrickson said. "Worse defensively than offensively. That's why she wasn't on the floor a whole lot."
There was at least one area where the coach was satisfied, though. Kansas outrebounded IUPUI 51-30, and although the Jags missed 41 shots, they only secured eight offensive rebounds and had just one second-chance point.
"In a game where we couldn't pull away," Henrickson said, "if they'd been offensive rebounding and putting back, we'd have been in trouble."
Senior forward Aishah Sutherland led KU with 12 boards, grabbing eight on the defensive end. Her teammate, junior forward Carolyn Davis, said the Jayhawks needed plays like that to find some semblance of momentum.
"Bonnie always talks about in the men's game the dunk is the big momentum (play) for them, and for the women it's an offensive-rebound putback," Davis said.
A 6-3 captain still recovering from a stress fracture in her right foot, Davis scored a game-high 21 points on 8-for-12 shooting.
At 1:30 this afternoon, Kansas will play its final game of the Basketball Travelers Classic against Florida Atlantic (3-3), which lost, 66-61, to Lamar on Saturday.