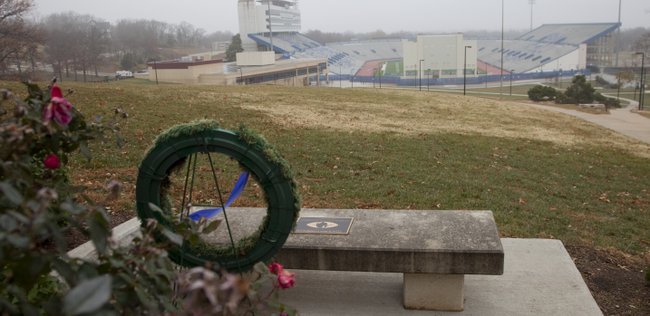 When Kansas University icon Don Fambrough passed away in September at the age of 88, it left a void in the hearts of thousands of people close to KU.
Later today, when the final gun sounds on the 120th playing of the Kansas-Missouri football rivalry at Arrowhead Stadium in Kansas City, Mo., the Jayhawks, almost immediately, will have yet another pronounced void to fill.
For decades, few things have been as easy to count on as the intensity of the Border War and Fambrough's raging hatred of the Tigers. With Fambrough no longer here to spit his anti-Mizzou venom and the Tigers ready to head off to the Southeastern Conference, perhaps as soon as next season, Kansas, and in particular Kansas football, will be forced to move forward without two of its most notable customs.
Known for years for delivering his fiery Civil War speech to the KU football team during Missouri Week, Fambrough's star always shined brightest when the Tigers were in his crosshairs. As a player, from 1946-47, and again during two stints as KU's head coach — from 1971-74 and 1979-82 — Fambrough was 6-4 against the Tigers — four losses too many, 4,000 wins too few.
"This is his week," former Fambrough player and current Jayhawk broadcaster David Lawrence said. "That's when he was called upon by fans and the team."
For those who knew Fambrough, his absence tugs on their heart strings in ways beyond football. To some he was a father, to others a friend, and still to more a familiar face that brought comfort and a few laughs. That list includes several of KU's current players. Not all of them were lucky enough to witness one of coach Fam's Missouri Week speeches, but several did. And they won't soon forget it.
"I remember all the years of him coming in before the Missouri game," senior AJ Steward said. "He really educated me on the rivalry and put the passion into my heart. I've always known about the rivalry, especially growing up in St. Louis, but just to hear his perspective on it made me realize that this is bigger than just a game. It'll be emotional for a lot of people not having coach Fambrough there, but that should put even more passion in our hearts to play. He really wants us to win this game, especially since it might be the last time we ever play Missouri."
While this year's game figures to be overflowing with Fambrough emotions, that will dwindle in time. There always will be those who knew him, or knew his stories, but as the years pass and the gap widens between present day and the last time Fambrough fired up a KU football team, a special part of KU's rich tradition will be missing.
"Fam was the first to say that talk has never been responsible for a game," Lawrence said. "But I do think that that message he brought did make a difference in some capacity. So, how big a void? It's just hard for me to say. But it will be a void, there's no question about that."
Former KU great John Hadl, who starred at Kansas a decade after Fambrough finished playing, said the responsibility of carrying the torch for KU football, which Fambrough did so well, lands on the shoulders of several Jayhawks past and present.
"There's nobody that's gonna take Fambrough's place," Hadl said. "That's a one-of-a-kind deal, and people understand that, I'm sure. I don't know how we're gonna handle that, but it's just gonna be a natural happening. I don't think you can plan that."
While filling Fambrough's shoes may take time, many Jayhawks said they're not shedding any tears over what looks to be end of the Border War rivalry. Would they like it to continue? Sure. But will it ever really die?
"We're still gonna be taught the history of what happened, because it's history, it's American history, and we're gonna be talking about that," senior offensive lineman Jeff Spikes said, referring to Kansas and Missouri's ties to the Civil War. "But I think Missouri's gonna miss out more than Kansas will because they chose to leave. They're the ones that are gonna give up a big game and give up such a big part of history. To give that up and miss out on the No. 1 rivalry in the country, how can you be the guy that chooses to back out? That makes no sense. I want to continue the rivalry with my brother forever. It makes me upset."
Added Lawrence: "We do need to do what's best for us, and if it doesn't include Missouri it's not gonna hurt my feelings. But it'll be different. And how we'll feel about this in five years, I don't know."