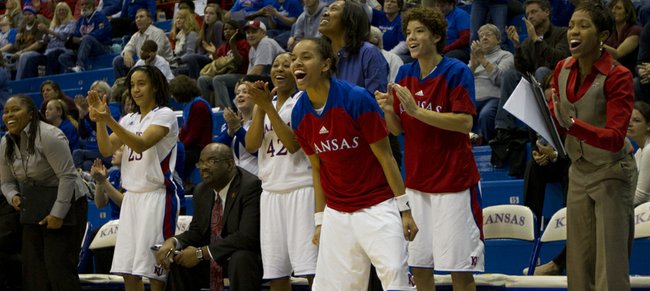 Document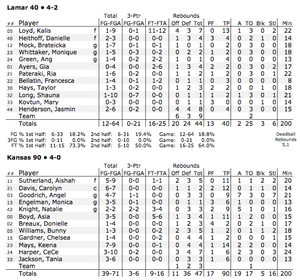 Kansas University's women's basketball team didn't have much use for its regular contributors in a 90-40 beating of Lamar Friday night at Allen Fieldhouse.
The Jayhawks opened their three-day Basketball Travelers Classic by pasting the Cardinals thanks to 43 points and 33 rebounds from their bench.
On a night no KU starter logged more than 21 minutes, coach Bonnie Henrickson said the team's seven substitutes, who, like the starters, all scored and grabbed at least one rebound, needed a night like that.
"That was fun," Henrickson said. "They earned that. They deserved that."
The Jayhawks' top seven players enjoyed the vast majority of the second half from the comfort of the KU bench. Junior forward Carolyn Davis (12 points) left the game for good with 17:58 left in second half and KU up, 58-24.
Following the first media timeout of the second half, senior forward Aishah Sutherland (11 points, five boards) was the only starter on the floor, playing with freshman guard Asia Boyd, freshman forward Bunny Williams and sophomore guards CeCe Harper and Keena Mays.
At 14:30, freshman forward Chelsea Gardner, who had played just two minutes in KU's previous three games, entered. Even sixth man Mays (14 points, four rebounds) left with more than 12 minutes to go and the Jayhawks up, 75-31.
With subs getting heavy minutes late, Boyd had ample opportunity to show off her versatility. The 6-foot-1 Detroit newcomer used crossovers, spin moves and physical drives to get to the paint on an 11-point, four-rebound night after getting no minutes whatsoever in the Jayhawks' first three wins.
Henrickson said Boyd had been doing more of what the coaching staff wanted at practice, namely not being flashy, joking she tells Boyd to play like the coach dances.
Said Boyd: "I was trying to stay patient, and I just watched and learned (in the first three games) from Monica (Engelman) and Angel (Goodrich)."
Henrickson said Boyd had not only done that, but worked hard in practice to earn her minutes and starring second-half role in the blowout.
"I love her energy," the coach said. "She's playing hard."
Henrickson also complimented Harper for her six points, seven rebounds and three steals off the bench. The eighth-year KU coach said Harper made good defensive decisions, too, with sound guarding.
Kansas (4-0) got out to a big lead in a hurry against Lamar (4-2) thanks in part to the play of freshman guard Natalie Knight. She passed out four of her five assists and scored six of her nine points in the first half, kept seeking out driving opportunities and was assertive in looking to score, draw a foul or set up her teammates. Later, she opened up KU's second-half scoring by knocking down an open three-pointer from the right wing, her second trey of the victory.
"They've been telling me to be more aggressive," the freshman out of Olathe South said, "so I've been trying to do that and just getting extra shots up has made me a little more confident."
Kansas opened on a 22-6 run, primarily by scoring at point-blank range. Goodrich and Engelman got things rolling with consecutive transition layups, Davis scored six points on post-ups, sophomore forward Tania Jackson scored by flashing to the low block and converting, and a steal by Knight set up a two-on-one fast-break lay-in for Mays that gave KU a 16-point lead just more than nine minutes into the game.
Knight hit her first three-pointer from the right corner during the run and Sutherland buried a jumper from her favorite outside spot, at the top of the key. Mays also scored on a runner from the right side.
Kansas went on two 8-0 runs in the first half, as well as a 12-0 spurt. A 15-2 Jayhawks run to close the half was highlighted by a no-look, over-the-head pass from Goodrich to Sutherland for a layup, and Kansas took a 49-23 lead into the break before holding LU to 17 second-half points.
Lamar shot just 18.8 percent in the game, as the Cardinals made just 12 of their 64 shot attempts. They had a whopping 21 misfires and no makes from behind the arc. The Jayhawks, meanwhile, went 39-for-71 for 54.9 percent from the floor, led by Davis' 6-for-7 shooting.
Mays credited the whole KU team for its defense in the drubbing.
"Our defense, we were really aggressive from the beginning and just kept it going for the whole 40 minutes," she said. "When the starters came off, the bench came in and kept up the intensity."
At 4 this afternoon, Kansas will play IUPUI (2-2), which beat Florida Atlantic, 74-64, Friday at Allen Fieldhouse.